Entertainment
Tina Desai Drops Thoughts on Getting Married and Having a Stranger Husband!
Hollywood is one of the most prestigious film fraternities that exist in the world. It is filled with talented artists who come from all over the world to create beautiful productions on the big screen.
We are here to talk about a beautiful actress, Tina Desai who has craved her way into Hollywood from Bollywood and is taking everyone by storm. The actress has been able to turn the heads around in the strange land with her acting skills and radiant looks.
While her professional life does not need any further establishment, her dating affair and relationship do, as she has kept the matters wrapped up in her sleeves. So, let's unwrap that!
Tina Desai Wiki: Thoughts About Marriage
Tina is a model-turned-actress who made her acting debut with a Bollywood movie Yeh Faasaley back in 2011 and found her way into Hollywood in the same year with the film The Best Exotic Marigold Hotel.
The actress made her Hollywood debut opposite Slumdog Millionaire actor Dev Patel. Both the actors belong to the Indian ethnicity, and they shared undeniable chemistry on screen.
Tina made her first ever on-screen kiss with him and shared her thoughts on that matter.
I was freaking out! I thought I'd be OK, and John (Madden, the director) very sweetly placed it at the end of filming so we had time to relax. But, on the day I started freaking out and going crazy. The casting director came into my trailer and started telling me movie star stories and joking a lot. I was laughing and having a good time, so by the end of it, I was like, "Yeah, we can do the scene now." After the first rehearsal, (the casting director) asked if I was OK, and I said, "That was it? I was stressing this much for this? It's fine, it's no big deal at all."
The actress who is kind of shy to perform intimate scenes on-screen finally did break that personal barrier. 
"It was something that took me time to adjust to, as well. I think I'm still adjusting. It's hugely different from what I grew up with and what I've grown up exposed to."
After making her debut in the Hollywood, Tina was able to have a  huge fan base because of her acting skills and amazing looks. Subsequently, she was able to land herself in the Netflix series Sense8.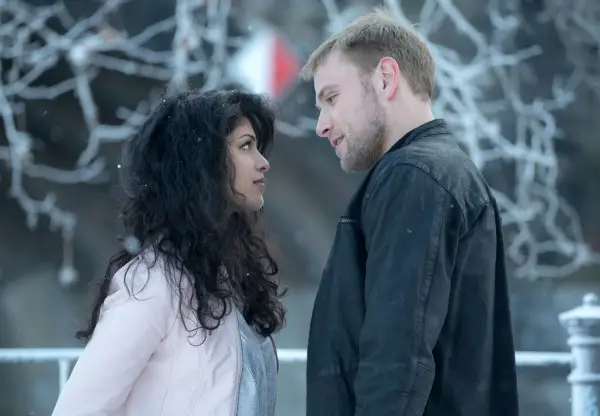 Caption: Tina with her Sense8's co-star Max.
Photo Credit: Businessinsider.com.
Despite the show's immense popularity, it only lasted till its second season because of the big-budget and lengthy pre and post-production. She reached out to her fans on that matter via Twitter:
I'm sorry #Sense8 has been cancelled. It was an incredible experience. Thank u to everyone? who watched and supported the show. Wl miss it.

— Tina Desai (@tinadesai07) June 1, 2017
Talking about her real-life romance, the actress has not gone on record to talk about her boyfriend, but she did share a picture of a mysterious good looking guy on her Instagram without any caption. While her fans were curious to know if he was her boyfriend, the actress did not bother to clarify that. 
Looking at that picture, it seems like they are a couple.
The 30-years-old actress is not married yet, so he is definitely not her husband. But who knows what this beauty has planned in her mind. We might get to hear the wedding bells chime soon. 
However, she did mention she would love to date Barney Stinson from the hit series How I Met Your Mother when she was asked which TV character she would prefer to date.
The actress has a net worth of $1 million and spends her time mostly with her friends and family when she is not shooting.