The British actor, Tom Ellis - who is known for his performances in Miranda, Lucifer, and Buffalo Soldiers - has often been criticized for his casual approach towards relationships.
After he abandoned his pregnant girlfriend to get married to another woman, he did the same to his wife when he found someone younger and more beautiful than her.
However, his actions backfired as Tom got dumped by his now-former wife. But, the actor has realized his mistakes and may not repeat them as he is having a great time with his latest girlfriend/fiancee.
Cheating Incident Leads Married Life To Divorce
Tom was married to his wife, Tamzin Outhwaite for a long time before his marriage crumbled in the blink of an eye.
They had known each other since drama school but hadn't been formally introduced. The couple first spoke to each other when both of them were hanging out at the bar in Royal Court Theatre, London.
Similar Celeb:- Lisa Nicole Cloud Background: Cheating Husband, Married Life Shaken, Divorced?
The duo soon hit it off and started dating; finally getting married on 11 June 2006.
Two years following their marriage, Tom and his wife became parents to a baby daughter named Florence Elsie Ellis in June 2008. The child was the first for Tamzin, whereas, Tom had a kid from his previous relationship with actress Estelle Morgan, namely Nora Ellis.
While their romance lasted, the couple went to have another daughter Marnie Mae Ellis, who was born in August 2012. The siblings: Florence and Marnie are close to each other and often enjoy their play time together; however, the sisters' relationship with their half-sibling Nora is not disclosed.
Although the duo's married life looked smooth in the surface, underneath, it was crumbling. After Tamzin found out that her husband was cheating on her with actress Emilie de Ravin, she immediately dumped him and parted ways from him in August 2013.
She filed for divorce a month later, and the former life partners officialized their divorce in April 2014.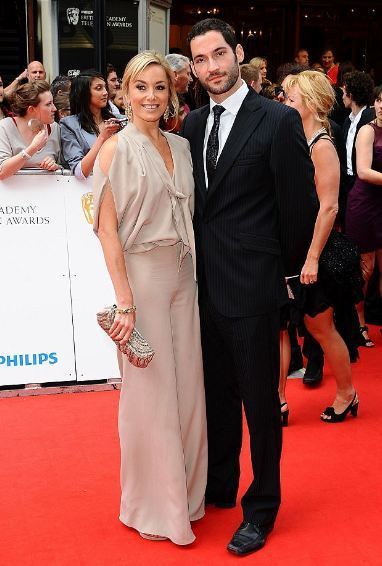 Tom Ellis and former wife Tamzin Outhwaite attend an event before their divorce in 2014 (Photo: DailyMail.com)
Post the divorce, Tamzin started dating actor Tom Child; while her former husband Tom - aged 40 - also moved on in his life and commenced romance with another actress.
Busy With Girlfriend; Engaged
Tom Ellis, who played the role of an undercover gay man in FOX's TV show Lucifer, initiated a romance with American screenwriter, Meaghan Oppenheimer, in 2015. The pair commenced their relationship a year after Tom's divorce to former wife, Tamzin.
Goodbye Lover:- Forest Whitaker, Divorce From Wife Of 22 Years! Relationship Falls
While they were dating, the couple enjoyed exotic vacations before finally deciding to spend the rest of their lives together. Tom and Meaghan got engaged in 2017 in a low-key ceremony.
With their plans on getting married, Tom even visited his fiancee's parents in Tulsa, Oklahoma in January 2019.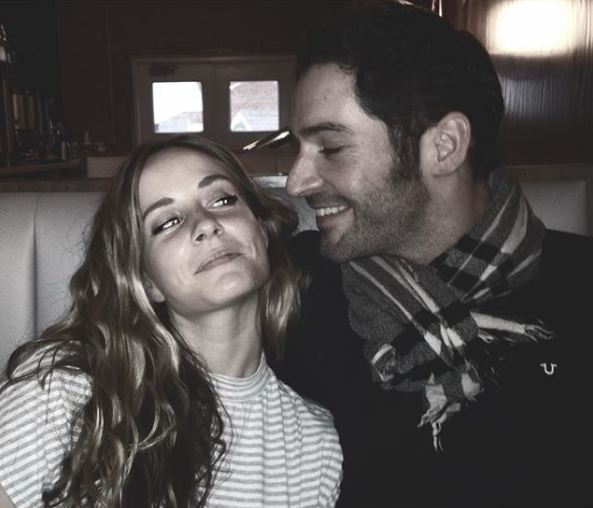 Tom Ellis and fiance Meaghan Oppenheimer at her parents' residence in January 2018 (Photo: Meaghan Oppenheimer's Instagram)
Further, the actor with a height of six feet and three inches is also doing well financially with his net worth amounting to $6 million. Indeed a suitable time for him to get married for the second time?
Engaged & Soon-To-Be-Married:- WTAE Ashley Dougherty Engaged To Wedding, What Is Age & Who She Married?
As Meaghan is already insisting on calling Tom as her future husband, it may not be long before the couple ties the wedding knot.