Tom Rosenthal is a British musician and composer famous for his indie-pop tracks like It's Ok and Woes. He has released five albums ever since he started putting out his records on YouTube in 2010.
In 2014, the video for his song Watermelon got listed in the top 30 music videos by The Huffington Post. Also, his songs appeared in many series and films, including Comet(2014), Anethasia(2014) and Skins(2007).
Tom Rosenthal Bio & Career
The singer was born on 26th August 1988 in London. He later completed his education from Durham University where he studied Anthropology.
He started his music career after he officially released his first studio album titled Keep a Private Room Behind the Shop in 2010. His song, Go Solo became an instant hit in YouTube after it crossed more than 15 million views taking his music career to a new height.
Recommended:- Love Is In The Air! Painter Jwan Yosef Engaged To His Partner Ricky Martin! When the Wedding Bell As Married!
Tom also released official videos for all of his tracks for his album Fenn.
Although he has been active as a musician for about nearly a decade, he only started to perform live lately as he played his first concert at St Pancras Old Church on 13th March 2019.
Family,
Wife,

Dating

Tom is the father of two daughters; Bess and Fenn. His youngest daughter, Fenn, was born on February 2016.

Although he isn't married officially yet, his daughters are the children from the dating affair of he and his girlfriend Bella Pace. She is a sign painter by profession and is a very active mom in raising their daughters.

Interestingly, Tom also released one of his album named after his daughter Fenn and featured in the song titled Fenn which he had written for her.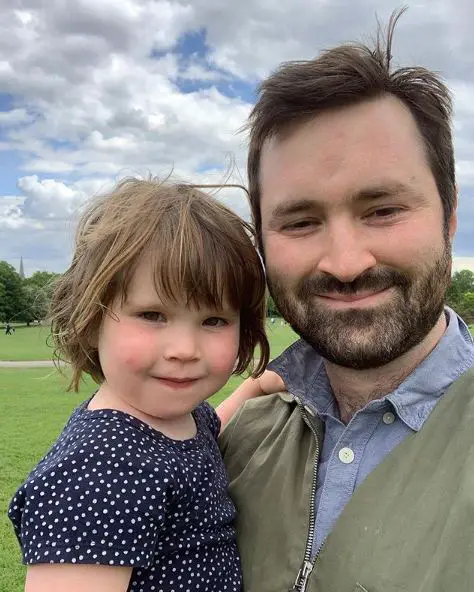 Tom Rosenthal with his daughter Fenn Rosenthal in 2019 (Photo: Tom Rosenthal's Instagram)
The singer also shared a beautiful Facebook clip with his fans where he sang the same song with his daughter Fenn in 2018.
Net Worth Plus Political Views
Although the singer hasn't gained mainstream fame yet, he has been garnering income from various sources. He sells multiple merchandises including t-shirts, along with his albums.
You May Also Like :- Musician Josh Klinghoffers Net Worth, Girlfriend, Married
He was commercially involved in various projects and short films. He also composed music for campaigns such as Fjällräven's winter, Vodafone advert, and Cancer Research UK 2016.
Now, he is touring many European countries, including Austria, the Czech Republic, and the Netherlands. Meanwhile, most of his upcoming shows for Austria and Belgium have already sold out due to popular demand.
Moreover, his self-titled YouTube channel has more than two hundred thousand subscribers and has an estimated earning of more than $3000 yearly. In terms of political beliefs, Tom has been very vocal to criticize US president through his song titled Melania. He is a big supporter of gay marriage.