Entertainment
Tom Perez While Maintaining Healthy Family Life With Wife, Children; Threatens President After Switching From Labor To DNC
Tom Perez While Maintaining Healthy Family Life With Wife, Children; Threatens President After Switching From Labor To DNC. Tom Perez, who is now the chairman of the Democratic National Committee, has had some issues with the President, Donald Trump. Let's find out more about the family man. Tom Perez got married to Ann Maria Staudenmmaier in Milwaukee, the United States. The duo has a common thing between them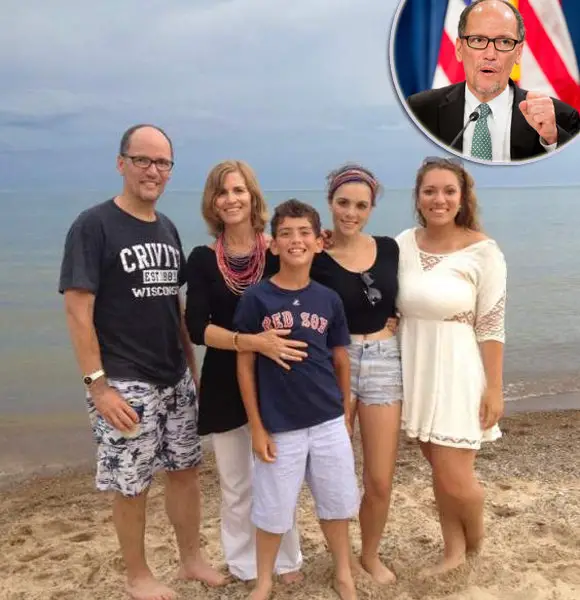 One of the renowned politicians in the United States, Tom Perez, is a politician and a lawyer who rose to success not by luck, but because of his hard work and dedication throughout his life.
Tom Perez, who is now the chairman of the Democratic National Committee, has had some issues with the President Donald Trump.
Let's find out more about the family man. He shares a family of five with his loving wife. 
Tom Perez Is A Married Man With Wife And Children:
Tom Perez got married to Ann Maria Staudenmmaier in Milwaukee, the United States. Tom and Ann share three children: two daughters, Amalia Perez and Susana  Perez, and a son named Rafael Perez.
The loving husband and wife first met with each other at the Jesuit volunteer corps. At the time, they both were volunteers for the poor communities focused volunteering organization.
The duo has a common thing between them as they both went to Catholic school; Tom went to Canisius High School while his wife went to Pius XI High School.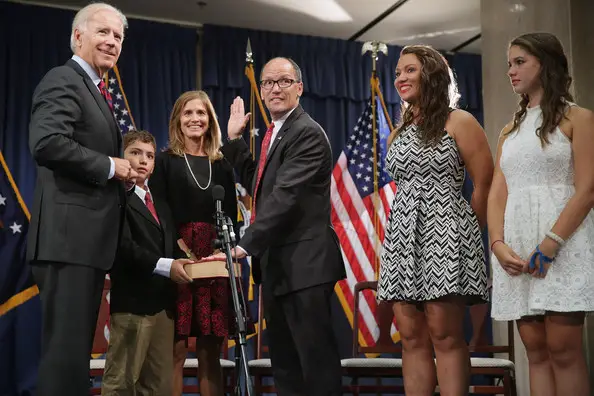 The 47th U.S. Vice President Joe Biden (Right) conducting a ceremonial swearing-in for newly appointed Labor Secretary Thomas Perez with his wife Ann Marie (Middle) along with children Susana Perez, Amalia Perez and Rafael Perez respectively (from left to right) at the Department of Labor September 4, 2013, in Washington, DC (zimbio.com)
Tom Perez's wife Ann Staudenmaier worked as a volunteer at the Jesuit Volunteer Corps from 1983 to 1984 in Buffalo, New York. Ann studied Journalism at the University of Wisconsin-Madison and later pursued law at the George Washington University Law School.
Ann, who first joined Washington Legal Clinic in 1996, works at the Washington Legal Clinic, a non-profit organization that provides pro-legal services and also works on cases involving police treatment of the homeless. 
Moreover, American lawyer Ann is the graduate of the George Washington University. She specializes in poverty law. 
Adding to her work credentials, Tom's wife also contributes op-eds to Street Sense media.
One of Tom's daughters, Amalia Perez seems to have followed her father's footsteps. She is currently studying political science and developmental studies at the Brown University.
Proud father Tom also takes his daughter, Amalia to various events, rallies and function. 
On 20 January 2018, Amalia accompanied her father, Tom Perez to a march rally called, "Women's March on Washington 2018," held on Lincoln Memorial. The legendary monument witnessed hundreds of thousands of women and protesters voicing their concerns to the President Trump's presidency.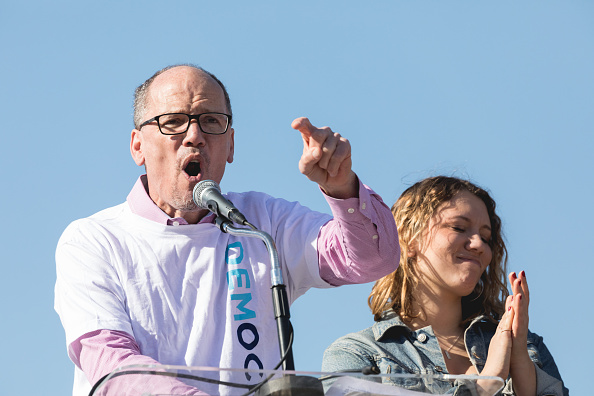 One of Tom Perez's daughter, Amalia Perez along with Tom Perez on "Women's March on Washington 2018," held on Lincoln Memorial on 20 January 2018 (GettyImages)
Tom Perez is the graduate (1983) of Brown University and Harvard University. He specialized in the international relations and political science.
Tom Perez Threatens President, Donald Trump After Switching From U.S. Secretary to DNC!
Tom Perez, an ex-member of Obama administration, first started serving as the 26th U.S. Secretary of Labor in July 2013 appointed by the former President, Barack Obama, and worked till 2017.
On 15 December 2016, Tom Perez announced his nomination for Democratic National Committee (DNC)'s Chair.
With 235 votes out of 447 from DNC members, Tom won the DNC's Chairmanship officially on 25 February 2017 defeating his fellow Democrat Keith Ellison. He officially became DNC's Chairman as the first Latino to ever hold the post.
Democrat Tom Perez was never in support of Republican Donald Trump. On the occasion of Tom's Chairmanship, Donald Trump happened to congratulate Tom via Twitter for his new position.
Congratulations to Thomas Perez, who has just been named Chairman of the DNC. I could not be happier for him, or for the Republican Party! — Donald J. Trump (@realDonaldTrump) February 25, 2017
Tom replied back to Donald Trump's congratulatory tweet on Twitter, stating Democrats would be Trump's worst nightmare. 

After being appointed as the DNC chair, Tom even went on the records to stand in opposition to President Trump stating Donald Trump as "the worst President in the history of the United States."
Earlier, Tom had pointed out about the scandal of Russia intervening in the 2016's U.S. presidential election with the aim of getting Mr. Trump into the White House.
Even though Trump denied having links to Russia and labeled the Russian linkups as "fake news," Tom mentioned the probability of Russian intervention in the election. Mr. Perez explained to CNN in February 2017, stating:
"What we need to be looking at is whether this election was rigged by Donald Trump and his buddy  Vladamir Putin,"
Likewise, Tom Perez also joined protesters outside the White House in support of the liberals who gathered to protest the President's decision to fire FBI Director James Comey.
Recalling the earlier President during the protest, Obama, Perez claimed that Obama understood the importance of the department's independence.
Tom Perez, who had been part of few controversies himself, is known for slamming Donald Trump as a controversial figure. 
On 8 January 2018, Tom cited Trump's anti-immigrant decision as"cruel and heartless" in an interview with thehill.com. This is what Perez said:
"This is a cruel and heartless decision by a cruel and heartless president. By targeting those who were driven from their homes by environmental catastrophe and violence in El Salvador, Donald Trump is tearing more working families apart — putting their lives at risk, threatening our economy, and turning his back on the values that have made America great."
Trump had decided to end the protected status of about 200,000 immigrants from El Salvador.
Tom Perez's Wiki-Bio:
Tom Perez, the current Chairman of Democratic National Committee, was born on 7th Oct 1961. His parents, father Rafael Perez and mother Grace Perez were first-generation immigrants: his father was enlisted in US Army after World War 2, and his mother came to the United States in 1930. 
Tom Perez's parents, father Rafael Perez and mother Grace Perez  (Pinterest.com)
Tom Perez is the youngest of five brothers and sisters. He is the only one among his siblings not to follow his father's footsteps. His father was a physician.
Tom's father died of a heart attack when he was just 12 years old. He graduated from Canisius High School, an all-boys Jesuit school in Buffalo, in 1979, and later graduated from Brown University with the Bachelor of Arts degree in International relations and Political science in 1983. 
In 1986, Perez worked as a law clerk for Attorney General Edwin Meese, and later in 1987, he worked as a law clerk for Judge Zita Weinshienk of the United States District Court for the District of Colorado. He worked for Judge Zilta till 1989. 
Perez later worked as civil rights attorney at the Department of Justice; he worked in civil right justice from 1989-1995. He had also done teaching at University of Maryland law school from 2001-2007.
Tom 's current net worth is estimated at $1.3 million.