Tommy Dorfman...Showcasing a wide array of emotions... Deep inside his feeling were intact, he even tried to....he credits it to the love of his life...got married in a ceremony in...into his graduation and he bagged the...estimate his present net worth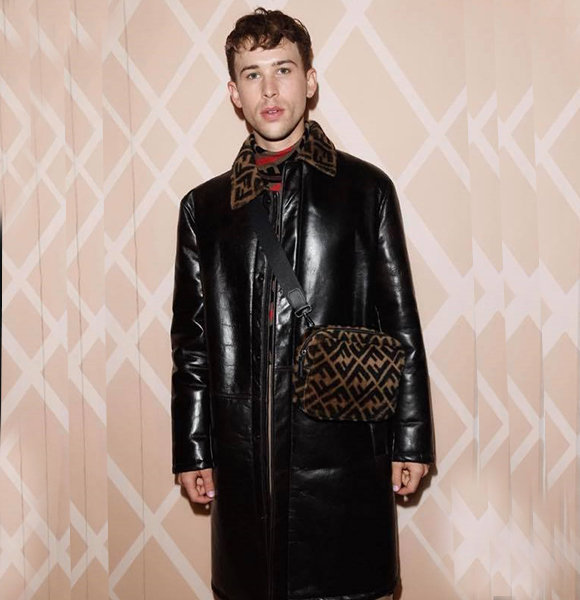 By portraying the role of one of the thirteen reasons on the beloved Netflix series "13 Reasons Why," actor/writer Tommy Dorfman gained much recognition for the character of Ryan Shavers.
On his breakthrough role, he landed the acting details to perfection. Showcasing a wide array of emotions like arrogance, selfishness, sadness, and even love, Tommy has proven his skills and worth to the entertainment industry from the very start of his career.
Is He Gay?
The 27-year-old has been open about his sexuality from the very get-go.
He used to dress up in girl clothes, but after being bullied for it, he stopped and started wearing guys clothes instead. However, it was only in terms of appearance that he looked straight. Deep inside, his feelings were intact. A young Tommy even tried to dating girls in high school, but it didn't work out.
At the age of 14, Tommy fell in love with a much younger guy from high school. Though they never were an item, it helped him clear thing out and understood his hidden feelings. Soon after his realization, he came out as gay.
Openly Gay And Proud:- Luke Evans Gay, Boyfriend, Married
As of now, he is an openly gay man and a proud activist supporting the LGBTQ community.
Married To Supportive Husband
Influenced by the desire to submerge in narcotics, Tommy was in a pinch during his early 20's. Dependent on different party drugs - mostly cocaine - Tommy didn't believe he would live much more than the age of 25.
Now a 27-year-old, living a healthy and prosperous life, the 13 Reasons Why actor credits it to the love of his life husband, Peter Zurkuhlen.
Tommy Dorfman with husband Peter Zurkuhlen during 13 Reason's Why premiere in 2017 (Photo: healthyceleb.com)
Tommy met the food & tech entrepreneur Peter at a party in November 2012. The lovebirds hit it off as soon as they laid eyes on each other.
A few months into the dating scene, the openly gay actor recieved a heart-to-heart conversation from his lover about his issue. He had wanted to get sober for a long time but decided to seek help after his then-boyfriend Peter's request.
Getting clean eventually, Tommy got engaged to then-boyfriend Peter in April of 2015. A year later, they got married in a beautiful ceremony in Portland, Maine on 12 November 2016. 
As of 2019, the lovers are enjoying a happy married life and share an apartment in New York City.
Info On Parents & Net Worth
Among the facts that would surprise Tommy's fans, his real name is Martin Dorfman. He was born on 13 May 192 in Atlanta, Georgia as the youngest of his parents' five children.
Over the years, Tommy has talked about his father, mother, and siblings. Admittedly, his siblings were a massive help during his childhood. Likewise, his parents were cooperative about his lifestyle choice and profession.
His acting career began when he recieved his Bachelors Of Arts degree from the Fordham University in New York. A year into his graduation, he bagged the role on 13 Reasons Why.
Rising To Stardom From Same Show:- Katherine Langford Boyfriend, Gay, Lesbian, Age
Because his acting career has only just begun, Tommy has partaken on a select few films and TV series. In My Skin, Fluidity, Jane the Virgin, and Insatiable are some of the notable projects starring him. With only a few acting credits over the years, it is tough to estimate his present net worth.
While an average actor earns a salary of almost $50 thousand per year, the same could be the case for rising actor Tommy Dorfman.