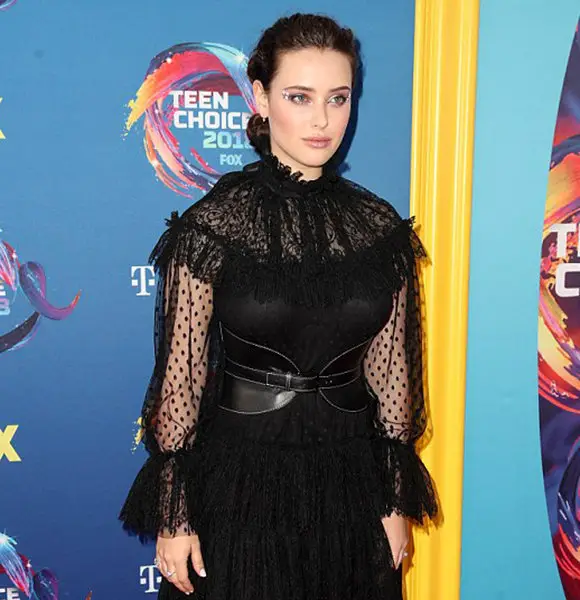 Katherine Langford became an overnight acting sensation in 2017 when she starred as the lead Hannah Baker in the beloved Netflix series 13 Reasons Why.
Since her breakout role, the Perth Australia-native has made appearances on films such as 2017 The Misguided as well as 2018 Love, Simon.
In both 13 Reasons Why and "Love, Simon," her on-screen characters find themselves entangled in either a gay or lesbian dynamic. Is the same case in her real life? Well, read along to find out!
Is Katherine Langford Gay?
The first season of 13 Reasons Why sees Katherine's character Hannah get kissed by her classmate Courtney, who happens to be a closeted gay.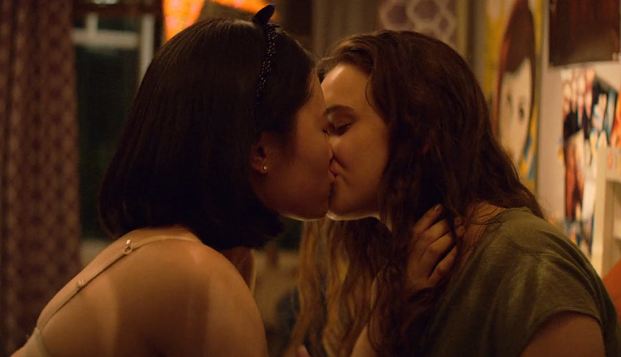 Katherine Langford (Hannah Baker) getting kissed by Courtney in the 2017 offering of 13 Reasons Why (Photo:- 8flix.com)
Meanwhile, in the movie "Love, Simon," her character hopelessly falls for the titular character, who later comes out as gay.
The parallel between her two roles is uncanny. Though Katherine has never tackled the gay rumors surrounding her sexuality, she has also not necessarily owned it.
Her Co-Star Facing Similar Accusations:- Christian Navarro Has A Girlfriend; A Dating Affair So Well-Hidden That Surfaced Gay Rumors
In her interviews, she cites Lady Gaga as her most significant influence. Considering how Gaga is the quintessential gay figurehead in all of America, the Aussie actress must be liberal when it comes to gender and sexuality. 
Behind Katherine Langford's Lesbian Love Song
Katherine's liberal views is a direct outcome of her time at Perth Modern School. According to her, her high school experience was a lot fulfilling than that of Hannah Baker's. 
Interesingly, while a high school student, she penned a sincere ode to her then-lesbian crush called "I've Got a Crush on Zoe Bosch." She sang and later uploaded on YouTube.
An excerpt of the lyrics dedicated to her schoolmate Zoe reads:-
"Oh Zoe, Zoe Bosch, I've got a crush on you girl... Cos you are amazing, drive me crazy, oh yes you do, oh yes you do."
She then follows up by doubling down on her affection as she sings:-
"You're funny and you're daring, you're loving and you're caring for everyone around you. And I love you, oh, I love you."
A true romantic, indeed!
Boyfriend Talks - Are Katherine Langford & Dylan Minnette Dating?
As Katherine refrains from opening about her sexual preference, it has become increasingly difficult for fans to "figure out her deal." In turn, it has made her susceptible to baseless gossips about her dating life.
From The Same Show:- 13 Reasons Why Star Brandon Flynn Gay Love Revisited By Hurt Boyfriend
Of all her rumored boyfriends, none get as much citation as her 13 Reasons Why co-star Dylan Minnette, who plays the character, Clay. The duo's relationship, however, never had romantic elements attached to it.
If anything, Katherine and her alleged boyfriend Dylan are good friends and respect each other work. In an interview, the Aussie actress once said:-
"Dylan Minnette is so generous and kind and courteous and he's pretty much Clay. Clay is sweet and lovely and just ever-giving to Hannah... He would always be there to kind of lighten the day."
And, also there's actress Kerris Dorsey, with whom Dylan has had romantic ties for years now.
Essential Details: Age, Birthday & Net Worth
Born in 1996 to doctor parents, Katherine - now age 22 - grew up alongside her sister Stephanie in Perth, Australia. A Taurus by zodiac sign, she celebrates her birthday on 29th April every year.
Another Export From Australia:- Dacre Montgomery Age, Dating, Girlfriend, Net Worth
Since debuting in the 2016 film Daughter, the talented actress has amassed over a seven-figure sum in net worth. Per reports, she is seeking $200 thousand per episode deal for her appearance on the third installment of 13 Reasons Why.