Travers Beynon's antics on Instagram made him an overnight sensation. Flexing his formidable wealth and Playboy Mansion-style residence, the self-proclaimed Candyman drew criticism for his dissipation and lack of respect for the institution of marriage.
But, underneath the womanizer persona lies a man who came from humble beginnings. A stroll through his wiki reveals it all!
Wiki - Parents, Education, Nationality, & Birthday
Born in 1972, Travers, who holds Australian nationality, celebrates his birthday on 6th March every year.
The Melbourne native, now age 47, inherited the tobacco business from his parents - Trevor and Sandra Beynon. At age 18, he gave up his Australian Rules Football (AFL) aspirations after breaking the back and shifted his focus on finishing his higher education.
Interesting Wiki:- Lourdes Leon Wiki, Education, Net Worth, Boyfriend
Using his six feet and two inches height, Travers then tried his hands at modeling in his 20's. As an international model based in New York, his clientele included beloved brands like Versace, Levi Jeans, Moschino, Valentino, Canali, Paul Smith, and Calvin Klein.
How Much Net Worth Does Travers Beynon Garner?
Instead of blowing the earnings from his modeling gigs, he sent almost all of it to his parents back home. In many ways, his then-work ethic shaped his present business acumen.
Eventually, Travers acquired the shares of "Freechoice Tobacco" from his parents. Today, he serves as the tobacco giant's managing director. With him at the helm, the company's yearly turnover grew exponentially. Freechoice Tobacco reportedly rakes more than $250 million every year.
No wonder, the 47-year-old business tycoon boasts a reported net worth of more than $200 million.
Travers, for his part, never shied about from flaunting his wealth to the world. A popular figure on across all social media, he often gets compared to fellow Instagram playboy Dan Bilzerian.
Of all the titles - self or given - "The Australian Hugh Hefner" seemed to have struck a chord among the admirers. Unfortunately, it also led to the downfall of his married life.
Wife & Children: Married Life Info
Because of his Playboy and lavish lifestyle, marriage between Travers and his Venezuelan glamour model ex-wife, Ninibeth Leal was never going to work out. That said, their union was a relatively successful one.
The former duo - who shares two children Lucciana and Valentino - were married for 17 years before their divorce in 2008. Both Lucciana and Valentino remain close to their father.
Failed First Marriage:- TRHA's Porsha Williams Revealed She's Dating Her Ex-Boyfriend After Divorce With Former Husband Kordell!
Less than a year after divorcing his Ninibeth - now working as a real estate agent - Travers got married to actress Taesha Beynon. Interestingly, he and his second wife also share two children (both daughters) Velicia and Serafina.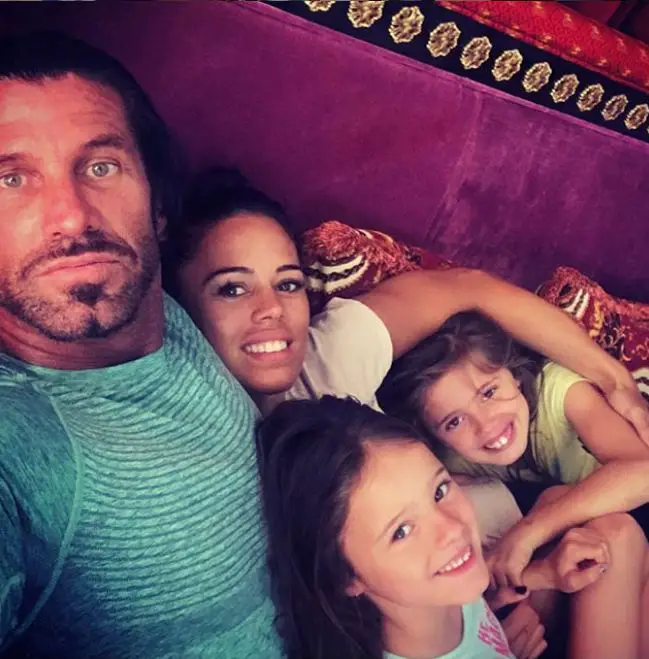 Travers Beynon and his wife, Taesha Beynon alongside their two children pose for a family portrait circa Jan 2019 (Photo: Travers Beynon's Instagram)
True to his Playboy image, the 47-year-old father of four has somehow convinced his life partner into turning their residence into a modern-day harem. At any given night, an average of four girlfriends accompanies the married pair to the sleep.