Named Player of the Year 2016 by the Atlanta Journal-Constitution and 2018's top-rated high school quarterback is no doubt a football legend...Trevor has thrown 3,280 yards and made 30 touchdowns in his freshman year and broken many records...Trevor is in a relationship with an athlete just like him...Girlfriend Marissa plays soccer...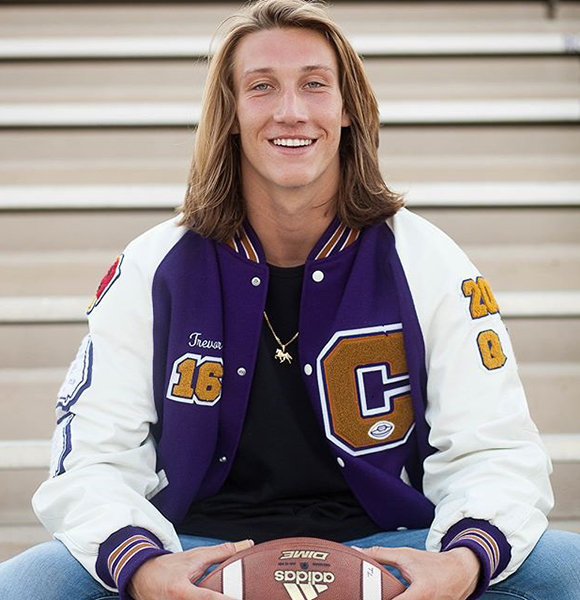 American football player Trevor Lawrence is born to play; He is a tank of an athlete despite being only 19-year-old.
Trevor not only uses his physical superiority but, also keeps a level head and craves open defenses for his team to win. He has bits of the legendary quarterback, Tom Brady in him.
Now, the athlete has two years of college ahead of him before he has a shot at turning pro. No doubt, that teams already have a spot reserved for him.
Trevor Lawrence Biography
Trevor was born and raised in Cartersville, Georgia. His birthday is on 6 October 1999. He is the second child of his parents; father, Jeremy and mother, Amanda Lawrence.
For siblings, he has an older brother named Chase and a younger sister, Olivia.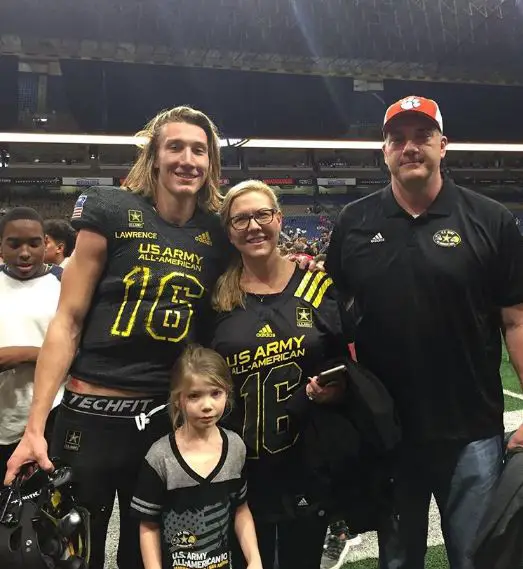 Trevor Lawrence with his father Jeremy, mother, Amanda, and sister Olivia on 25 Jan 2018 (Photo: Trevor Lawrence Instagram)
As for his measurements, the athlete stands tall with a height of 6 feet 5 inch and a weight of 92.98 Kg. His birth sign is Libra.
Is Trevor Dating? Who Is His Girlfriend? 
Every girl in high school dreams to date the Quarterback player. For Marissa Layne Mowry, the dream came true as she is dating Trevor Lawrence.
Lasting High School Love: Jordan Spieth's High School Girlfriend & Wife To Be
Marissa met Trevor while both of them attended Cartersville high school in 2016. And, Trevor broke a lot of his high school girl's heart when he posted a photo with his girlfriend on 7 May 2016.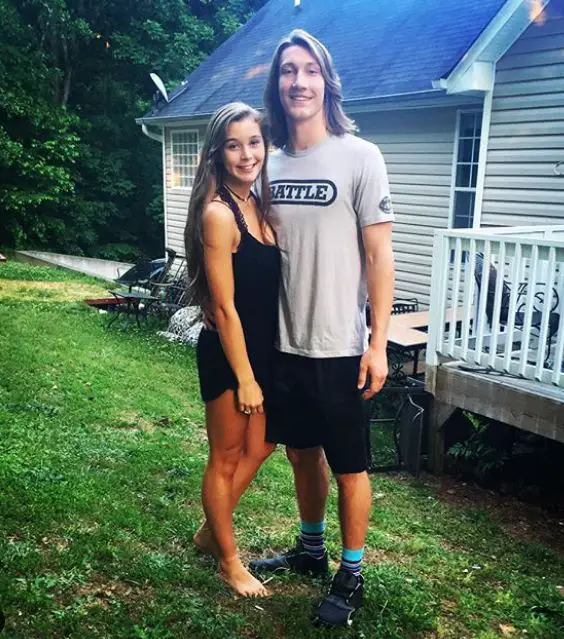 First Photo Trevor posted with his girlfriend, Marissa Layne Mowry on 8 May 2016 (Photo: Trevor Lawrence Instagram)
Like Trevor, his girlfriend is also an athlete. Marissa currently plays soccer: she is a forward at Anderson University. The pair regularly feature eachother on their social media, Instagram.
Interstingly, the public relationship put any rumors of Trevor being gay to rest.
Trevor And Football Career
Coach Dabo Swinney took a risk when he replaced senior Kelly Bryant; with a freshman, Trevor Lawrence in the game against Boston College. The split moment decision paid off big time for the Clemson's Tigers.
Since his time off the bench, Trevor has thrown 3,280 yards and made 30 touchdowns with only four interceptions during his almost unbelievable freshman year.
He led the Tigers to an undefeated regular season in 2018 advancing them to 2019 College Football Playoff National Championship game. They defeated Alabama in the series with an astounding score of 44–16.
2018 Comeback: Andrew Luck Wife, Girlfriend, Rumors, Salary, Family
Trevor was also named Player of the Year by the Atlanta Journal-Constitution after his incredible junior season in 2016 and, 2017 Maxwell Football Club Offensive National High School Player of the Year. Achievements kept on coming for the long blonde haired legend.
2018 had Trevor as the top-rated high school quarterback according to Rivals.