Entertainment
Andrew Luck Wife, Girlfriend, Rumors, Salary, Family
American football quarterback, Andrew Luck has been one of the key players for the Indianapolis Colts despite his frequent injuries.
Having been off the field the entire 2017 season due to shoulder damage, he made a tremendous comeback in 2018. His swift recovery can't be all credited to the doctors as his girlfriend's love and support were an essential factor in Andrew's rehabilitation.
The longtime couple, are not yet bound by marriage, but they share a loving relationship which many of the NFL players are desperate to have.
Dating Since College; Girlfriend Despises Andrew's Beard And Mustache
Andrew first met his girlfriend, Nicole Pechanec, during his college years at Stanford University, where he was on an athletic scholarship, and his girlfriend was pursuing engineering while also serving as the captain of the gymnastics team.
Married Bliss On The Way:- Scott Grimes Is Getting Married! Engaged With Girlfriend, Movies Star In Glee
A Czech Republic native, Nicole - who has an MBA from the Indiana University's Kelley School of Business, works as a TV field producer for ESPN and NBC Sports.
The couple immediately grew a strong bond and soon started dating. Nicole has been a significant factor in her boyfriend's success in his football career as she has always been supportive and caring of Andrew during his repetitive injuries.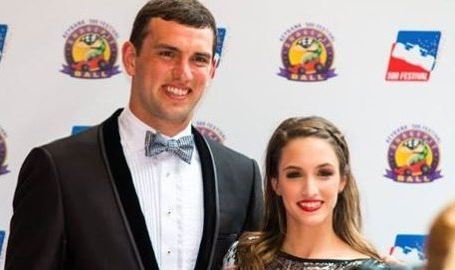 Andrew Luck and girlfriend Nicole Pechanec attend an event in 2018 (Photo: Mvalle's Twitter)
Considered the "stunning power couple" of the sports industry, Andrew and his girlfriend have been inseparable since they commenced their relationship in college. And Nicole was the one most awed when her partner went shirtless flaunting his six-pack back in 2018.
Another Star Who Looks Hot Shirtless:- A Shirtless Carter Jenkins is a Burning Temptation! That Body Landed Some Dating Affairs?
Andrew, age 29, even sacrificed his signature beard looks for his girlfriend and possible future wife. The footballer, who ditched his beard and went up with a mustache while entering the training camp in 2018 mentioned that Nicole was not fond of his previous look. So, he decided to take up a new outlook. However, his girlfriend is not a fan of his mustache either.
As Andrew has not revealed any plans for making Nicole his wife, it may take a while before the couple get married and start a family of their own.
Injury Rumors Turns Out True; Contract, Salary & More!
Andrew played college football from Stanford University after graduating from the Stratford High School. With a tall height of six feet four inches and weight of 240 pounds (108 kgs), he became a dominating player in the field.
But, prone to injuries, rumors had been circulating on the NFL star being injured during a snowboarding accident in 2017.
The rumors, which were reportedly started by an UBER driver, turned out to be genuine when Andrew confirmed the story. The injury caused his right shoulder's labrum to torn, and Andrew had to undergo a major surgery missing the entire season of 2017.
More NFL Players:- Dallas Cowboys Linebacker Jaylon Smith Latest News On Injury & Contracts
Nevertheless, after the recovery Andrew, who is signed to a five-year contract with the Indianapolis Colts, had one of his best seasons in 2018: with 26 touchdowns and nine interceptions. He is set to earn an amount of $9,125,000 as base salary and $12,000,000 roster bonus in 2019.