Entertainment
TV Personality Towanda Braxton: Married Her Boyfriend On 2003, Getting a Divorce? Husband?
Relationships sometimes go well and sometimes they don't. People say it is their destiny but most of the time, it is the people themselves who rain down misunderstandings upon each other. Towanda Braxton as we know is a profound singer and actress and these days; we feel like she has something to share with everybody. Let's know what it is.
Towanda Braxton married Andre Carter in 2003. However, the exact date and the venue of their marriage are still not disclosed; however, Towanda revealed in 2014 that she had an "open and front door situation" with her husband which solely indicated that the couple had an open marriage. The couple met each other for the first time in an Atlanta nightclub. The husband and wife are blessed with two children.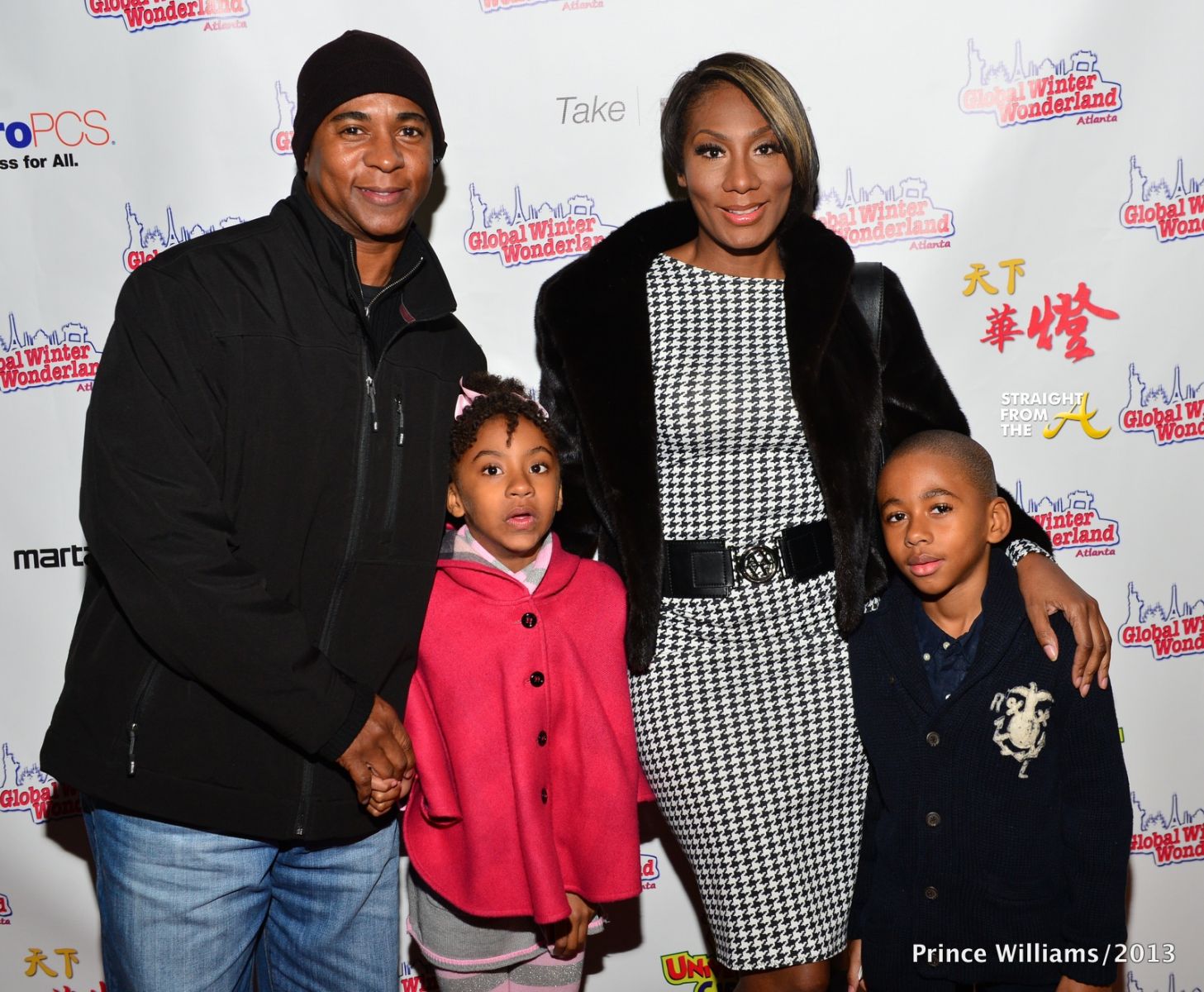 Caption: Towanda Braxton with husband Andre Carter and son Braxton Montelus Carter and daughter Brooke Carter at the opening of Global Winter Wonderland in 2013.
Source: straightfromthea.com
Andre Carter is originally from Long Island, New York as he was born there but later his family moved to Atlanta, Georgia. He later joined Woodland Academy in 1980 and graduated from there as while growing up; education was the first priority for his parents.As an author of A Profile in Black, Andre had a net worth of around $300,000 but was unemployed during the first season of the Braxton Family Value.
Are they Getting a Divorce? Dating Rumors?
Besides the fact that they have two lovely children the couples are now on the verge of getting a divorce, Towanda explained that she was not having an affair with anyone and at the same time, she was not aware what Andre was doing.
Just when the rumors about Towanda dating Kordell Stewart, who is a former American football player in 2014, Towanda and her husband legally separated. However, later Kordell and Towanda both denied the alleged rumors to be fake and stated that they both were just friends and the only thing that had his focus at that time was his son with his ex-girlfriend. He said in a radio talk,
'Towanda Braxton is a very nice lady. I had the opportunity to meet her and … no, we're not dating.'
On the other hand, in an interview with Bossip in 2014, Towanda discussed her separation with her husband and addressed the rumors with Kordell Stewart,
"No, the divorce isn't final. We're legally separated. He's there with the kids. I'm so busy, I'm always back and forth. When I'm there I am a hands on mom, but when I'm not home I think it's important to have another parent there and not having someone else raising your children. Me personally I just don't agree with that. He's there with the kids, he loves the kids, some men are financially able to care for their kids but they're not physically there. He's physically there. He's working part-time at AT&T for over a year, but no one knew that. He's still writing. He just released a new book called "Fried Fish" about a lesbian affair. It's not about me ladies and gentlemen! He just released it on Amazon."
In the matter of the rumors, she said,
"I met Kordell at an event and I thought he was a nice guy. We're just friends. Let me just make it clear. We're definitely friends. Once I met him there, you know when it's like the beginning stages and you're trying to get to know a person, it wasn't a love connection and I think it was partially because of my situation. [Being separated and not divorced.] A lot of guys are like that and that's where he is."
Yes, she is definitely getting a divorce from her husband and just recently the judge from a Gwinnett County Superior Court granted restraining order against the ex-husband and wife.
Now that the divorce is proceeding forward the court has forced Towanda and her ex-husband to take parenting classes, and has banned them from harassing or intimidating each other or their two kids under the terms that neither both of them are allowed to take any property which includes their kids out of Georgia and they cannot afford all of a sudden cancel the health and car insurance along with the family's gas and electric utilities.
Towanda Braxton's Short Bio:
Towanda Braxton was born on September 18, 1973, (age 42 years old) in Severn, Maryland. Being involved in the field of entertainment since the young age of five, Towanda is currently famous for her role as the star of Wetv's popular series called Braxton Family Values.
Towanda is the fifth child of her parents and has Tamar Braxton, Toni Braxton, Trina Braxton, Traci Braxton, and Michael Conrad Braxton Jr as her siblings.
She is currently continuing her work in Braxton Family Values and currently has a net worth of $1 million dollars.