Entertainment
TV Presenter Reggie Yates Didn't Get Married to His Girlfriend? Know More
You meet the different person in your day-to-day life. Not every person you meet to share the same opinion as you share and they might not love to live life the way you wish to live. Likewise, there are many cases where a person finds another person imperfect to spend their whole life together.
Well, the British television presenter, Reggie Yates knows about it better. He ended his relationship with his fiancé Tia Ward after being together for around four years. Aren't you interested to know the relationship that they shared? We will help you to have a glance at their affair and separation.
From Girlfriend To Wife Prospect: A Look At Reggie's Almost Married Life
In the year 2012, Reggie first revealed about his relationship with model Tia Ward. He has spotted cuddling and kissing his girlfriend on a holiday in Saint Tropez.
Discover:- Sean O'Pry Dating Rift, Girlfriend Didn't Prioritize Love? Personal Status Now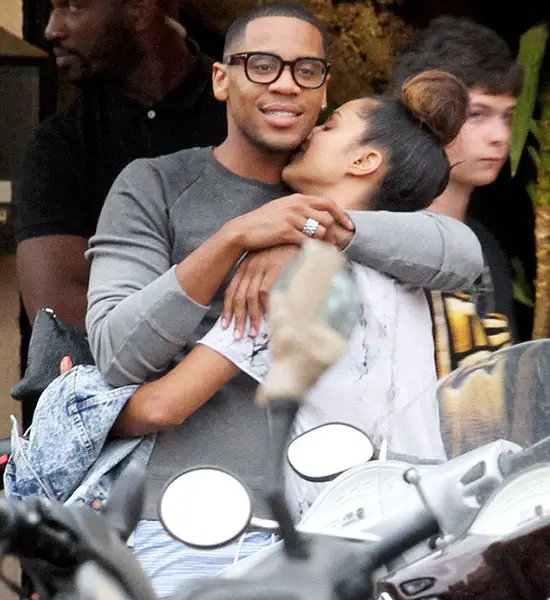 Reggie and Tia spending some quality time together in the south of France in 2012 (Source: dailymail.co.uk)
The couple took their relationship a step forward by getting engaged in 2015 during a romantic New Year getaway to Rio de Janeiro, Brazil. At the National Television Awards in London, Reggie spoke to Daily Mirror about the engagement in Jan 2015. He said:-
"It's nice. It's exciting stuff. It took forever, and it was emotional... She was very happy. So I did just right for her... It's all come together perfectly."
Reggie, who is not a gay man, revealed that he was planning to propose her for six months.
Don't Miss:- Noah Schnapp Age 14, Girlfriend | 'Stranger Things' Star's Dating Status
The BBC Radio personality proposed Tia with an impressive self-designed ring. Reggie described his self-designed ring:-
''I found the stone for and then designed the setting for it... It's beautiful and it's right for her. It's not a yellow diamond It's in a gold setting so in certain light it looks yellow.''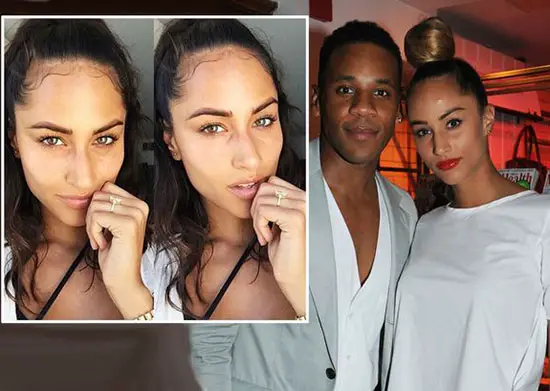 Tia Ward flaunting her engagement ring(top left) and her photo with her fiance, Reggie (Source: mirror.co.uk)
Later, Hello mag also congratulated them for their engagement through a Twitter post.
In September 2015, he opened up with Mirror about his future planning with his would-be wife, Tia. He said:-
"We're trying to figure it out. We're getting so little done at the moment it's unbelievable because we're both so busy.But we have our eye on a venue and we're eyeing up suits and dresses and it's all coming together. It's a lot of work, way more than I thought it would be, but we're excited. It's weird because you still sort of feel like a kid and all of a sudden you're having very adult conversations. It's weirding me out a bit but it's all good."
Reggie Yates and Tia Ward, who also runs a travel and fashion blog, are now separated before they got married. Reggie has admitted to mirror.co.uk this year in February that the wedding was "weirding out."
According to the Mirror, a source told The Sun newspaper that the pressure of organizing the wedding played a factor in their split.
Interesting:- Noelle Watters Age 42 Wiki: Nasty Divorce With Jesse, Net Worth & Facts
Chasing Elusive Married Life With No Wife Prospect On Sight
Almost three years have passed since Reggie announced his split with his girlfriend turned wife prospect, Tia, but the dark clouds surrounding their fallout still hovers above his head.
Either that or he's just unlucky connecting with his love interests. In March 2018 interview with The Guardian, the 35-year-old BBC personality lamented on his singlehood quipping:-
"Ha! I live alone. It's hard when you work as much as I do, it's not conducive to dating. I have late-night romantic dinners with my laptop."
In an earlier interview with the same publication, Reggie had opened about his eagerness to welcome children in his life. According to him, having children would improve his quality of life by tenfold.
Reggie Yates's Mini-Bio Including Net Worth
Born on 31 May 1983, Reggie Yates attended Central Foundation Boys' School and City & Islington Sixth Form College. Yates is best known for appearing as Rastamouse, Leo Jones in Doctor Who.
Read Also:- Melissa McBride Secretly Married Or Is On The Gay Side? All You Need To Know About Her
Similarly, he is popular for his work at the BBC on both television and radio. He is known for presenting a show for BBC Radio 1 with Fearne Cotton and  BBC One game show "Prized Apart" with Emma Willis. Likewise, he is also known for presenting the ITV2 reality show "Release the Hounds."
For critically acclaimed series Extreme Russia, Yates was awarded Best Presenter at the Royal Television Society Awards in 2016. Reggie's 2015 BBC Three show Extreme UK: Gay and Under Attack also managed to gain traction.
Currently, he presents Reggie Yates: The Insider on BBC Three. His net worth is estimated to be $3 million.