Entertainment
Sean O'Pry Dating Rift, Girlfriend Didn't Prioritize Love? Personal Status Now
American model Sean O'Pry, age 29, is arguably the most successful male model of all time. Or at least that's what people at the prestigious Models.com thought when they hailed the Georgia native - whose body measurements at 38-15-30 inches (96.5-38-76 cm) resembles adonis - as the world's most successful model for two consecutive years (2013 and 2014).
Around the same time, first reports surrounding rumors of Sean - who stands 6 inches(183 cm) in height - and Australian actress Jessica McNamee alleged hookup was gaining grounds. Though neither he nor Jessica has publically acknowledged their relationship in public, the consensus among the public is that the genetically gifted pair make a great couple.
Just when everything seemed to be going great between the two, Sean's alleged girlfriend dropped a bombshell when she announced she was leaving for her native home.
On Girlfriend & Dating: "I Plead The 5th."
One would be hard-pressed to find a better-looking couple than that of Sean and his rumored girlfriend, Jessica.
Read Also:- Angelica Zachary Wiki: A Bio That Reflects Respect For Ex-Husband Marlon Wayans
However, believe it or not, it was Sean's sense of humor - not his razor sharped jawlines - that made Jessica drool all over him when they first met in the summer of 2014. Talking to the US Weekly, a source close to the North Cobb High School Alum revealed:
"They met through mutual friends during the summer. She fell for him hard. It's going well, everybody likes him. He has a good sense of humor on top of those looks."
Following the publication of the said US Weekly piece, there was an uproar of dissatisfaction among a specific section of the actor's female fan base.
What made the fans' anger justifiable was the fact that little less than a month ago, Sean - who has a reported net worth of $8 million - did not refer to his girlfriend whatsoever when approached by E! News about his dating status. He simply said:
"I plead the Fifth. The less people know the better."
To douse the negativity created by the impulsive fans, Sean's representative released a statement stating that he and the Siren actress "are good friends" and nothing more.
Discover:- Sam Boik Age 34 Wiki Unfolds: Married Status, Height, Parents & More Facts
Dating Life In Jeopardy: Alleged Girlfriend Leaves For Australia
Their story would be picked back up by media outlets one more time when they made their first red carpet debut as each other's date in style April of 2015 in  -- five months after the news of their alleged hook-up first broke.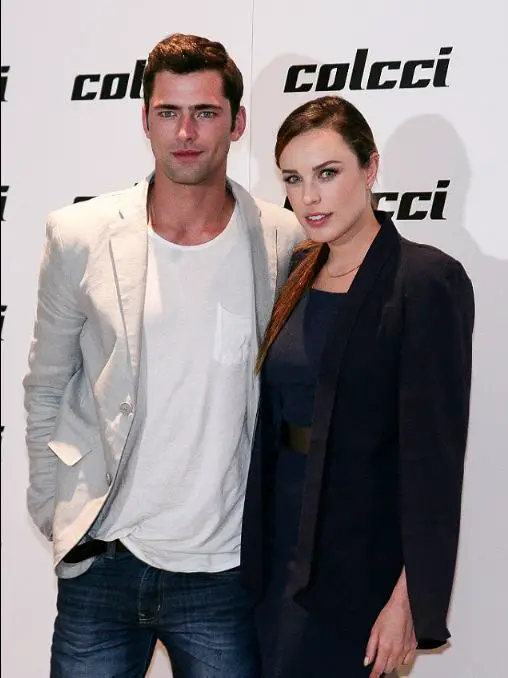 Sean and his rumored girlfriend attend the Sao Paulo Fashion Week together (Photo:- dailymail.co.uk)
Public appearances have come few and far between since their first public appearance at Sao Paulo Fashion Week; so much so that it would take another bombshell from the Australian actress for them to hit the headlines.
Speaking to The Daily Telegraph in May of 2017, Jessica confessed that she plans on returning to Australia to complete her professional writing course at Melbourne's Swinburne University.
"I have a couple of subjects due so I'm having a little break back here. I overcommitted so I was like, "I need to come home. I need to study.""
But by then, the public had almost forgotten about them still dating. Many equated the Australian actress' decision to leave America to do something with her rumored fallout with Sean.
Interesting:- Jen Carfagno Salary & Measurements Revealed! Weather Channel Reporter Details
Neither camp has come forward addressing rumors of their reported split; that is, assuming they haven't broken up already. If Sean and Jessica are still together, the latter's decision will leave the pair with much to ponder.