Entertainment
Vanna White: With Six-Digit Salary, Her Total Net Worth Will Definitely Spin Your Head
If you are a fan of the longest-running syndicated American game show, 'Wheel of Fortune,' then you sure should be familiar with the beautiful co-host of the show, Vanna White who can be seen activating the puzzle board letters as always. Well, the beauty and the dressing sense of Vanna is undoubtedly a factor to praise her, but prior to it, her salary and income are no less praiseworthy either.
So, get ready to wow yourself with the speculations on Vanna's earning, as today we'll shed lights on her salary and her net worth, all in the preface below.
How Much Does Vanna White Make A Year?
Well, the beautiful American television personality Vanna White, whose love life was once the talk of the town due to her fluctuating affairs, has been working as a hostess for Merv Griffin's America television game show "Wheel of Fortune" since 1982. She first was hired as the substitute hostess after the then-hostess, Susan Stafford left the show. Ever since, Vanna is the regular hostess for the game, making it her 35th anniversary on the show in September 2017.
Vanna took the news of her working for 35 continuous years in the game to her Instagram account and posted a celebration picture with her co-host, Pat Sajak.
Moreover, the hosting job that Vanna holds currently has helped her be in the Guinness Books Of Records for being the most frequent clapper, who has clapped for more than 3.9 million times. More importantly, her job pays her a hefty salary that accounts to be $8 million per year.
Meanwhile, that's not the only source of income Vanna has; she even has her own line of yarns called 'Vanna's Choice' which she made through the help of the Lion Brand Yarns.
How Much Is Vanna White Worth?
Vanna White has demonstrably worked hard to gain success and the part of stardom she deserves in her life. She first entered the limelight as a TV personality through one episode of 'The Price of Right' on June 20, 1980.
Afterwards, she has had her hands in numerous Television serials like 'Fresh off the Boat(2017),' 'The King of Queens (2001),' 'Just Shoot me (2000), 'Full House (1994),' and many others.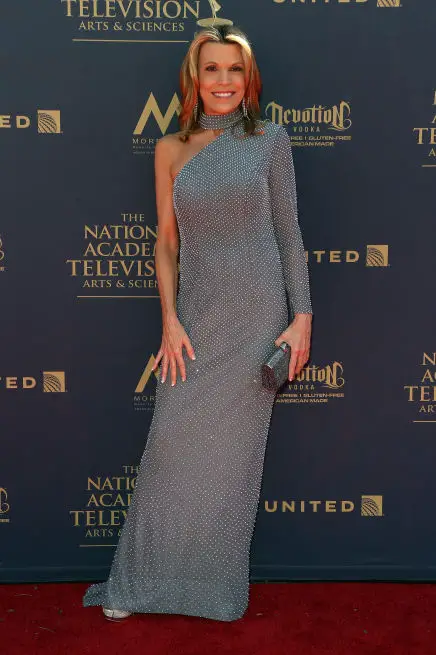 Vanna White at 44th Daytime Emmy Awards, 2017 in Los Angeles (Photo: AOL.com)
Besides, just acting credits, Vanna also has appeared as a guest in the Television shows like "Good Morning America," Homee & Family," "Katie" "Rachael Ray" and more to address.
Vanna even wrote an autobiography named "Vanna Speaks" where she shared her personal experiences and advised people to become beautiful in spirit, body, and mind. The book was published back in 1987 and instantly became America's bestseller of the time.
Moreover, Earlier in 1993, Vanna successfully sued the Samsung Electronics Corporation over a commercial. The ad featured a smiling robot that turned letters on a game show. Saying that the company used her likeness without her permission, Vanna filed a petition and received $403,000 for damages.
Through the long-termed hosting job and an uplifting career, Vanna has earned an enormous amount of fortune for herself. She has an estimated net worth that totals to $40 million.