Entertainment
Veronica Merrell Dating Status Now, Details On Boyfriend & Siblings
Veronica Meller is an internet made star, who is best known for...Veronica and her sister were named...relationship status is not so clear at the moment...has been linked with...first boyfriend Nathan...was born as...shares a very special bond with her sister... they also won many awards and accolades for their Youtube venture... has also appeared in movies and TV shows...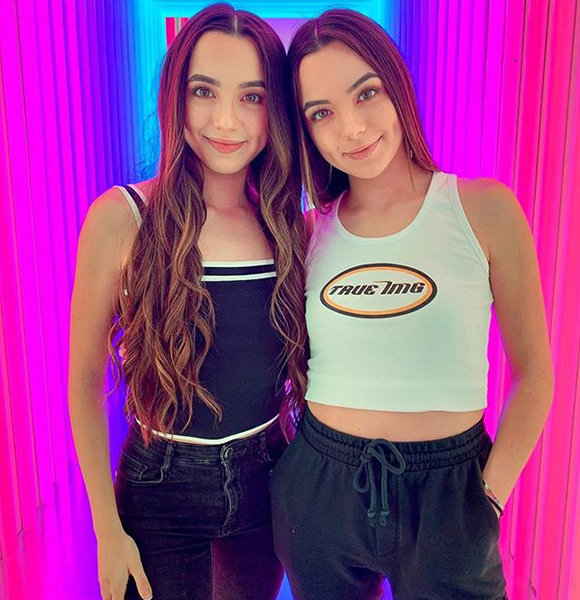 Veronica Meller is an internet-made star, best known for her Youtube channel Merrell Twins that she runs alongside her twin sister Vanessa Merrell.
Through the channel - which boasts almost five million subscribers, the twins upload their comedy and music videos.
For their engaging content, Veronica and her sister were named YouNowers of the Year at the 2016 Shorty Awards. The same year, the siblings also won the Best Live Show at the Streamy Awards.  
Veronica Merrell Dating Status Now, Details On Boyfriend
Well, Veronica is, without a doubt, an attractive young lady, who could have any guy she wants.
However, her relationship status is not so clear at the moment. She has been linked with Youtuber Aaron Burriss - who is famous for creating video blogs, challenge videos, sketches, and parodies for his channel - Lazyron Studios.
Veronica and Aaron are very close to each other and often seen in each other's social media. Further, Aaron has appeared as Veronica's boyfriend in one of Merrell Twins' comedy videos. But, Veronica has not exactly confirmed her relationship with Aaron.
Another Youtuber Sensation:- Who Is Morgan Adams' Boyfriend? Dating Life, Brother, Net Worth
Apart from Aaron, Veronica's first boyfriend Nathan also made an appearance on her Youtube channel in 2016. Apparently, Veronica and Nathan dated when they were together at elementary school. The pair had even made a funny first boyfriend tag video as their relationship's memoir.
Age/ Family/ Siblings
Veronica was born as Veronica Jo Merrell on 6th August 1996 in Kansas City, Missouri.
Though not much is known about the internet sensation's parents, Veronica's sibling bond with identical twin sister Vanessa Merrell is pretty apparent.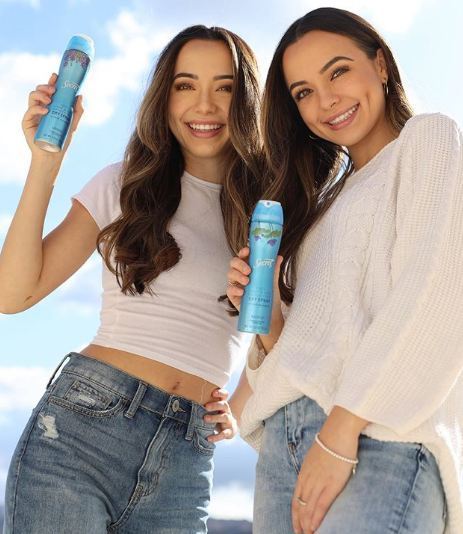 Veronica Merrell (on the right) with her twin sister Venessa Merell in December 2019 (Photo: Merrel Twin's Instagram)
Veronica shares an exceptional bond with her sister and even consider each other as best friends.
Career/ How it all started?
Veronica was interested in performing from a very young age. As a young girl, she was fascinated with cameras. Her parents got her a camera when she was in her sixth grade. From there on, Veronica's love for making videos took flight.
Later, Veronica and Vanessa utilized their talents to merge music and video making. Soon, the siblings started a channel - where they uploaded their original songs and videos.
Also Explore:- How Much Is Zoe Sugg Net Worth? Her Age, Height, Boyfriend
Over a short time, the twin's Youtube channel ended up being a huge hit. Further, they also won many awards and accolades for their Youtube venture. As of now, the twins have three YouTube channels as Merrell Twins, Merrell Twins Live, and More Merrell.
After her massive success from Youtube, Veronica also appeared in movies and TV shows. Her list of filmographies includes Jane The Virgin (2014-2016), The Standoff (2016), The Hunted House Contract (2017), and Hyperlinked (2017), to name a few.
Some Other Facts About The YouTuber
Veronica stands at a height of 5 feet 2 inches (1.57 m).
She idolizes Audrey Hepburn because of her beauty and charitable nature.
Veronica - who boasts a mix of Mexican, Portuguese, Spanish, and German ancestry - speaks fluent Spanish.
She is also a trained musician - who can play the piano, violin, and guitar to perfection.
Veronica is a huge fan of TV shows like Saturday Night Live, and The Big Bang Theory.