Entertainment
ESPN's Victoria Arlen; Former Boyfriend Call Her Back – Dating Again?
If you're one of the regular viewers of dancing programs, then you must be familiar with the world's famous dancing show, Dancing With The Stars. Now, if you've followed the show chances are, that you guys have stumbled upon the dancing acts of ESPN reporter Victoria Arlen.
Yes, Victoria Arlen is the one who mesmerized judges and fans with her dancing skills despite having the lack of sensation in her legs. As soothing as it is to watch her perform, Victoria's love life is anticipated to be equally soothing as well.
So without much ado, let's dive into the context and take a close look at her life and career!
Victoria Arlen's Personal Life
American ESPN reporter Victoria Arlen, who happens to be one of the contestants of Dancing with the Stars, seems pretty busy with her hectic work schedule and performances. Anyways, her busy timetable has not hindered Victoria to give heart-throbbing performances in the show. 
Victoria's dance moves and plays that are accompanied by her pro partner Val Chmerkovskiy tends to garner lots of applause and appreciation from the judges, friends, and families. Interestingly, Victoria's rising fame as a dancer seems to have even startled her ex-boyfriend. 
Previously, after Victoria's super sexy Argentine Tango dance on the show with her sizzling partner on 6 November, last year, Victoria got surprising calls from her ex-boyfriend praising her.
She shared the experience during an interview with the Us Weekly on 7 November 2017, recalling the moment to be funny.
Victoria even admitted that her performance astounded all her family members and she was very content to have been able to show a different aspect of her nature. 
"My grandma was super stoked about it! I think it's fun for me to show different characters and show different sides of myself. Going into this show, I was like, 'I'm not going to hold anything back. I'm not going to be anyone that I'm not. It was fun to show that side [and] it was fun to learn that dance. My family loved it, my friends loved it. I even heard from ex-boyfriends. That was really funny — people I haven't talked to in years!"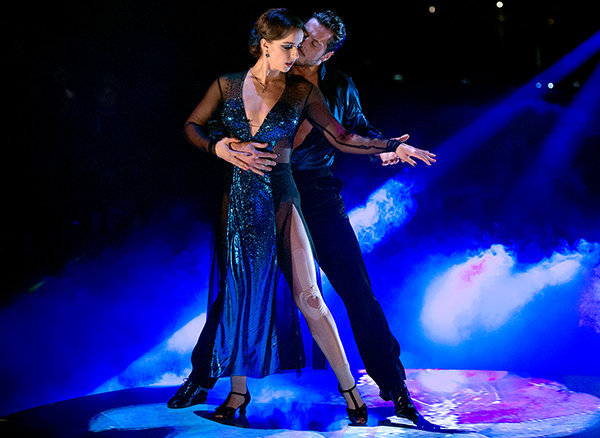 Victoria Arlen with dance partner Val Chmerkovskiy on Dancing With The Stars (Photo: usmagazine.com)
Talking about the struggles of Victoria's life, the ABC News article once mentioned that Victoria was visiting a boyfriend back in 2012. So could the same person be the one calling Victoria now? 
Well, we can't be too sure as Victoria is a lot much of a low-key person and didn't hint at the person's identity. 
As for now, it seems like Victoria's former beaus just called to praise and motivate her, as none of Victoria's dating news has surfaced out in the media. Moreover, it seems Victoria is pretty busy focusing on her career and working on it rather than building up a relationship. 
Victoria's Journey To Stardom
Though Victoria has come a long way to stardom, she frequently fights with her illness of paralysis and endures the pain that one can never imagine. Just before the Tango dance as well, Victoria suffered from a painful spasm in her ribs during the rehearsals. 
Victoria suffered from a rare double conditions known as transverse myelitis and acute disseminated encephalomyelitis at the young age of 11. The illness made Victoria unable to move below her waist, and in the early years of her diagnosis, she was not even able to speak, eat, walk and use her body.
Despite such painful situations, Victoria never let her hope down and defied all the odds after 4-years-long coma. 
At the age of 16, Victoria gave a record-breaking performance in swimming and got selected to represent the USA via the Paralympic swim team in the 2012 London Games. There she won three silver medals, one gold medal along with holding the world record in the 100-meter freestyle.
But after the game, Victoria got disqualified from joining the Paralympic Swimming World Championships in Montreal after the International Paralympic Committee declared that her condition was not permanent.
Later in 2013, with the help of the paralysis recovery center named Project Walk, Victoria got her movement in the legs after three years of therapy. Soon after that, she fought to accomplish her dreams of dancing in the ABC's Dancing With The Stars. 
Moreover, in April 2015, Victoria joined ESPN as one of the youngest regular reporters for programs and events like SportsCenter and the X Games.
Victoria is indeed an inspiration to many for the fight she gave to overcome her illness. Her dedication and willpower have credited her with success and with such pace she is likely to grab more triumph and victory!
Keep Visiting for the emerging updates on the life of Victoria Arlen!