Entertainment
Victoria Baldesarra Wiki: 5 Reason Why You'll Want To Be Her Boyfriend
Victoria Baldesarra Wiki: 5 Reason Why You'll Want To Be Her Boyfriend If you are out browsing the celebrity section, you probably should not land on one of the young and beautiful actresses, Victoria Baldesarra, because you might just not get out of her charm and get stuck there.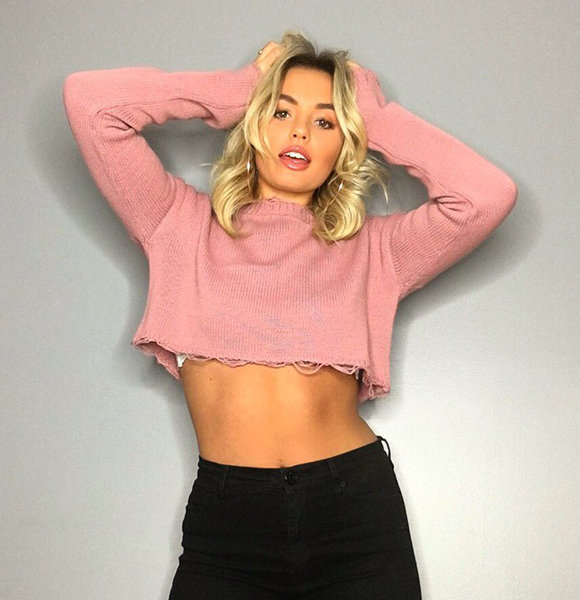 If you are out browsing the celebrity section, you probably should not land on one of the young and beautiful actresses, Victoria Baldesarra(age 19), because you might just not get over her charm!
Known primarily for her work on the TV series "The Next Step," Victoria is a talented actress as well as a brilliant dancer with striking beauty and charm. Considering Victoria's talent and beauty, her appealing attributes will not end as the list keeps on going.
Well, we have compiled all those lists of Victoria's attributes so that you'll know five reasons why you would want to be her boyfriend!
1) Victoria Baldesarra, A Versatile Dancer Turned Actress!
The Canadian native, Victoria Baldesarra was born on July 28, 1998, to the parents Tulio and Cherlann. As per wiki sites, she shared her childhood with an older sibling, a brother named Alec. Hailing from the family of four, Victoria discovered her passion for dancing at the age of 3 and started following her dreams. 
In an interview with Tribute back in September of 2014, Victoria stated,
"I started dancing when I was three years old and competitive dancing when I was six years old. From there I trained at a dance studio for 14 years until I graduated high school."
Started early, the talented Victoria worked hard on her dancing, which later rewarded her with a bronze medal in 2010. She won the medal at the IDO World Show Dance Championships held in Germany as one of the members of the Junior Canadian Show Dance Team.
Victoria's inclining achievements in dance helped her enroll in the acting world. Initially, she received an audition call for the TV series "The Next Step" in 2011. However, she was officially picked for the role of Michelle in 2013. Following her debut, she landed a role on another TV series "Lost & Found Music Studios," which was premiered in December 2015.
Victoria has showcased her talents in the documentary section too; her skills can be well perceived in her documentary "The Next Step Live: The Movie." Moreover, the success she first gathered from her debut series "The Next Step" took her to global tour named 'Wild Rhythm Tour' in 2016. 
2) There Is No Room For Giving Up On Desires For Victoria Baldesarra!
If you have fallen just for the beauty of Victoria, you might be more happy to know that the actress has a solid ground in terms of determination and persistence. Her boldness goes back to her school days when her passion for dancing was hindering her regular school days; especially grade 11. 
Recalling those days in an interview with Mamamia in March 2017, Victoria said,
"It was hard because I was also trying to balance my dancing as well and my acting so there was a lot of things going on."
Dividing the focus and attention between dancing and studies, Victoria missed her regular school days; however, her never-giving-up attitude spoke when she switched to online studies to fulfill her education desire as well.
The actress has already graduated with honors, which she quoted as "huge moment" while sharing a picture on Instagram.
3) The Beautiful Actress Victoria Baldesarra Might Be Possibly Single!
One of the most tempting reason to date Victoria Baldesarra might be that she seems single as of now. Just 19 years of age, Victoria does not have any history of past relationship or dating affairs. Her social media, especially Twitter, may shed some lights on single status as the actress poses her humorous side on the "boyfriend" subject.
Victoria first posted a tweet mentioning a hint about her boyfriend back in March 2013.
Sushi with the boyfriend ???? — Victoria Baldesarra (@vicbalde) March 12, 2013
Later, another similar kind of tweet followed it where she mentioned a boyfriend.
My boyfriend though ????????? — Victoria Baldesarra (@vicbalde) March 22, 2013
However, Victoria brought her humor in April 2014, when she revealed that her bed is actually her boyfriend.
Even though Victoria's tweets may signal towards her single life, it might also be that the dancer-turned-actress has a secret affair hiding away from the media.
However, we can't claim her exact relationship status even though there is no any evidence of her possible boyfriend!
4) Victoria Baldesarra Is Very Hard Working Soul!
Huge success is not something that you earn easily; you have to work hard for it. Well, Victoria knows that very well, as she did the same!
Whether as an aspiring actress or talented dancer, she has given constant hard work as input, which she reveals in her interviews. She once expressed, 
"It's hard. We train a lot. If I'm not in rehearsals, I am training with my personal trainer on top of that I'm also training in acting so there's a lot going on,"
Victoria's strong determination to keep on working was reflected on her global tour of "The Next Step" too. She explained,
"We're constantly busy, it's a pretty heavy toll on our bodies because we are performing once or twice a day on tour, we're not sleeping a lot. It is quite tiring but it's the dream – this is what we've trained our whole lives to do and this is what we've prepared for and although there is pain it's the work and there's the joy that comes out of performing."
She further revealed how she keeps on giving her best as, 
 "The world of dance is very competitive. Everyone wants to be competitive, everyone wants to shine, everyone wants to have their moment of fame so it can definitely be quite dramatic at times but I feel like if you just persevere and focus on yourself, focus on what you're best at you will get recognised."
Victoria concluded, 
"We're all extremely hard workers, we're focused on our dreams to fulfil this as a career and we've been fortunate to have landed our roles on The Next Step and have gotten this job that a lot of people wish they had gotten. It's all about focusing on who you are as an artist."
Well, this stunning actress has an impressive career both as a dancer and an actress and is proving to be a perfect example of "Lady with beauty and brain." 
5) Victoria Baldesarra Wants To Be A Good Role-Model For Teenagers!
Last but not the least, the young achiever, Victoria has the desire to transfer her experience and knowledge to upcoming future generations. Victoria, who is a teenager herself, has learned and gained a lot throughout her career and now, she wants to inspire the young generation through her experience.
Revealing her desire in the interview with Mamamia, she said, 
"I'm still a teenager so I know what it feels like to feel that pain and to feel like you're not good enough. I just hope to inspire people to love themselves and to be positive and follow your dreams."
In the same interview, she explained that her self-confidence played a vital role in inspiring her to uplift her career.
 "Self-confidence means so much to me because I know it can be really easy with technology and social media to be really hard on ourselves,"
Well, the beautiful actress, Victoria is not only all about the beauty and charm, but she also has a desire to be a role model for young generations. Won't that be the tempting feature you'd want to find in your girlfriend? 
Express your views in the comment section below!