Entertainment
Vincent Martella Movies, Net Worth & Family; Is Walking Dead Actor Gay?
Vincent Martella, known for his role in The Walking Dead, dodged off gay rumors with his relationship with his girlfriend...they began dating back in...after the pair crossed their path in an...they even appeared together in...However, the couple parted their separate ways back in...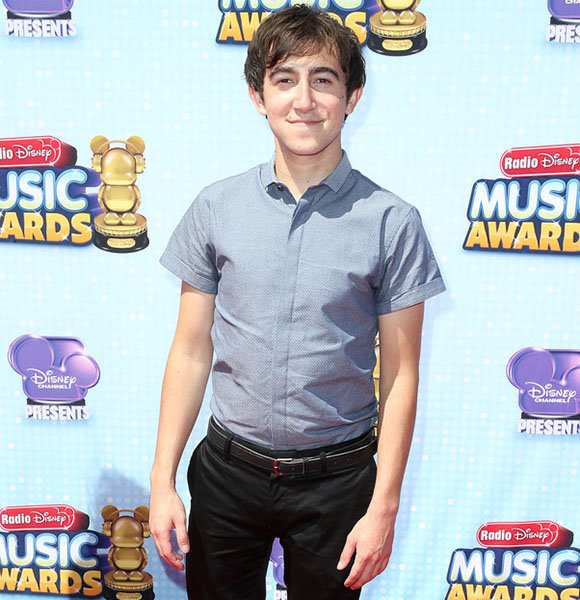 Vincent Martella has been able to engrave his name in the world of entertainment with his pure talents. While he excels as an actor starring in various movies and tv shows, he thrives with his distinctive voice. 
Well, Vincent is also a voice actor recognized for voicing Phineas in the Disney XD animated series Phineas and Ferb. Indeed, with his talents and a knack for acting, Vincent is reaching the height in his career. 
Apart from his rising career, Vincent has a love life of his own. While Vincent once shared a loving romance with his former girlfriend, he now seems to prefer to keep his love life to himself.
Despite attempts to keep his romance under the veil here are few insights on his love life. 
Dodges Gay Rumors, Romance With Former Girlfriend
While it's common for the socialites to have their name tagged along in gay rumors, The Walking Dead cast Vincent Martella was also one to have it up his sleeve. However, he dodged off the gay rumors with his relationship with his girlfriend.
Also Have A Look At: Dylan Michael Douglas Gorgeous Prom Date; Proud Parents & Hefty Net Worth
Vincent was previously involved with American actress and singer Alyson Stoner. Vincent dated Alyson back in 2009 after the pair crossed their path in an award function. The began going out in January that year.
The couple was often spotted together sharing memorable moments. Adding to it, they even made a number of formal appearances during the red carpets events as a couple. 
However, the couple did not last long. Turns out after almost two years, Vincent and Alyson parted their separate ways. They ended their relationship in November 2010. 
Despite having a history together, the couple did not allow their personal life affect their professional relationship as they firmly worked together in the animated series, Phineas and Ferb. 
Found New Love? Deleted Posts Reveals
Vincent Martel, now at the age of 26, has his current love life on hold while he thrives in his career. Despite having the charisma to attract ladies, his love life seems to be a silent story.
Something you may like: Kyla Kenedy 5 Facts: Everything From Age to Her Character in 'Speechless'
Even though Vincent hinted romance in the past through his posts, his romance seems to have fizzled out. Back in July 2016, Vincent had hinted his romance through a tweet on Twitter. The tweet read that he loved his dog more than his lover hinting the presence of someone special in his life.
Months later, on 3 September 2017, Vincent gave the glimpse of a possible girlfriend as he posted a picture with her on his social media. Vincent had posted a picture with Lauren Schoneman in which the couple seemed comfortable in each other's company while having all smiles.
During that time, Vincent and Lauren had visited Huntington Beach, California leading to speculations that they were dating. Likewise, Vincent even shared a picture of Lauren with a cat on his Instagram account back on 4 April 2018.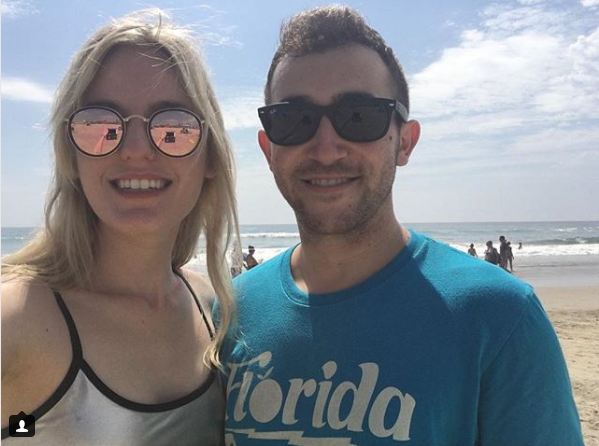 Vincent Martella with his possible girlfriend Lauren at Huntington Beach, California. (Photo: Vincent Martella's Instagram)
Don't Miss: Lennie James Of Walking Dead Hated Season 7! Reveals He Missed Family In An Interview
Even though they hinted a sizzling chemistry back then, the romance between them seems to have now fizzled out. Turns out Vincent has deleted all the posts from his social media hinting that the couple might have parted separate ways.
Walking Dead And Other TV Shows
For the one, who has been portraying minor roles in many TV shows like that of The Mentalist, Vincent has landed on another major TV show, Walking Dead. Being part of the cast from season 4, the actor portrayed the role of Patrick, the character among the various survivors that have been brought into the prison to help build the new community.
Talking to EW magazine about his landing on Walking Dead, he said,
"I was actually a massive fan of The Walking Dead. I've watched it since its premiere. It's been such a cool thing for me to be a part of the show that I'm such a big fan of, because I don't watch too much television religiously, like every single week. But this is one of those shows, so I'm really lucky."
Vincent also has many acting credits for the TV shows like Milo Murphy's Law, Phineas and Ferb and voice acting credits for Take Two With Phineas and Ferb and Phineas and Ferb: Across the 2nd Dimension.