British Actor Vinnie Jones...is a multi-talented personality...was a professional soccer player...is among those people who have lived a love story straight out of movies...perfect life with their two children...their happiness faced turmoil in 2013 when...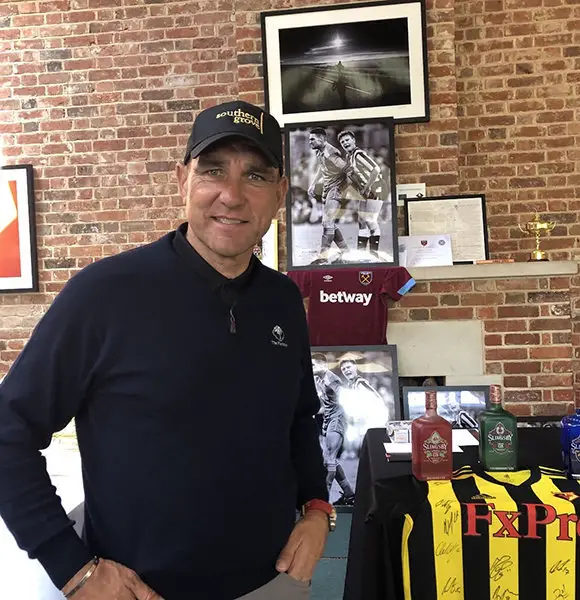 British actor Vinnie Jones, who is known for his roles in Snatch and Lock, Stock, and Two Smoking Barrels, is a multi-talented personality.
Before his fame from acting, he was a professional soccer player who played for various prestigious football clubs, including Chelsea, Wimbledon, and Leeds United. Further, he also played as a midfielder for the national team of Wales from 1994 to 1997.
Vinnie Jones Wife, Children
Vinnie Jones is among those people who have lived a love story straight out of movies. He tied the knot with his wife, Tanya Jones, on 25 June 1994.
It all began when he met Tanya for the first time as a twelve-year-old. They had a brief date when they were sixteen but went separate ways after that.
However, fate had different plans for them as the two again came across each other after many years. At that time, Tanya was a divorced woman( ex-husband Steve Terry) with a daughter named Kaley. But the couple eventually fell in love. In 1991, Tanya became pregnant with their son Aaron Jones.
Then the couple took their relationship further by getting married in 1994, and the couple lived a perfect life with their two children.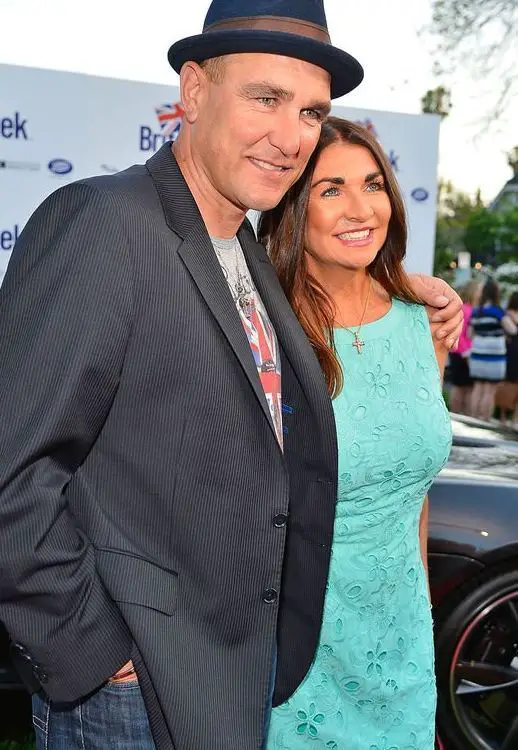 Vinnie Jones strikes a pose with wife Tanya Jones (Photo: Getty Images)
But, their life became severe in 2013 when they were both diagnosed with melanoma- a type of skin cancer. Luckily, Vinnie's health improved, but his wife was not so fortunate. She passed away in July 2019 after battling three types of cancer.
Also Similar:- Liam O'Brien Wife, Cancer, Net Worth, Children
After losing the love of life, Vinnie is going through a hard time right now, but he has his children beside him. Vinnie is very proud of his son, Aaron, who is a soldier, and he also shares a solid bond with his step-daughter Kaley.
Short-Bio, Career, Net Worth
Vinnie Jones was born on 5 January 1965 in Watford, Hertfordshire, England. He started playing football at a young age.
His professional football career started in 1984 when he became a part of Wealdstone F.C. After that; he played for various clubs. But during his career as a player, his aggressive demeanor on the football field gradually earned him the "hard man" image. 
After his successful career in sports, Vinnie entered into the realms of acting. He made his debut in 1998 as a villainous debt collector in Guy Ritchie's Lock, Stock, and Two Smoking Barrels. His role in the film not only gained him an excellent critical review but also paved his way into the movies.
During his career as an actor, the 54 years old actor has appeared in many movies like Snatch, Swordfish, She's the Man, Jonny Was, and EuroTrip, to name a few. Further, he has also appeared in the blockbuster, X-Men: The Last Stand as The Juggernaut. 
You Don't Wanna Miss:- Lena Dunham Married, Dating, Children, Net Worth
Apart from his acting credits, he has also worked as a voice actor in many projects. Over his career, Vinnie Jones, who stands at a towering height of 6 feet 0.75 inches (1.85 m), has been awarded two Empire Awards and an Action on Film International Film Festival award.
With such an impressive career in sports and acting, his whopping net worth of $10 million does not come as a surprise.