Entertainment
Why Hasn't Fox News' Bill Hemmer, Age 52, Not Married Yet? Does He Have a Girlfriend or Engaged?
Quick Information
Date of Birth

1964-11-14

Age

56 Years 5 Month(s)

Nationality

American

Birth Place

Cincinnati, Ohio, United States

Home Address

New York

Profession

Journalist

Zodiac Sign

Scorpio

Religion

Christianity

Ethnicity/Race

White

Father

William R. Hemmer

Mother

Georganne M. Knittle

Brother/s

Andy

Sister/s

Tracy

Relationship Status

Single

Ex-Girlfriend

Dara Tomanovich

Gay

No

Salary

$400 Thousand Approx.
American journalist Bill Hemmer is one among the famous pack, who has fairly remained single for a long time.
However, it's not that Bill does not have a dating history. He led eight years of dating with his model girlfriend. But even his relationship could not save him from being rumored as gay. 
Why don't you follow Bill Hemmer's whole story!
Gay Rumors Swirls; Sexuality Questioned
While his career brought him the taste of success, Bill has been part of rumors too. He got himself linked to gay stories after getting pictured shirtless.
However, it turned out that the picture was fake as his image was head-swapped to the original shirtless picture of Tiger Woods. Later, Bill took the matter to the Law Enforcement Officials.
Discover:- Gwilym Lee Married Or Casually Dating? He Just Can't Be Single
Later, while Bill was dating his girlfriend, one of his fans sent an open message letter to queerty.com revealing his straight sexuality. 
"Made it official this morning during his news program that he has a girlfriend!! In fact, he took her to the top of the Empire State building yesterday and proudly pulled out his cell phone while live on the air, found her picture on his cell phone. And forced it in front of the camera for the world to see the love made it official this morning during his news program that he has a girlfriend!! In fact, he took her to the top of the Empire State building yesterday, and proudly pulled out his cell phone while live on the air, found her picture on his cell phone and forced it in front of the camera for the world to see the lovely Mrs. Future Hemmer."
The letter became strong evidence to prove Bill was not gay.
Model Girlfriend; Separation After Eight Years
Due to the attractive and charming personality, Bill often attracted supermodels. He once dated Canadian model Dara Tomanovich. She was the new leadership model for the fashion house, Chloe located in Paris.
They were in a serious relationship for eight years.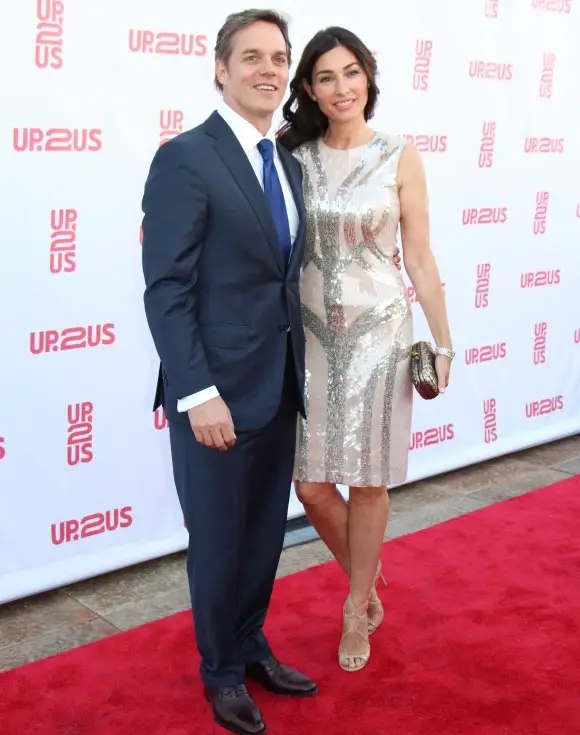 Bill Hemmer and his then-reported girlfriend, Dara Tomanovich at Gala Event 2013 (Photo: guestofaguest.com)
Bill and Dara's love was pretty intense & they were even seen clicking pictures and enjoying date moments at the top of the Empire State Building. The images covered the media and proved that Hemmer was indeed straight. Before that, it was rumored that Hemmer was gay due to his single relationship status which was about eight years ago.
Don't Miss:- Danielle Cohn Young Age Fame From Parents Struggle | Boyfriend, Dating Now
Their love lasted for years and years, but the two didn't get engaged; this might be because Hemmer didn't want her as a wife. The couple ended their relationship in 2013, and since the separation, Bill has remained relatively private about his dating status. 
Later, one of his fans asked whether the journalist has a girlfriend or not in February 2015. To this day, Bill hasn't replied to the tweet.
Maybe girls still have a dream of being the girlfriend of this still young looking, handsome journalist.
Is Bill Back From His Vacation?
Yes, Bill is done taking vacations, and his admirers came to know that after he tweeted about it. On 6th September 2016, the Fox News' personality tweeted:
"Back from vacation, hope you had a fantastic Labor Day Weekend!"
Amidst all the Presidential election hype, before Donald Trump emerged victorious as the 45th President of the United States of America on 8 November 2016, Bill Hemmer was the man tasked to tell the viewers what exactly was happening everywhere from the Billboard at the Fox News network.
Fox News' Bill Hemmer Dubbed An "Ultimate Gentleman"
Before making a move to NBC news, Bill's ex-partner Megyn Kelly was quoted calling Bill the 'Ultimate Gentleman.'
Read Also:- Sam Boik Age 34 Wiki Unfolds: Married Status, Height, Parents & More Facts
In an interview with the Washington Post, Megyn talked about her relationship with Bill and how important he was in her career as a partner, mentor, and friend. She told about how Bill was the most beautiful person ever and responded to most interactions with softness. She was quoted talking about him stating, 
"I'd never been a TV anchor before; I'd never been employed as a TV anchor. So, I mean, Hemmer is the ultimate gentleman. I have never seen him have anything but a kind word and a generous lens for people. If he gets frustrated or angry or upset, I have never seen it, and I have spent a lot of time with the guy."
She even recounted a heartwarming story about Bill on her wedding day. It went along the lines of,
"I'll give you an example, just of Bill Hemmer which sums up his personality. It was at my engagement party to Doug. Hemmer was there. Doug's parents were there; they were 70 and 80, thereabouts. . . . They needed to leave. [Confusion arises over how they would get a ride] Hemmer steps in and he's like, "I will get them a taxi." So he takes Dr. and Mrs. Brunt out to the sidewalk, he hails them a taxi, he gets them into the taxi, he gives the address to the taxi driver, then he tells the taxi driver what radio station to put on because he thinks Dr. and Mrs. Brunt would enjoy their 10-minute ride more with this music in the background."
Later, in June 2018, Bill Hemmer bid farewell to the Brian Kilmeade Show after eight years of appearances as a weekly guest on the show. Quite surprising why he hasn't found a perfect lady for himself yet.
Behind Bill Hemmer's Scorpion Bite: Absence Of Wife & Married Life
It's not very uncommon for Fox News' associates to make headlines for their wayward conservative remarks. Likewise, controversies surrounding the questioned individual's married life are known to thrust him/her in the public realm, resulting in undesirable consequences.
But what are the chances of a single man - Bill Hemmer, in this case - making news for his only way of living?
Interesting:- Princess Eugenie Married Jack Brooksbank In Astounding Wedding Dress!
In October of 2018, the veteran TV personality became a source of public fascination after he revealed that a 6-inch-long scorpion had gotten into his Greenwich apartment and stung him. He summed the fiasco by saying,
"I thought I was either electrocuted or broke a bone..."
The bite prompted a visit to a neurologist. Bill later revealed that his maid killed the scorpion and sent him a photo of its corpse.
However, this wouldn't be the end of the drama ensued as a result of the scorpion bite. His fans didn't hold back to taunt their idol. According to them, if he had married, he didn't have to rely on his cleaning lady to kill the scorpion; his wife would have done that for him.
If there's any validity to the claim, we'll have to ask Bill.
Blasted On Face
In April 2019, Bill was reprimanded by Democratic National Committee chairman Tom Perez on the topic of 2020 Democratic presidential primary debate. The TV host had asked the official if he would consider lifting the ban from Fox hosting the prestigious discussion. But the enraged guest replied in negative and went on about the network's close link with President Trump. In the interview, Bill was left hearing negative comments about his workplace, Fox.
Family Life
Although a busy TV host, Bill is extremly close to his family. His father and mother love each other immensely and already celebrated their 56th anniversary on 5th August 2013. Besides his parents, Bill's family consist of his brother Andy and sister-in-law Nancy.
Well, Bill doesn't have children of his own but he has child-like figures in his life. The bundle of joy is his brother's three children. The Fox host is a wonderful uncle to the children of his family.