Entertainment
Danielle Cohn Young Age Fame From Parents Struggle | Boyfriend, Dating Now
Danielle Cohn was not born into fame. She scratched her way up there with the support of her mother...by her side. Their family previously struggled with money but with Danielle's fame, they have gained a huge amount of net worth. Apart from it, Danielle is currently dating her boyfriend...since...They have been together for...after Danielle split from her former boyfriend...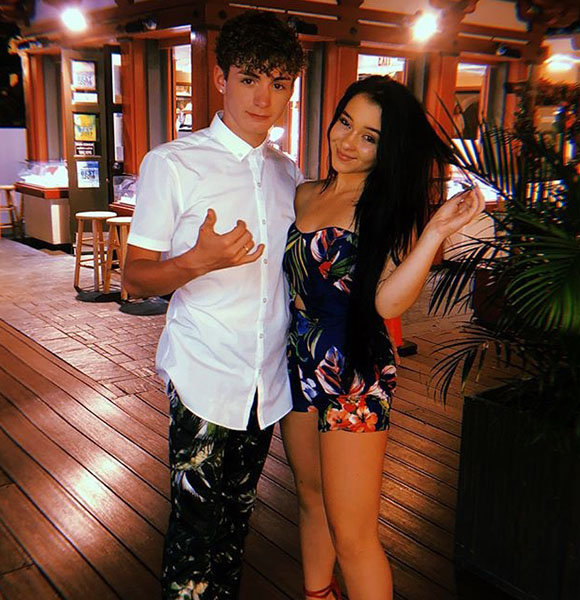 American Instagram star Danielle Cohn, who was able to grab fame through her appearance in videos posted in Musical.ly i.e. Tik Tok, not only had admirers but also gained haters for herself.
Despite it, the only person she had around in all the times was her mother. Indeed, Danielle had all the support from her parent which gave her the courage to face the struggles that being on the spotlight brings.
Parents Struggle To Danielle's Fame
Danielle Cohn may boast more than 2.6 million followers on her Instagram account, however, her past was not an easy one. Her early days were filled with struggles as she was not born into fame, instead, she built it up for herself.
See Also: Kandee Johnson And Her Tumbling Life With Irresponsible Husband; Finally Happy After Being Engaged To Boyfriend?
The Florida, United States native, who is now at the age of 14, was raised by her parents alongside her older brother. Just when Danielle was in her growing age, she along with her brother and mother was asked to leave from their father's home.
Danielle's mom Jen single-handedly raised her two kids. Back then Jen worked two shifts that they could only afford one phone. so, Jen would leave the phone at home with the kids which introduced Danielle to musical.ly. 
The Marilyn Monroe singer, who stands at the height of 4 ft 10 in (147 cm), started making videos and eventually over a year was able to grab many followers and even started getting paid for the sponsored videos. The average ad or sponsored video would pay her $400 to $500 at a time eventually increasing her net worth and she would receive multiple requests at a time, which was much more than what would earn in a week.
The money earned on ads were kept in a separate account as they saved up for the college. Soon, Jen decided to quit her night job and helped her daughter manage her fast-growing personal brand. 
They were even flying to LA for business meetings and soon decided to shift there. Jen then quit her teaching job as well to look after her teenage daughter and made sure she walked on the right path as the fame has surrounded her daughter with much fame. 
Don't Miss: CNN Anchor Ana Cabrera Flaunts Perfect Husband & Family! Age, Salary, Height
Jen is now Danielle's full-time mom-manager managing her contracts while Danielle focuses on her education as she is enrolled at a private Christain school. Well, the mother-daughter duo is surely thriving while Danielle has been able to grab admirers as well as haters. 
Dating New Found Boyfriend Just After Split With Ex
Talking about her romance, Danielle has now found a new beau after the end of seven months relationship with her former boyfriend. Danielle previously dated Sebastian Topete, the Instagram star who gained fame after being in a relationship with Danielle. 
Danielle started dating Sebastian back in 2017, but the couple knew each other and were friends one year prior to their dating. They had their relationship official in the social media, but it came to an end only seven months after being together. Danielle split from Sebastian in May 2018.
Just after the split, Danielle did not hesitate to begin a new relationship with her current boyfriend, Mikey Tua, who made his feature film debut in the 2018 drama Try to Smile. Even though her fans were furious at her for being in a relationship too soon after the break-up, Danielle wanted to give love another chance which she found with Mikey.
Danielle and Mikey began dating during the first week of June. Previously they were rumored to be in a relationship, but the couple came forth with their relationship when they celebrated Mikey's birthday together on 12 June.
Since then they are going strong and having their romantic getaways as well. Back in July, the pair visited Disney land together made sure to keep their fans updated as they posted pictures together on their Instagram.
Adding to their getaways, the pair had a romantic visit to Hawaii. The couple jetted off to Hawaii for their week of vacation just before they marked their three months of togetherness.
You May Also Like: Nick Kyrgios Is Dating! Meet Super Hot Tennis Player Girlfriend Ajla​​​​​​​
Danielle posted a picture on Instagram celebrating three months of their relationship.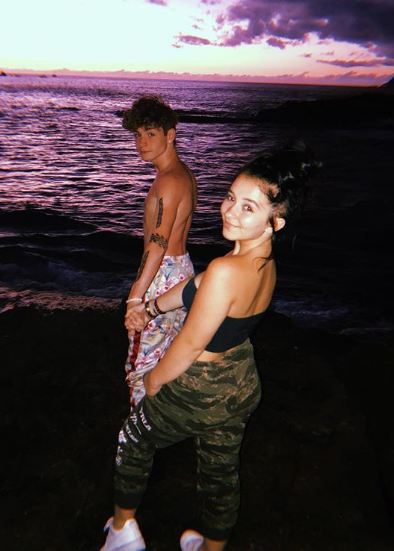 Danielle Cohn with boyfriend Mikey on their romantic getaway to Hawaii. (Photo: Danielle Cohn's Instagram)
Well, looking at their social media posts they sure to be getting along really well while making memories. Indeed, they sure are a couple goals in today's world of break-ups and make-ups!