Entertainment
Actor Daniel Levy Gay, Wife, Net Worth & Interesting Facts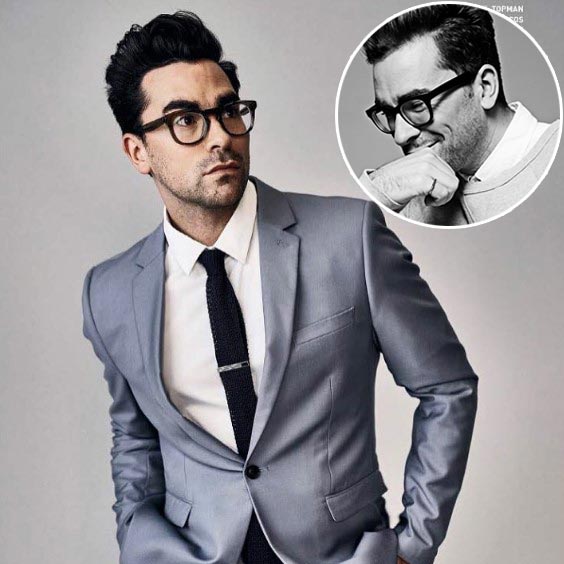 Quick Information
Net Worth

$14 Million

Official Site

https://dan-levy.com/

Instagram

https://www.instagram.com/instadanjlevy/?hl=en

Twitter

https://twitter.com/danjlevy

Facebook

https://www.facebook.com/DanLevy/

Hair Color

Black

Height/ How Tall? 5' 11" (1.80 m)
Education

Film Production

College

Ryerson University

Career

2000-present

Nominees

2018 MTV Movie & TV Awards and 2020 Sexiest Man Alive

Awards

Canadian Screen Awards (2016)

Date of Birth Aug 09, 1983
Gay

Yes

Relationship Status

Single

Sister/s

Sarah Levy

Mother

Deborah Divine

Father

Eugene Levy

Ethnicity/Race

White

Zodiac Sign

Leo

Birth Name

Daniel Joseph Levy

Profession

Actor

Birth Place

Toronto, Canada

Nationality

Canadian
Most of the TV personalities, actors, and other famous people are open about their relationship issues or sexual orientation while a few have chosen to baffle us. TV actor Daniel Levy falls in the latter as the allegedly Pansexual one has admitted to being gay.
Yes! The MTV Canada's host, who portrays the role of a Pansexual guy "David Rose" on CBC's television sitcom Schitt's Creek (alongside his father Catherine O'Hara, Annie Murphy, and Chris Elliott), actually prefers men to women.
Dan, however, was never really familiar with Pansexuality before he did the role on TV. In an interview in 2016, he said, "I hadn't seen pansexuality on TV before."
Explore:- Janelle Monáe, 32, Confirms Sexuality, Frees Herself 'Pansexual'!
Furthermore, in an interview with Variety.com, he was questioned what he thought about his role as a Pansexual character.
He talked about how the sexuality of the character fit with his personality, and the primary goal of nature was to prove that sexuality is not a part of a person's personality but something that can perhaps complement it. He talked about how it set an example, recounting an encounter with a fan where a girl talked about how his character influenced her family. 
His words were along the lines of,
A girl came up to me on the street and said the show changed the dynamic in her family. Her brother's gay, and her parents had never accepted him. But by watching the way that Johnny and Moira interact with David in our show — how accepting they are — it was able to inform this girl's parents in ways they hadn't seen before. You often forget, because you're so inside it, that television has power. And for us, any chance we get to project a world where things are good and right, that's all we can hope to do.
Daniel Levy with Father/Co-worker at Sirius XM studio on 6 February 2017 (Photo: gettyimages.com)
However, in real life, he is sexually gay which has been the reason why he had given no answers to queries of wife or girlfriend.
It was mentioned in one of MTV's articles that MTV has been promoting gay, lesbian, transgender, and bisexual related shows to respect adversity and respect the life-long struggles of the gay community.
On the other hand, many have argued saying MTV has adopted a pro-LGBT policy only because of the challenges and embarrassment they have to face in the real world if they don't comply with the pro-LGBT atmosphere. 
MTV host Dan Levy (son of Acton Eugene Levy) is openly gay.- MTV
Daniel Levy Bio, Net Worth
Daniel was born on the 9th of August 1983, in Ontario, Canada as the son of Canadian actor Eugene Levy, and his wife, Deborah Divine.
Born as the eldest of two children, his sister is actress Sarah Levy, and it seems like the whole family is into acting. Although it is evident that his acting has earned him fame, fans, and money, his net worth is $14 million. He makes a decent salary of $50,529 per year from his acting day job.
Read About Another Canadian Actor:- Nathan Fillion Married, Girlfriend, Gay
There have been a lot of speculations about Daniel Levy mostly about his career as a TV personality. He was a nobody for so many years and then appeared almost out of nowhere to gain so much popularity. Daniel began his career by hosting the MTV Live show, under MTV Canada.
Apart from hosting, he also started to write scripts for the reality talk show named The After Show. He is currently working with his father in the Schitt's show.
Daniel Levy, A Part of Sexiest Man Alive 2020
Daniel Levy, the Emmy Award-winning comedy sitcom's co-creator, has not just baffled the audience with his visionary concepts but also his bewitching looks. His sense of style and fashion could not help him get away from being part of People's sexiest man alive list; this was his debut in this year's issue.
The Toronto native punned the magazine, saying, 'this form of sexy is a niche market.' However, he was not successful in bagging the title; the American actor and producer, Michael B. Jordan, was named the sexiest man alive in Jimmy Kimmel Live!
Over the years, there have been many other Canadians who have made it to the annual list of the magazine, including Property Brothers Drew and Jonathan Scott, and Ryan Renolds.
Previously, he (Daniel)  was recognized as one of the best-dressed men in Toronto, 2016. So, it was very evident that one day Daniel would have made it to the magazine's list. 
Daniel Levy's Time In Quarantine
This year, Daniel's time at home was completely transformative, according to People. He had hands-on the kitchen, which did work out as planned. He was into cocktail shaking, which he was good at than stand mixing. However, he did not enjoy much-doing puzzles; instead, he laid back on a couch with his loyal buddy: his pup Redmond, and watched TV shows like Real Housewives of Atlanta and Below Deck Mediterranean.        
And like many others going through the same pandemic situation, he was forced to communicate with people in his community but that has opened up lines of communication for him. 
Daniel's Famous Father
The Canadian star's father, Eugene Levy is a legend. The reputed man is a multifaceted person with acting, writing, and producing gig to his credit. His most successful films include Bringing Down The House, Cheaper By the Dozen 2, and Father Of The Bride Part II.
Well, he stole everyone's heart when he voiced Dory's father's character in Finding Dory. His other loved work includes Best In Show, Waiting For Guffman, For Your Consideration Splash, Armed and Dangerous, Multiplicity, Club Paradise, Serendipity, and A Mighty Wind. For the latter project, he even went on to win a Grammy award.
For his contribution to arts, he was awarded Member of the Order of Canada and a recipient of The Governor General's Performing Arts Award. The latter is the topmost honor present in performing arts in Canada.