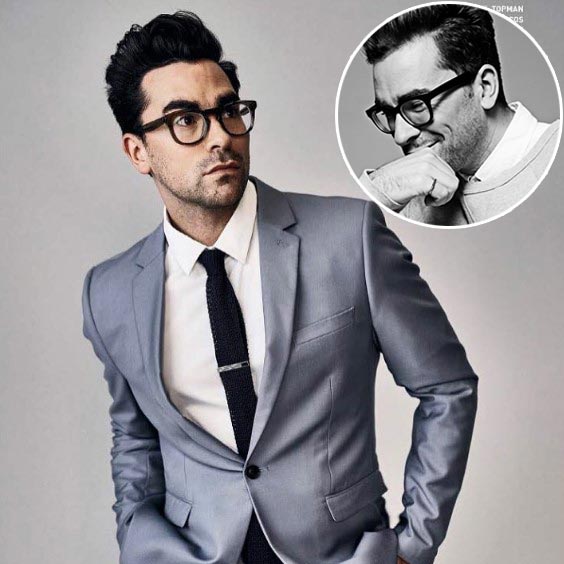 Quick Information
Net Worth

$14 Million

Official Site

https://dan-levy.com/

Instagram

https://www.instagram.com/instadanjlevy/?hl=en

Twitter

https://twitter.com/danjlevy

Facebook

https://www.facebook.com/DanLevy/

Hair Color

Black

Height/ How Tall? 5' 11" (1.80 m)
Education

Film Production

College

Ryerson University

Career

2000-present

Nominees

2018 MTV Movie & TV Awards and 2020 Sexiest Man Alive

Awards

Canadian Screen Awards (2016)

Date of Birth Aug 09, 1983
Gay

Yes

Relationship Status

Single

Sister/s

Sarah Levy

Mother

Deborah Divine

Father

Eugene Levy

Ethnicity/Race

White

Zodiac Sign

Leo

Birth Name

Daniel Joseph Levy

Profession

Actor

Birth Place

Toronto, Canada

Nationality

Canadian
Most TV personalities, actors, and other famous people are open about their relationship issues or sexual orientation, while a few have chosen to baffle us. TV actor Daniel Levy falls in the latter as the allegedly Pansexual one has admitted to being gay.
Yes! The MTV Canada's host, who portrays the role of a Pansexual guy "David Rose" on CBC's television sitcom Schitt's Creek, actually prefers men to women.
Daniel Levy On Being Gay
Daniel Levy, age 38, was rumored to be a pansexual or bisexual, but he admits that he is gay. Daniel's performance made everyone believe that he was bisexual or pansexual. He used to avoid talking about his sexual orientation publicly. But in 2020, on Watch What Happens Live with Andy Cohen, he shared about him being gay.
Explore:- Janelle Monáe, 32, Confirms Sexuality, Frees Herself 'Pansexual'!
Daniel used to struggle with anxiety when he was a kid. But it started to get worse when he found out about him being gay. He was very afraid of getting exposed and feared how society would react. So he hid his sexuality for years in fear of being a disappointment. 
Even though you try your best, you can't hide everything. It was hard for Daniel to hide, and he started to get involved in the theatre, where he could portray another personality and escape reality. 
When asked why he feared so much, he shared how society has outcasted queer people. People in the past had very conservative thinking, and they used to harass and abuse queer people. Maybe that is why many people feared finding and accepting their sexuality. 
Regardless of being gay, Daniel's parents have supported him in his journey. He claims that he came out to his parents at the age of 18. He shares that his mother knew about his sexuality and could not wait any longer for the coming-out moment. His mother invited him for lunch and asked him about being gay, and his answer was a yes. He has a very close relationship with his mother, and maybe it's a mother instinct that knew his son's feelings.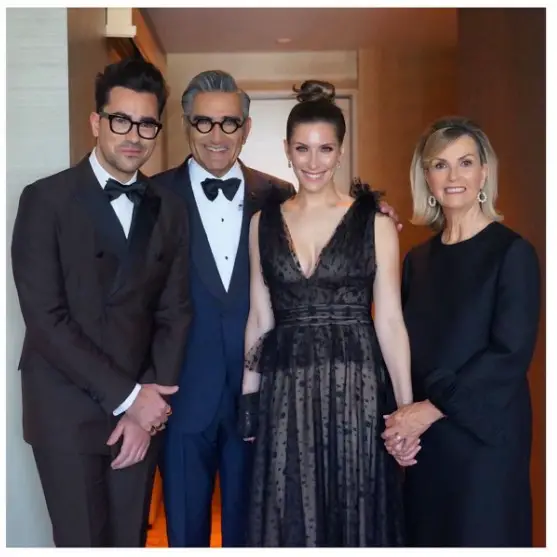 Daniel with his family. (Source: Instagram)
Daniel was not so comfortable with sharing his sexuality; however, his show Schitt's Creek made him realize that he is not different. Daniel admitted how he was not familiar with Pansexuality before doing the role on TV. He said, "I hadn't seen pansexuality on TV before."
Read About Another Canadian Actor:- Nathan Fillion Married, Girlfriend, Gay
In an interview with Variety, he was questioned about what he thought about his role as a Pansexual character. He shared about how the sexuality of the character fit with his personality, and the primary goal of nature was to prove that sexuality is not a part of a person's personality but something that can perhaps complement it. He talked about how it set an example, recounting an encounter with a fan where a girl talked about how his character influenced her family. 
He said: 
"A girl came up to me on the street and said the show changed the dynamic in her family. Her brother's gay, and her parents had never accepted him. But by watching how Johnny and Moira interact with David in our show — how accepting they are — it was able to inform this girl's parents in ways they hadn't seen before. You often forget, because you're so inside it, that television has power. And for us, any chance we get to project a world where things are good and right, that's all we can hope to do."
Daniel has inspired numerous people to come out and accept their sexuality. In addition, he has been supporting and promoting gay, lesbian, transgender, and bisexual-related shows to respect adversity and the lifelong struggles of the queer community. 
Daniel has received a GLAAD award and was honored for promoting acceptance of the LGBTQ community. 
Daniel has been living a decent life with a net worth of $14 million. However, he is said to be single at the moment and is focusing more on building his career than finding someone. 
Daniel is one the influential personality in the showbiz who has been changing society with his performances. He has been working with many brands to promote the LGBTQ community. Besides work, we are eager to see him with his someone special soon. 
We will surely update you guys on Daniel Levy in the future. Till then stay tuned.