Entertainment
Wondering About Kate Garraway's Husband? Or Curious About Her Children? Get Answered Here
Kate Garraway is not a new name in journalism. Many people may know about her because of her bright career. But people often wonder about her personal life. Do you want to know about her family life, husband, and children? Then you're in the right place.
Who Married to her? Husband?
She is married to Derek Draper, an English psychotherapist, and former lobbyist/ political advisor whose name was linked to two political scandals;  'Lobbygate' in 1989 and 'Smeargate' in 2009.
They got married in September of 2005 in Camden. After not even a year of getting married, Kate gave birth to her first daughter, named Darcey, at the age of 39 in March of 2006. She again gave birth to her second child, a son, namedB Billy, in 2009.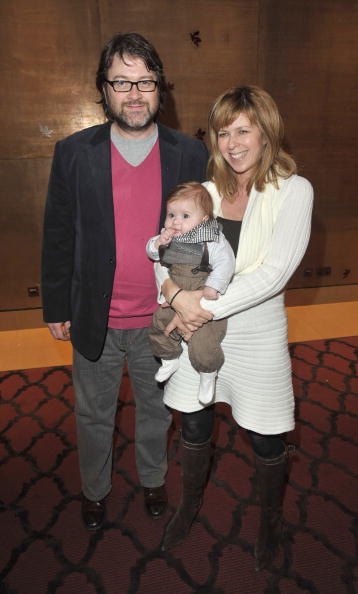 Caption: Kate Garraway her husband Derek Draper and their son Billy attends The Princess And The Frog special event at The Mayfair Hotel on January 24, 2010
Source: gettyimages.com
She was previously married to Ian Rumsey. They got married in 1998 and had a very bitter divorce in 2003. They blamed their busy work schedules for the breakup.
Ian Rumsey was working for ITV like Kate in the news department but was appointed as the Breakfast show's editor in 2010. Before he was promoted to Daybreak's editor position, he was working as the Head Of Program Editor for News at Ten on ITV while Kate was an entertainment presenter for ITV's GMTV.
Unfortunately for Ian, he lost the job two years after taking on the role. Tabloids described him as a scapegoat who had to leave the show because of his colleague failures. On the other hand, Kate, who was kind of feeling worried when her ex-husband Ian joined Daybreak as her boss, was promoted as entertainment editor for Daybreak in 2010
Ian is presently working as the Chief Executive of Exclusive broadcasting since January 2012. He was among the group who formed the independent company in the first place.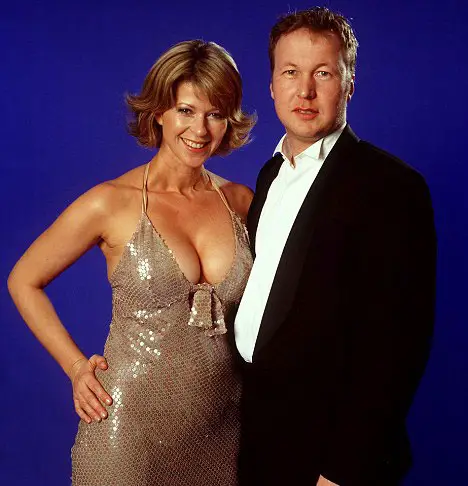 Caption: Kate Garraway and Ian Rumsey, pictured before they married
Source: dailymail.co.uk
Desire for Third Child:
She caused a lot of commotion on Tabloids when she opened up about her burning desire to be a mother for the third time at an unlikely age. If you have read about her family life, you may know that she had her second child when she was around 42.
She has expressed many times about how she felt when she found out that her chance of giving birth to a baby was low and diminishing, at the age of 45.
She showcased anger when she discovered her losing capability. She regretted not starting a family earlier.  In the revealing 2012 article titled "Am I being selfish to want a third baby at 45?", she said:
"I yearn for a third child. It is like a gnawing pain, this ache to be pregnant; to experience again the extraordinary free-falling thrill of giving birth and starting afresh with that blank sheet: a new life."
And in May 2013, to daily mail, she said:
"if only I had known how baby hunger would so resolutely capture me in its grip. If only I had known how desolating the sound of the door of my fertility slamming shut would sound. And above it all this: that I'm one of the lucky ones."
Later she finally came to peace with herself and also felt bad for acting and expressing that way. She said to 'dailmail' on Oct 2014, "Why did I still want another child? Which is pure greed really when so many people can't have even one? I felt a bit ashamed of myself."
Caption: Kate Garraway messing with food in Kitchen with her kids (2014)
Source: dailymail.co.uk
Kate Garraway's Short Bio:
Kate Garraway was born on 4th May 1967 in Abington-on-Thames, Berkshire, England. After attending Fitzharrys School in Abingdon, she graduated with Bachelor of Arts Degree in English and History from Bath College of Higher Education. According to celebritynetworth.com, her estimated net worth is under review. However, a 2010 article by dailymail.co.uk reported her annual salary to be 210,000 pounds. 
She currently works as a co-presenter at ITV network's 'Good Morning Britain (since 2014) alongside Susanna Reid, Ben Shephard, and Piers Morgan.  Besides that, she has a lot of projects in her hand at present such as 'Access Hollywood (1996 to present)' and 'Loose Women (2003 to present ), and The National Lottery Draws (2014 to present).