Entertainment
Un-Married Susanna Reid, Ex-Partner, Children Live Together Post Break-Up, Dating Secret Boyfriends
The former BBC Breakfast presenter, Susanna Reid shared a longtime relationship with her partner but got separated in 2014 after more than 15 years together. 
However, she lived together with her ex-partner and his newly found girlfriend for the sake of their children. 
Susanna Reid's First Meets Longtime Partner At Work
The Lambeth, South London native, shared more than a dating life with the English sports journalist, Dominic Cotton until their break-up. 
The couple, who first met in 1988 when they both worked on BBC Breakfast, never got married to each other but remained together for a long period. 
Although the couple never got married, they were blessed with three children; Sam Cotton, Finn Cotton, and Jack Cotton.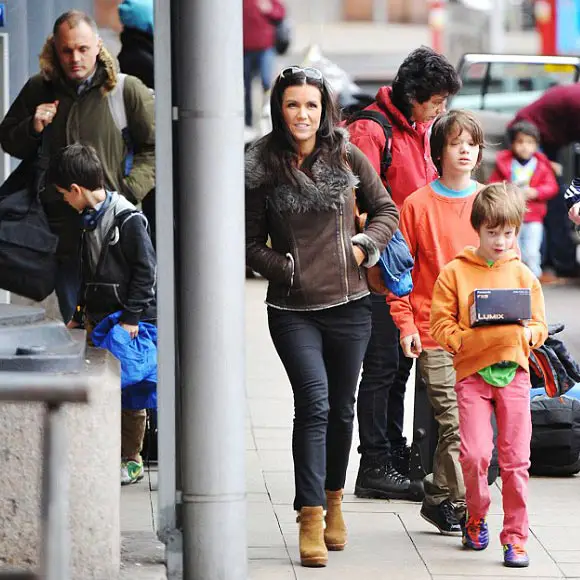 Susanna, Dominic, and sons Sam, Finn, and Jack (Photo: dailymail.co.uk)
The eldest of three sons, Sam was born in 2002 in Southwark, United Kingdom. Similarly, Finn Cotton was born in 2004 in Lambeth, London, United Kingdom.
The youngest of all, Jack Cotton was born in 2005 in Lambeth, London, United Kingdom. 
Susanna's Breakup After Long-Term Relationship With Partner:
Susanna and her long-time partner ended their relationship in 2014 around Christmas. It was the period when Susanna was starring on the UK Dance talent show, Strictly Come Dancing
It was reported that the show, Strictly Come Dancing came in between the couple and became the reason for their breakup. 
Susanna's then-partner refused to appear on the show, which made Susanna "angry and embarrassed."
According to a source, 
"Producers asked Susanna where he was on several occasions. They wanted footage of Dominic, but Susanna had to admit he wasn't there. His absence from Strictly was a talking point of the last series."
Later on, the couple fell apart from each other. They eventually went through a breakup in February 2014. 
However, the Corydon native was not convinced that her 16 years of a relationship was over with her partner, Dominic.
 However, she was left "shocked and shaking" after her longtime partner, Dominic set up a profile on a dating website called Match.com, which clearly indicated their relationship was already over.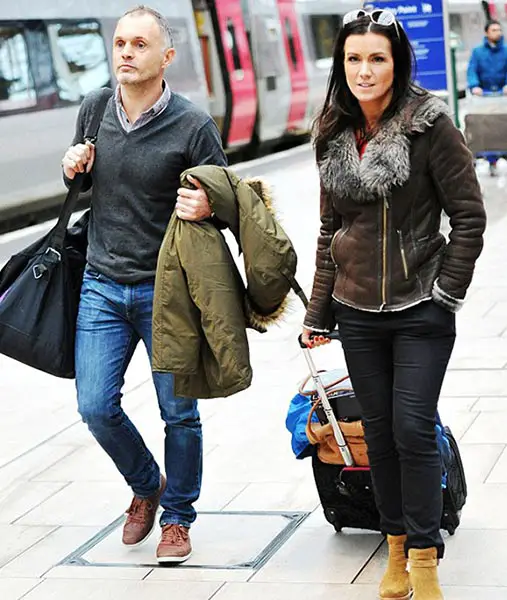 Susanna and her husband Dominic after their split (Photo: dailymail.co.uk)
She was devastated by her breakup with Dominic. A BBC source then said, 
"Dominic wanted to call it a day at Christmas. Susanna begged him to wait a few months until her Salford commute was over and she was back down south."
Susanna was about to be unveiled as the host of ITV's new ­breakfast show Good Morning Britain when she found out about her partner's dating profile setup. 
Living Together With Ex-Partner For Children
In October 2014, the beautiful TV hostess's ex-partner found a new love named Adela Straughan, who was the mother-of-two children.
Dominic was spotted outside Susanna's home in October 2014 with his new girlfriend. The couple was spotted just a few days after Susanna left the house to go on a holiday. 
Let's check out the picture of Dominic and his new partner outside their South London home.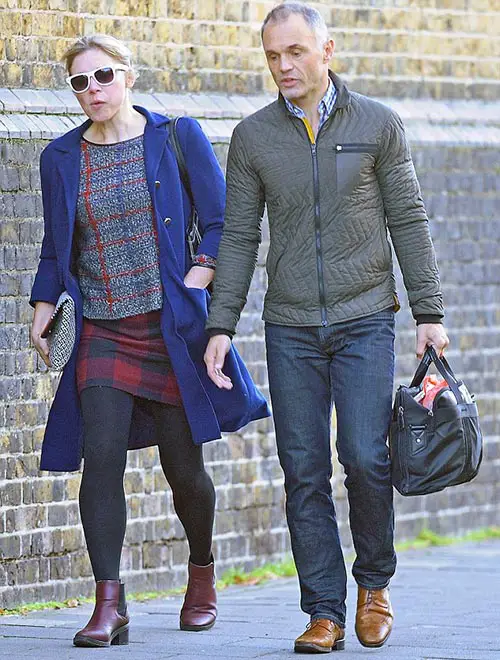 Dominic with his new girlfriend Adela Straughan (Photo: dailymail.co.uk)
In an interview with dailymail.co.uk on November 2014, Dominic stated, 
"Susanna knows I've got a girlfriend. This is an odd situation living together, but we get on really well."
 
Speaking about her mutual understanding with her ex-partner, Susanna then added, 
 "You know what? We're now three years on. Dom and I have a really good friendship and we're both happy, separately."
Susanna said they were still close, and she even lived under the same roof in Balham, South London together with his new girlfriend. 
In an interview with Fabulous magazine on November 2014, Susanna expressed her thoughts on co-parenting plus shared her experience living together with ex-partner, saying, 
"We still get on so well, Dom is still such a hands-on dad, and we co-parent. So we live separately but together and happily in the same house. I'm not saying everybody can do it, and I think people are surprised that we can do it this way".
However, Susanna made herself comfortable in the home for her sons Sam, Finn, and Jack, which she explained, stating, 
He's always hands-on but even more so recently because he's doing all the stuff we usually share – the parents' evenings, homework, letters from school. He is definitely in charge. He's unrivalled as a parent. I can't even come close. Dominic cooks for the boys reads bedtime stories and does the ironing and half the washing."
Susanna shared the home space with his ex-partner for the sake of her three sons.  
Eligible Bachelor In The Town
Even her co-worker, Piers Morgan branded her the "most eligible woman in Britain" in the show, Good Morning Britain. 
In an interview with Event magazine in September 2017, she was asked whether she was single or not after her divorce. She hinted she was single, stating,
"Yes! It's just easier. I've got a really busy life. I'm up at a crazy time of the morning."
The mother of three also added that her job and three children take most of her time, saying,
"My work is really intense, very enjoyable and very absorbing. I have three boys who need my full attention."
Also, she mentioned that she was not single the entire time, mentioning, 
"I haven't been single the entire time – and occasionally there are times when I'm not single – but dating is very distracting. I haven't got time for it."
When asked whether she has ruled the dating or not, she answered, 
"I'm not ruling it out. No, goodness me. Of course I'm not"
Though her partner has found a new love for himself, Susanna didn't divulge in a new dating relationship, thereby becoming an eligible candidate for dating. 
Susanna's Engagement Ring On The Show:
Fans were showing concerns for Susanna who was called 'the holy grail'  by co-host Piers Morgan in January 2016 for she had never been married despite being a desirable personality.  
Colleague Piers had never missed an opportunity to make fun of Susanna's relationship status. 
On 8th July 2016's edition of Good Morning Britain, Piers confronted Susanna about her new 'engagement ring,' which was spotted by her fans and co-workers, wondering if she finally decided to knot the tie.
Sadly, the hostess rejected all assumptions by stating that it was something she just wore on a whim, bluntly saying,
It's just a ring. I wear it on this finger and I wear it on this finger.
In 2017, talking to theguardian.com, she disclosed how she celebrated her weekend with children, stating, 
"My weekend has a completely different schedule than my week. Come Friday night I'm in pyjamas on the sofa with my three sons eating a korma curry takeaway while watching a film. My local Chinese has just closed down, which I'm really gutted about."
Later on the occasion of  Valentines Day 2018, she jokingly said that nobody wanted to put money on her on Valentine's day when Money Saving Expert Martin Lewis pitched tips to present partners with flowers on the important romantic day of the year. 
In January 2018, the former editor of food magazine Epigram had stated that she never wanted to be married but would indulge in a loving relationship. 
More On Susanna Reid's Life 
Susanna was born on 10 December 1970 and has post graduation degree from Cardiff School Of Journalism in Broadcast Journalism. She is a co-presenter of the ITV's "Good Morning Britain," since 2014.
She has also acted in the stage production of Agatha Christie's "Spider's Web" and "The Price."
Reid lives in Lambeth, South London along with her children, ex-partner, and his new partner Adela Straughan. 
She has appeared with many personalities on Good Morning Britain, including Kate Garraway, Piers Morgan, Charlotte Hawkins, Ben Shephard, and many more.