Entertainment
Young Age Stef Dawson: Married Onscreen With Alan Clafin. Off-Screen Boyfriend?
You must remember Stef Dawson from the 'Hunger Games-Mocking Jay' as the character Annie Cresta. One of the important scenes in the movie was when Annie Cresta got married to Finnick Odair; the role played by Sam Claflin. You must be wondering who is Dawson's real-life "Finnick"?
Dating Co-Star Boyfriend Or Married With Husband?
The dating life of the actress is secluded from media and her social media accounts, so not much is known about her past to present relationships. But when it comes to on-screen patch-ups, she has already been married to Sam Claflin's character in the movie. They showed excellent chemistry in the film.
Interesting:- Paige Butcher Age 39 Gives Birth To Baby No.10 For Eddie Murphy
She also keeps reposting the memorable marriage scene from the movie on her Instagram. Why wouldn't she? He is after all her on-screen husband. But jokes aside she is very fond of him according to her interview in Composure Magazine.
Stef Dawson shares a romantic snap of her dancing with her on-screen husband in 2016 (Photo:- Stef Dawson's Instagram)
Her on-reel husband, Sam isn't even the highlight of her time while filming the Hunger Games movies. By her admission, she finds tremendous comfort in hearing fellow Aussie, Liam Hemsworth - who is now married to Miley Cyrus - speak with a familiar explained. In 2017 interview, she quipped:-
"It was awesome to hear Liam's Aussie accent when I met him on set, kind of comforting to hear it... "
But for Dawson, she is a good pair with almost every actor she is paired with. Her latest projects include her romantic scenes with her co-stars like her feature film 'Creedmoria' that came out in 2014.
In the movie she portrays Candy, an optimist teenager living in a weird place who has a psychotic boyfriend, 'Billy Fenton' played by Steve Cavanaugh and they have shared a few romantic moments in the film as well.
Likewise, she has also starred in the 2016 film, 'The Paper Store' acclaimed from Katherine Clark Gray's play '5 16' where she is seen alongside Penn Badgley. They have also shared intimate relationships in the film.
See Also:- Jesse Watters' Wife Files For Divorce! Long-Time Relation To End – Why?
Two years on, she and her on-screen boyfriend, Penn continue to work together. For instance, in July 2018 the on-reel couple sat down with U Interview to discuss the film as it was made available for streaming on Amazon's Prime Video.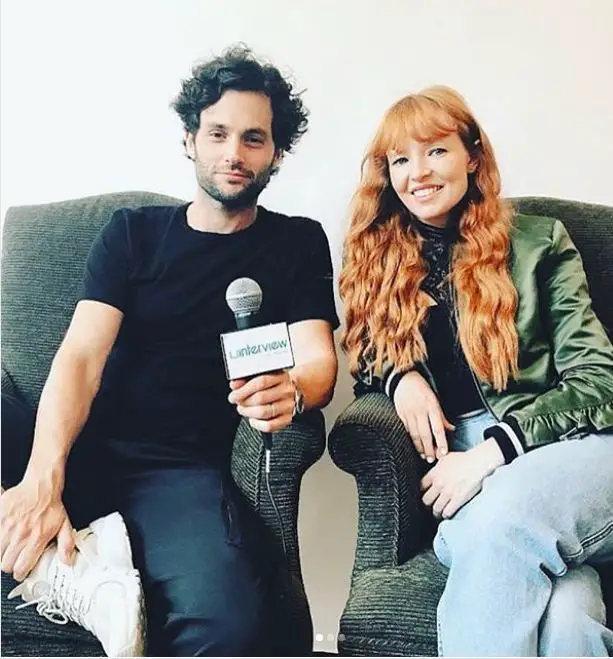 Stef Dawson and her on-screen-boyfriend, Penn getting interviewed in 2018 (Photo:- Stef Dawson's Instagram)
Now back in Australia, it appears as though that Stef top priority is the women in her life. Whether it's her on-screen sister or her girlfriends, she has found happiness with female companionship.
Stef Dawson's Bio Unveils Age
Stef Dawson was born on 17 December 1988, in Canberra, Australia. She is known mostly for her involvement in the Hunger Games Franchise in the Mocking Jay 1 and 2. She had studied opera and theater at the University of Wollongong. Her latest projects have been the film, 'The Paper Store' and series, 'Cleverman'.
The Canberra native, age 30, was spotted at the screening of her new movie, 'The Lenon Report' together with the Beatles fundraiser to fight breast cancer.