Entertainment
Youtuber Jean McAllister's Failed Dating with Boyfriend Kian, Subsides Dispute with Andrea Russett!
She is only 20 years old but already has become a star. Jenn McAllister is a Youtuber, actress as well as author. She came into the scenes with her youtube channel which has more than 2.9 million subscribers as of now.
Apart from her introduction, how well do you know Jean McAllister's affair? And what has happened with her best friend, Andrea Russet?
Turmoil in relationships!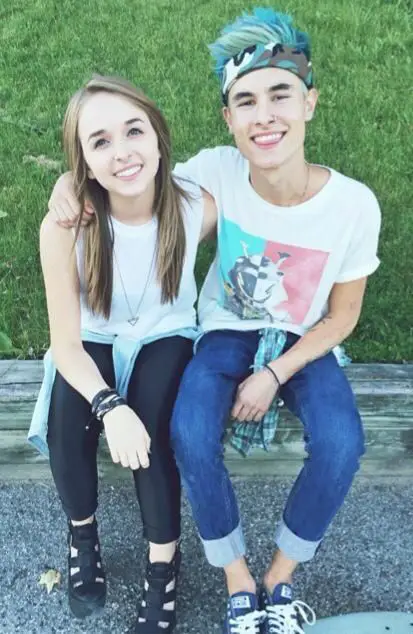 Caption: Jenn McAllister and Kian Lawley back when they were rumored to be dating.
Photo credit: pininterest.com
Jenn's tight bond with fellow YouTuber Kian Lawley has caused speculations that there was some deep as well as the secret connection between the two young stars. In August of 2011, Kian Lawley tweeted,
"@JennXPenn Jenn I love you."
JennXPenn is official twitter account of Jean McAllister. But he started dating another fellow mate Andrea Russett who was Jenn's best friend at the time in 2013.
When Kian and Russet eventually split, there were rumors flowing everywhere that the 20-year-old youtube star, Jenn had stolen her BFF's man and the relationships turned sour between those best friends.
Andrea also responded to a question on her Tumblr saying that she would never forgive a buddy who slept with her ex-boyfriend, and on twitter said,
"When ur ex f*cks ur ex-best friend LOL relatable."
But Jenn hit back at her former best friend saying:
"nothing is true unless I say it,"
Caption: Andrea's posting the video where she asks people to stop talking about her ex Kian, posted on October 15.
Andrea Russett talked in a youtube video about their ongoing relationship turmoil and said:
"There is ONE person in this chat that repeatedly is just writing 'KIAN SLAYS' and I do not understand why. I mean, I don't know if people think it's funny. I mean, yes, we dated. And we BROKE UP. But I do not understand why somebody would comment that over and over. I think it is really immature."
Moreover, she added:
"And I think people should just understand that life happens. And people break up. And move on. And we should stop dwelling on the past. In the nicest way. You know? I do not understand that. That is my opinion, and I know everybody is WAITING for me to say something about it. And I have been trying to ignore it, but it has been very irritating.I just think it is very rude when people do stuff like that. Very HEARTLESS and immature."
Caption: Jean McAllister explaining why she is single as of now in her video, posted on Novemebe7, 2015.
Jean McAllister is current single at the moment and is focusing on her career in acting and in her YouTubing career.
Back to being best buddies again?
Youtube sensations Jenn McAllister and Andrea Russett were at VidCon in 2016 as they surprised their fans by popping on Snapchat as well as showing off their dance moves on the floor.
Both of them went on Twitter as well as Instagram to post photos together of former best friends. In pictures we can see Andrea can be seen wearing a white top with a patterned skirt and Jenn is dressed in all black.
Being a Youtube sensation as well as an actress, her estimated net worth is in millions of dollars whose exact figure is not revealed by the actress officially. Jenn has earned her net worth through her youtube channel named Jennxxpenn and through other various projects in her kitty.