Entertainment
The Dating Life Of Andrea Russett : Her Boyfriend, Ex, Career and More
Andrea Rose Russett is one of the many YouTube personalities that we grew up watching. And she is also one of the YouTube personalities that the world saw grow from a teenager to an adult. The exposure made her vulnerable in her dating life. Recently being linked with Hunter Moreno, it also brought back her past with Kian Lawley.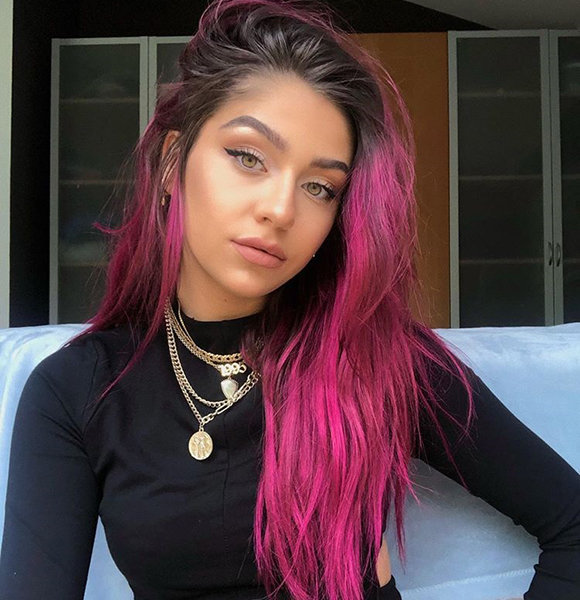 Andrea Rose Russett is one of the many YouTube personalities that we grew up watching. She is also one of the YouTube personalities that the world saw grow from a teenager to an adult.
The exposure made her vulnerable when it came to her dating life. Recently, after being linked with Hunter Moreno, her past with Kian Lawley was also brought back. 
Dating Life With Kian Lawley 
The YouTuber had her life in public from an early point in her life. She started dating Kian Lawley when she was 18. Back in 2013, while YouTube was getting popular, the two couples dared to make their relationship public.
This garnered a lot of attention, as having access to someone's dating life that publicly was intriguing for people at that time. And just like that, her private life was not just hers, but everyone else's to see and judge. 
The two documented and shared everything, from their kisses to hugs to laughter on their YouTube, which is still up on Andrea's channel.
The two posting their videos together and being open about their relationship made people feel more connected with them.
Looking at someone's personal relationship from up close was a new thing to the viewers, and watching a teenage love story take place that was filled with laughter and love made people feel more in awe of them.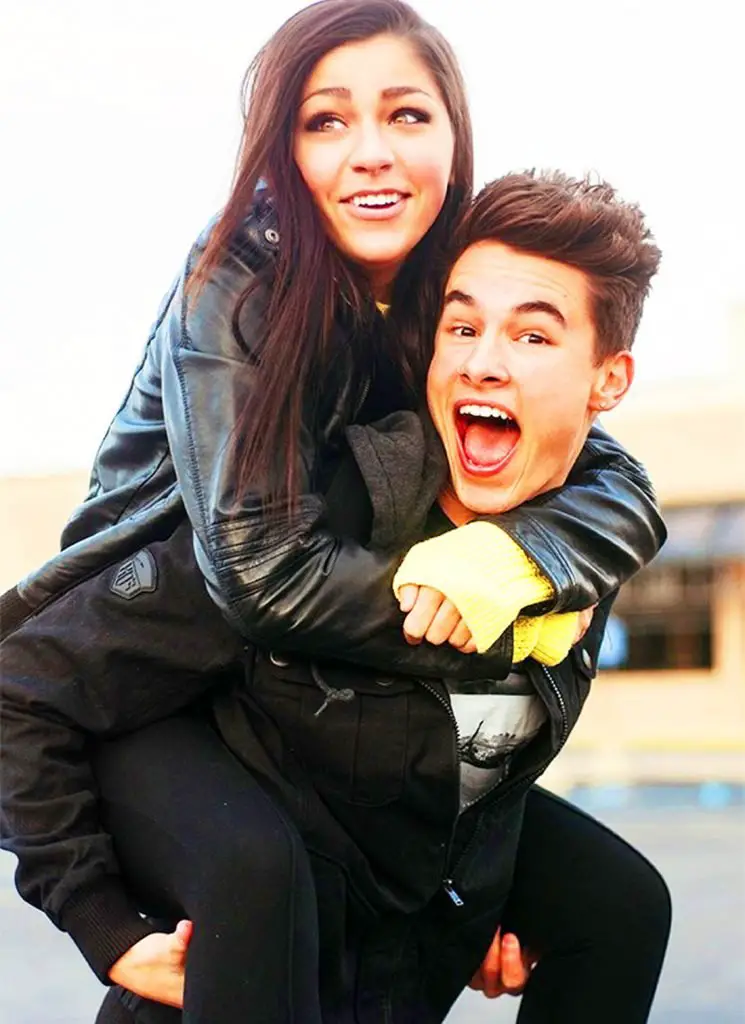 Andrea and Kian during their relationship (Source- Instagram) 
However, the much-loved relationship and shared memories soon ended after a year. Rumors started spreading around that the widely loved couple who also went by #Kiandrea was broken up, which was hard to believe as their relationship and shared moments looked ideal.
But the rumor was soon laid to rest when reality house host Lawley got on to PacificRimVideoPress and addressed the breakup, which, in fact, was true. As per Lawley, their breakup was mutual, and he addressed her as a good friend. Talking about their breakup, he said, 
"It was a mutual decision, there wasn't anything bad about it. I still love her, she's still a good friend, I wish nothing but the best for her, it was mutual and we're still fine. People grow apart all the time and I guess it was just our time."
On the other hand, Andrea seemed to want their breakup to be private as she urged her fans to understand her privacy and respect it.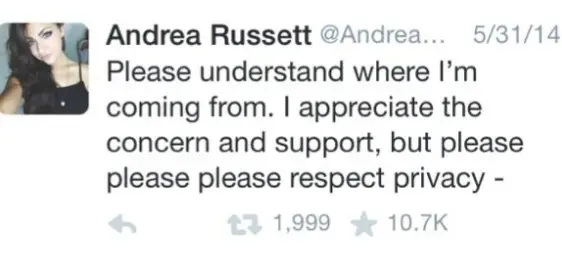 Andrea's Response To The News (Via Twitter)
Although she wanted to keep her personal matters private, having shared her relationship with the world made it harder for her not to talk about it.
Eventually, she got asked to respond to Kian's statement, where she agreed it was a mutual breakup but was still not a clean one.
She also hints how they might not be as cool as Kian might have stated them to be, but she believes they will be friends one day.
However, the hopes of them being friends were crushed when Andrea slammed Kian's then rumored girlfriend, Meredith Michelson, for calling her names. But it is still unsure that Mickelson said those words or hinted at them to the 26-year-old Russett. 
Drama With Kian's Alleged Girlfriend:- Youtuber Jean McAllister's Failed Dating with Boyfriend Kian, Subsides Dispute with Andrea Russett!
With this encounter, it seemed like the ex-couple were done for good, and their chances of being friends were slim. So fans slowly started to let go of their wish of the two being together.
But #Kiandrea was trending on social media again when it was revealed that Russett was a contestant in Kian's popular YouTube show "The Reality House" season 2.
The two seemed to have resolved whatever issues they had in the past and went on with their life like two mature adults. Russett, who seemingly had buried the hatchet, seemed to be cool with the host, Lawley. 
Whatever issues they might have in the past, it seems like they have gotten over it and have nothing but respect for each other now.
Might Not Have Worked The Second Time 
The 26-year-old kept her dating life out of public for a long time. Even when rumors surrounded the YouTuber, she did not deny or confirm it. It might have been the drama surrounding her past relationship that she wasn't able to share her relationship openly. 
But Russett, in 2020, got open with her relationship with Hunter Moreno, who is a photographer. Fans realized that there might be a guy in the 26-year-old's life after the two love birds seemed to pass cute comments to each other.
Their relationship was proved true when Moreno, age 26, commented how lucky he is to have her in his life.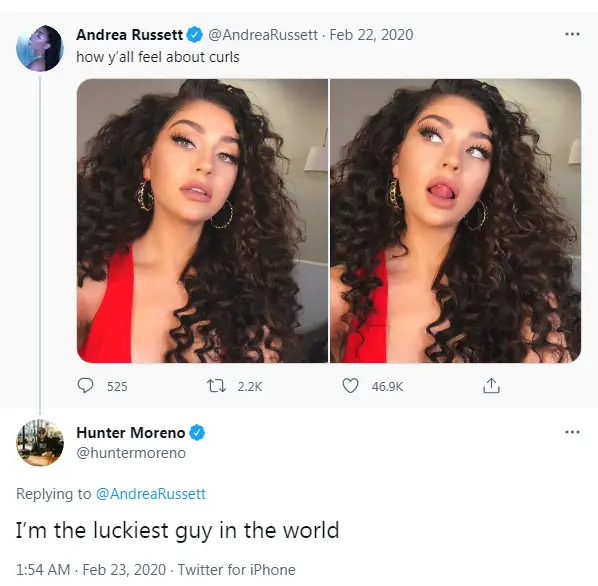 Hunter Moreno's Comment On Andrea's Picture (Via Twitter)
It was known after then that Russett was, in fact, in a relationship. Having her dating life in front of the public since she was a teenager, people were more intrigued to see how her dating life after being an adult would go.
The two seemed very well together. The two quarantined together and self-isolated themselves at home. Andrea posted a picture captioning, "Self quarantining with my photographer boyfriend be like."
Well, it seemed like the photographer had a full-time model all to himself. The pictures shared were absolutely breathtaking and can still be found on Russett's Twitter account. 
Quarantining together and spending so much time isolating made people think the couple will come out stronger than ever.
However, Russett shocked her fans after answering her fan's questions on her YouTube video as the 26-year-old revealed how she does not have a boyfriend. 
While the reason for their breakup is not clear as none of them have shared anything, they both have unfollowed each other on social media.
Although the relationship status of Russett is unknown now, Hunter is dating another famous YouTube personality, Tana Mongeau, and they seem to have a good time with each other.
Out And Open
Russett's personal life being judged and torn down for media and fans to evaluate led the 26-year-old to hide what she truly felt for a long time. However, she finally found the courage in herself to let the world know that she was, in fact, bisexual.
Coming out as bisexual to the world was tough for someone that has always been linked to guys and had relationships with men.
But, she came out with a tweet in 2018 and let everyone knew how thankful she was for coming out and that she was now out publicly. 

Andrea Coming Out Publicly (Via Twitter)
Amongst all the positivity and praise, she also got fingers pointed at her. Many assumed that her labeling herself as bisexual was not authentic as she has never been with a woman. She felt frustrated knowing how even after coming out, one must prove themselves to fit their label.
Russett posted a heartbreaking tweet back on July 19, 2020, where she revealed how hard it has been for her to be accepted as bisexual since she never has dated women. She tweeted,
i came out years ago but this last month ive struggled w my sexuality soo much. i feel like because ive never dated a woman in not a "real" bisexual, & i feel as though my sexuality is never taken seriously. i find myself wishing i was either straight or lesbian rather than bi.
Well, we send all the love and healings to the 26-year-old and wish for her to have a wonderful love life, with whoever she wants to, without being judged for it. 
Even with having failed relationships and personal struggles of her own, the 26-year-old YouTuber has an outstanding career of her own that she is proud of.
Similar:- Janelle Monáe & Tessa Thompson Dating Revealed As 'Ragnarok' Actress Outs As Bisexual
Short Bio 
Internet Personality Andrea was born on 27 June 1995 as per wiki. Twenty-four-year-old beauty also designed clothes for her clothing line called FLAWD Clothing since 2013, but the line has been disconnected since 2019. She has over two million subscribers and 196 plus million views on her YouTube channel.
Standing tall, Andrea's height is five feet two inches (1.57 m); Andrea has been sharing videos on her channel related to her life, relationship, makeup, and hair tutorials. Andrea's net worth is estimated to be $2 million.