Entertainment
'You' Actor Zach Cherry Bio: What Is His Age & Who Are His Parents?
Zach's bio suggests that he made his major acting breakthrough appearing as a...Zach, who ages...stands at the height of...Jokes about parents mostly his father...The amount of his net worth and salary of the You actor...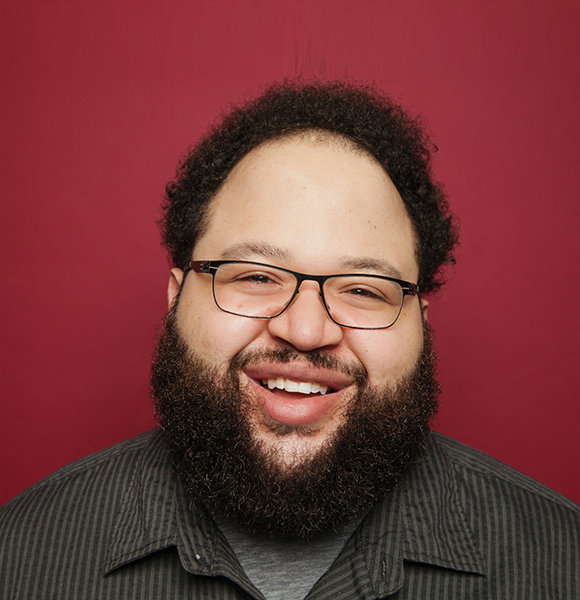 Young aspiring actor, Zach Cherry might not have many acting credits to his name, but he has undoubtedly won hearts from his terrific acting skills in the minor roles he played. Famous for his chubby and bearded looks, Zach has formed a significant fan base in a short period of his acting career. 
Even though the actor insists on keeping his private life low-key, some details about his personal life including his bio, parents, and net worth related information are bound to be publicized.
So, if you are a fan of Zach Cherry, continue with this article to learn about the professional and personal life of this young actor!
You Actor's Bio: Age, Height, Net Worth And More
Zach's bio suggests that he made his major acting breakthrough appearing as a street vendor in the 2017 Marvel movie Spiderman Homecoming. Though the part didn't attract any recognition for the actor, the movie assuredly opened the doors for more acting jobs.
Till date, Zach has performed in several films and shows including Crashing, Unbreakable Kimmy Schmidt, High Maintenance, Search Party, The Big Sick. 
You May Find Interesting:- Stacey Solomon Spills Wedding Plans & Husband-To-Be Joe Swash Is Out Of It!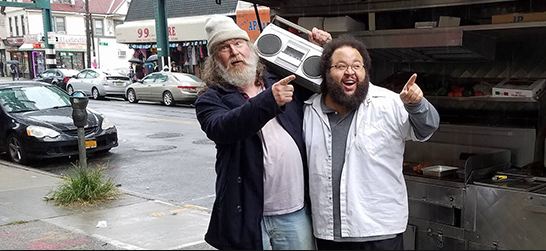 Zach Cherry (left) and writer Kirk Thatcher (right) on Spiderman Homecoming (Photo: Startrek.com)
As of 2018, Zach has been a regular cast of two TV shows. He plays the role of Ethan in Lifetime's show You and portrays Norman in NBC's I Feel Bad.
From his career as an actor, Zach has even earned substantial income averaging a salary of $50,529 per year; however, the amount of his net worth has not been disclosed to the public.
Zach, who celebrates his birthday on 1st November every year but hasn't disclosed his age, initially took up comedy during a summer camp at the middle school but later became interesting in acting while at the high school. During his young age, he even thought of becoming a bouncer or working at a "cat factory."
Don't Miss:- Danielle Busby, Age 34 Bio Reveals Father, Job, Net Worth & Quintuplets Story
While at college, Zach joined the Mr. Gad's House of Improv which helped him build a career in theaters as he often performed weekly in the Keefe Campus Center.
Zach, who stands at the height of little below six feet, is a regular performer at the UCB Theater in Chelsea and is a member acting groups called GOAT and ASSSSCAT. Further, he is also involved with Richard, a comedy trio which produces online parodies of the podcast titled Serial. 
Apart from his professional life, Zach is also close to his parents especially his father whom he loves flaunting on his social media posts.
Jokes About Parents, Dating Life
The Brooklyn resident often exhibits his private moments with his parents mostly with his father. Although Zach has not mentioned much about his mother, he loves sharing funny incidents with his dad. 
On 4 September 2015, he posted a tweet joking that his dad had given him his debit card to shop for beers but didn't give the pin code to him. Further, he also asked his followers if they knew any way to take out cash without a pin. 
Recommended For You:- Sunny Suljic Age 13 Wiki: Parents Background, Net Worth & Essential Facts!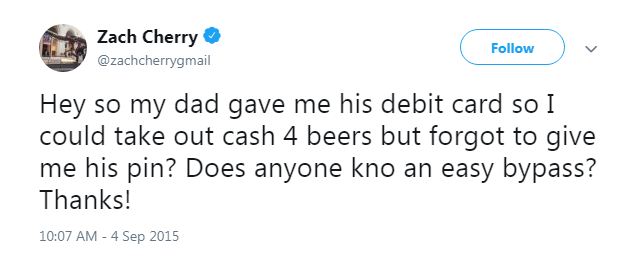 Zach jokes about an incident with father on 4 September 2015 (Photo: Zach Cherry's Twitter)
Later, on the same day, he shared another tweet with another joke in which Zach stated that his dad had gifted him a brand new 2015 Toyota Corolla but lost the keys. He wrote in the tweet,
"So my dad is giving me his old brand new 2015 Toyota Corolla but he can't find the keys? Anyone know how I can get it started w/ no alarm?"
Zach's dating status has always been a mystery due to his low-key life, and he is reportedly assumed to be single. But, even if he gets married in the future and lead a family life with wife and kids, he has made it clear that he doesn't want any president kissing his child. He even shared a post to mark his intentions of keeping his future baby free of any president's kiss.
"If a president ever kisses my baby I am moving to Canada"
The day when Zach moves to Canada may take a while, but in the meanwhile, the actor is still reportedly single with no immediate plans of dating or even getting married.