Entertainment
Who Is Zach Ertz Wife? Personal Life & Career Stats Of Eagles' Star
Zach Ertz is a tight end playing for the Philadelphia Eagles in the NFL...is married to his wife Julie who is a soccer player..has had a consistent career with impressive stats...is under contract with the Eagles...is fit to be picked in fantasy football...has not had too many injuries during his career...his age is...went to Stanford University for college education...his height and salary stats are given below...has a net worth of around $13 million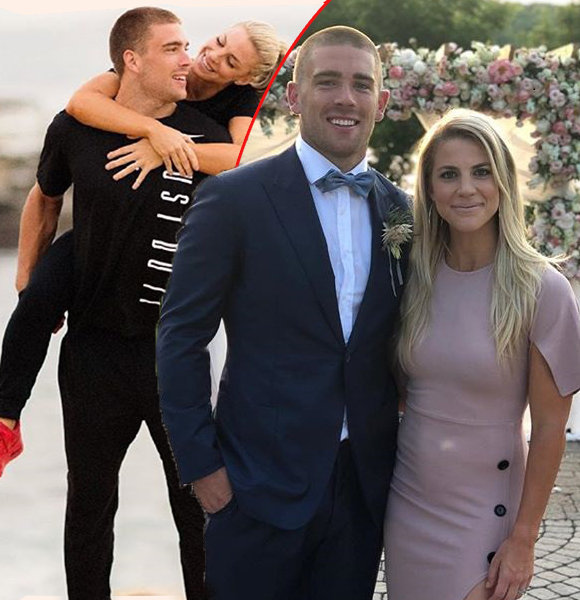 Zach Ertz is a football player affiliated with the Philadelphia Eagles in the NFL. He made his debut for the Eagles in 2013 after getting drafted in the 2013 NFL Draft.
Since his debut, Zach has gone on to become an essential player for the Eagles. The dynamic blocking and receiving tight end has played in many high-profile matches such as in the Super Bowl LII in 2017, where his late-4th quarter go-ahead touchdown helped the Eagles win their first-ever Super Bowl title.
Who Is Zach Ertz's Wife?
Zach is in a happily married relationship with Julie Ertz, formerly Julie Johnson. Julie is an athlete as well and is a professional soccer player.
The couple first met at the Stanford Cardinal baseball ground during a baseball game. After dating for a few years, Zach popped the question to his girlfriend on 26th February 2016 at the same place that they first met. Julie said yes to Zach's proposal, and thus, the couple was engaged.
Recommended For You:- Gardner Minshew NFL, Contract, Stats, Salary
Zach and Julie waited for a year before finally deciding to get married. Their wedding ceremony was held at the Bacara Resort & Spa, Santa Barbara, California on 26th March 2017. The wedding was lavish, but an unconventional ceremony. The pair decided to make their flower girl and ring bearer wear jerseys, and the guests were served with cappuccinos designed with football and soccer balls.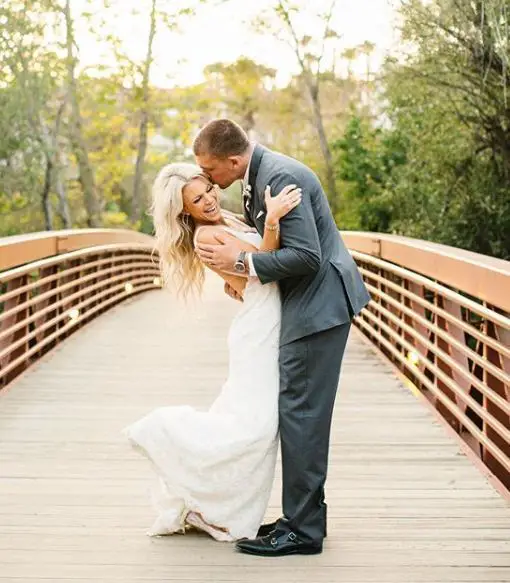 Zach Ertz with his wife Julie Ertz on their wedding day on 26th March 2017 (Photo: Zach Ertz's Instagram)
As of now, the couple is together and leading a happy married life despite their busy schedules.
Zach: Career Stats And Salary
Zach is an accomplished athlete and has been performing at the highest level of football for many years. He had an impressive start to his footballing career, even before his professional career started with the Philadelphia Eagles.
The tight end started his footballing journey at Stanford University, where he was a Consensus All-American in 2012. After transitioning from college to professional football after his draft in 2013, he has been with the Philadelphia Eagles, pulling off impressive stats in his seven seasons with them.
He has featured in 104 games for the Eagles as of December 2019 and had an impressive 69.4 percent pass catch-completion rate during his first six seasons. He was targeted 156 times, more than any other tight end in the 2019 NFL, but caught a career-high 74.4 percent passes thrown his way.
Read More:- Mason Rudolph Dating, Family, College
Zach has been a consistent performer for the Eagles. His dedication is towards the sport surpasses any injury. He was reportedly playing through a hamstring injury that he suffered two weeks before the start of December. To the relief of fantasy football players, Zach is officially active and can be picked for future games.
Before this hamstring injury, he had suffered only one setback. Zach underwent surgery to repair a tear in his groin on 14th August 2015. The injury record shows that he is a durable and dependable player.
Net Worth And Salary
Zach's reliability has earned him a decent amount of money in terms of salary. He is under a five-year contract with the Eagles worth $42,500,000, which included an $8 million signing bonus. As per the contract, he receives $8.5 million annual salaries. Further, his net worth measures at an estimated $16 million as of December 2019.
Interesting Facts: Age, Height
Zach Ertz - a native of Orange County, California - was born on 10th November 1990.
Zach's full name is Zachary Adam Ertz.
His parents are Dough Ertz (father) and Lisa Ertz (mother). Zach is the eldest of the four children of the couple.
He stands at 6 feet 5 inches (1.96 meters) and weighs around 250 lbs.
The tight end holds the record for most catches in a season by a tight end in the NFL. He made the record during the 2018 NFL season by catching 116 passes, surpassing a record previously held by Jason Witten (110 catches) since 2012.