Entertainment
Zeljko Ivanek Married, Gay, partner, Family, Net Worth
A versatile actor can make the audience believe in his performance even though all he is doing is acting.
Veteran actor, Zeljko Ivanek is well-recognized by film-lovers all around the world. Known for movies like Donnie Brasco, Seven Psychopaths, Argo, Three Billboards Outside Ebbing, Missouri, and The Sender, Zeljko left no stone unturned when it comes to acting.
However, it was the role of a gay man that got stuck to his identity as the actor's life-like performance convinced many of his fans that he was actually gay. So, is Zeljko a gay man or was he only doing his job while portraying a homosexual?
Explore to find out the truth of the famous actor's sexuality and other details of his personal and professional life!
Gay Role Implies In Real Life?; Married Or Dating Partner?
Zeljko Ivanek-age 61-was a relatively unknown actor until he was cast in the role of Donald in the 1991 TV movie, Our Sons. In the film, the actor portrayed a 28-year-old gay architect, who's on the verge of dying due to AIDS' complications.
Onscreen Gay Celeb:- Guy Burnet: With Gay Role, Rumored Girlfriend - Where Does He Stand?
Donald gets kicked out of his home by his anti-gay mother, who believes homosexuality to be a sin. Then he starts to live with James (played by Hugh Grant), whose mother Audrey Grant (Julie Andrews) tries to reconcile Donald with his estranged mom (Ann-Margret) when she learns of his inclination.
Zeljko's performance in the movie was praised worldwide, but some took his acting literally along with the assumption that he was gay in reality. His secretive lifestyle didn't help the actor much as he was neither known to have dated a Hollywood hottie nor have a wife in his household.
It was only in 2012 when Zeljka mentioned being in a relationship with a partner and even stated that they resided in New York for six months every year. 
His partner is none other than American playwright Greg Pierce. Not much is known about how the pair's romance started.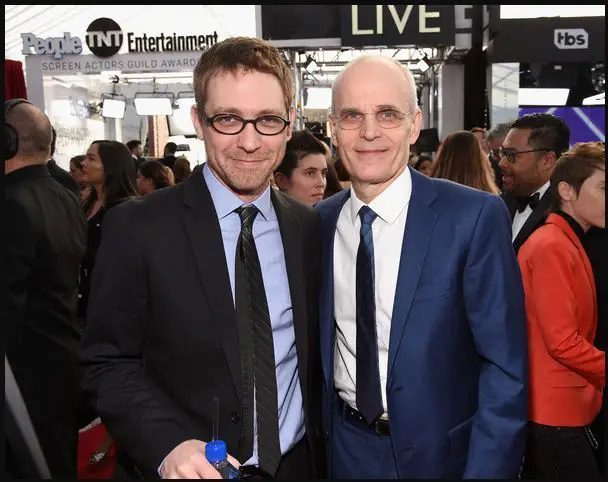 Zeljko Ivanek poses with boyfriend Greg Pierce for the shutterbugs in an event on 21 January 2018​ ​​​​​​(Photo: zimbio.com)
But Greg did mention that his uncle David Hyde Pierce introduced the pair. Furthermore, It is speculated that the pair's romance blossomed when Zeljko played a part in Greg's play Slowgirl. 
Well, Greg Pierce is a talented man in his own right. His plays include The Landing, Cardinal, Kid Victory, Fellow Travellers, The Wind-Up Bird Chronicle, The Quarry and The Bad Astronauts. The couple has been going strong; they are often seen making public appearances in various events. With the couple's public outing fans can finally be assured that Zeljko is indeed a gay man. 
However, the talented pair didn't reveal any plans for their marriage or where they see themselves in the future. They seem to be enjoying each other's companionship for the time being. 
Family Moved Constantly; Net Worth And More
Born in Yugoslavia (now Slovenia), Zeljko first moved to the states at the age of three when his father was finishing his Engineering's Doctorate at the Stanford University.
The family shifted back and forth from Yugoslavia to America before finally settling down in California.
Family Tragedy:- Scott Disick's Family Tragedy: His Parents and Their Cause Of Death!
Zeljko was soon hit by the acting bug, which would eventually go on to define his career. As of today, he is known for several successful movies and TV shows including True Blood, Heroes 24, Madam Secretary, Suits, The Mentalist, Damages, and more.
Further, he has also made a fortune for his career as Zeljko Ivanek's net worth amounts of $4 million as of 2019.