LifeStyle
Balsamic Vinegar Calories, Nutrition, Uses, Brands
Ever since it was discovered about 10,000 years ago, humans have made balsamic vinegar an everyday item for a cooking range of dishes. Taking its name from the french word 'vin aigre'(meaning sour wine), balsamic vinegar is among the widely used liquid ingredient. It is even used as an alternative for lemon due to its acidic properties.
Today there is a wide range of vinegar available in the market with diverse taste and color. However, balsamic vinegar has been in extreme popularity for its rich flavor and premium image in the market today.
But, we aren't talking about the cheap balsamic vinegar that is found on the shelf of departmental stores. Because those are merely colored cheap wine vinegar. And if you are still not convinced, the following information will surely change your mind!
What Is Balsamic Vinegar?
It is a type of vinegar made from grape must- a juice produced from freshly pressed grapes. It's made from an Italian process that dates back to more than a thousand years. The main ingredient required to make this kind of vinegar is grapes that are strictly chosen from Modena and Reggio Emilia region of Italy.
These grapes are boiled and fermented to acidify it overtime. But, that is only half of the process, since the produced vinegar is then stored for about a minimum of 12 years in wooden barrels.
On top of that, the quality of the wooden barrel isn't compromised either. The barrel used are the ones made from these specific trees; oak, juniper, and mulberry.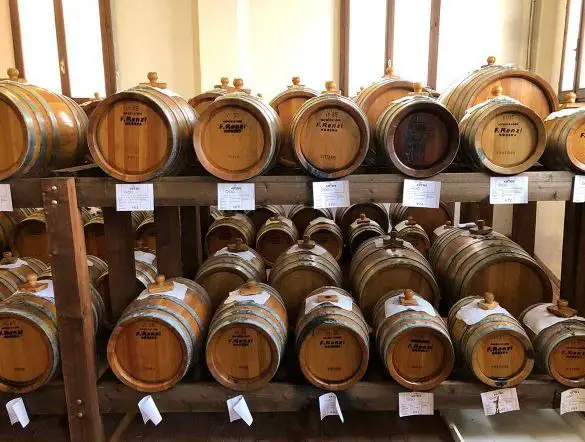 Wooden barrels containing fermented balsamic vinegar (Photo: simpleyrecipes.com)
Hence, after this whole procedure is complete, balsamic vinegar's sweet and rich flavor takes shape. So yeah, now you know why does $5 costing balsamic labeled vinegar in your supermarket is just a rip-off.
It's Nutrition Facts & Benefits
Not only is balsamic vinegar premium in quality, but it also packs nutrients. Interestingly, just a tablespoon of this vinegar provides your body with 14 grams of calories.
Also, it doesn't even contain the slightest amount of fat, so there no chances of gaining weight due to it.
Natural Way For Weight Loss:- These Are The Green Tea Benefits Only Known To Scientists & About 5% Population
Furthermore, balsamic vinegar is very good for the prevention of heart diseases and improving your brain health. Because, it contains flavonoids,( a chemical that aids the body in getting rid of cell-damaging free radicals), the benefit is apparent.
However, make sure you're using high-end balsamic vinegar brands such as San Giacomo, Nobili Sapori IGP, and Acetaia Leonardi Sigillo Argento.
Uses Of Balsamic Vinegar
Apart from using it as a salad dressing, balsamic vinegar can also be used in a variety of recipes. You can even drizzle on the top of vanilla ice cream or marinate red meat for an excellent barbeque session.
Guide On How To Make Homemade Ice Cream :- Satisfy your Most Common Vanilla & Chocolate Ice Cream Craving
If you feel like adding a nice touch to your drinks, balsamic vinegar can always come in handy. Just mix in some of this vinegar in your bourbon next time, and try it for yourself. We reckon you won't be disappointed.