LifeStyle
Tamarind Fruit Health Benefits, Taste, Facts
When the topic comes to healthy foods with a unique taste, tamarind fruit can't be left out of the discussion. Indeed with its sour-sweet taste, tamarind is one of the most consumed fruits especially due to its extensive variety of uses and benefits.
The fruit, which comes off from the tamarind tree (scientific name: Tamarindus indica), is a pod-shaped product with a gooey pulp inside that sweetens the taste as it ripens. While the fruit and the tree itself is native to Africa, it is widely cultivated all over the world; India is its largest producer.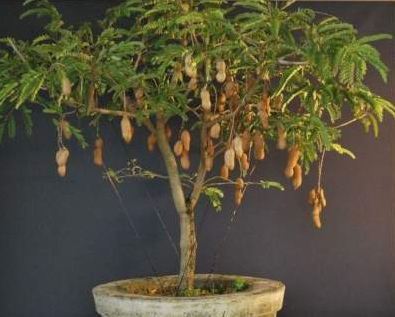 Tamarind fruit grows in a patio tamarind tree (Photo: SpainInfo.com)
What makes the tamarind convenient is that its leaves and flowers can also be used as vegetables; however, the most commonly used part of the tree is the fruit: it is used in a series of dishes including candy, sauce, dessert, and curry as a seasoning.
If that's not enough, tamarind fruit is also known for its health benefits!
Yes! it helps in various health conditions like constipation, diarrhea, peptic ulcers, and fever. It comprises diverse nutritional constituents that keep a body healthy and tough to fight against potential diseases.
Health Benefits: Bat Away Diseases & Micro-Organisms 
The tamarind fruit was traditionally used for treating several diseases & illnesses like cancer, heart disease, and cancer. Turns out it has nutrients including antioxidants, magnesium, iron, phosphorus, and thiamin.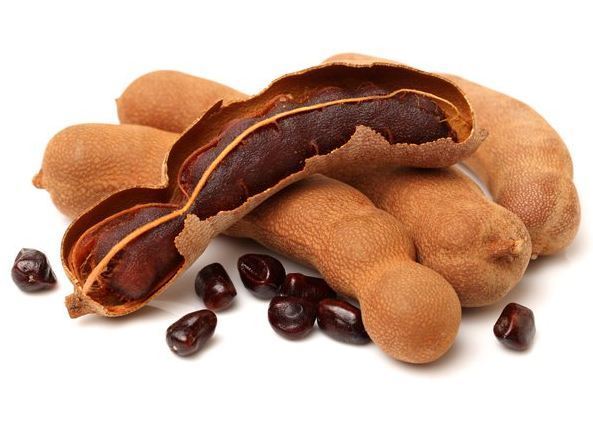 Tamarind fruits, with both pulp and the seeds, have a wide range of health benefits (Photo: Boldsky.com)
With such beneficiaries, the fruit helps in lowering the blood sugar level and healing wounds of the body. If you wanna grab more health perks of the fruit, you can just scroll down!
Antioxidants Help To Fight Free Radicals And Reduce Inflammation
Tamarind fruit - being rich in antioxidants - helps to minimize the effects of free radicals, the compounds that can damage cells resulting in chronic diseases. The antioxidant also helps in decreasing the oxidative stress which lowers the chance of getting infected with diseases like heart disease, diabetes, and cancer.
Further, the fruit has been known to decrease the pain and effect of chronic inflammation, a factor that eventually causes Alzheimer's disease, asthma, and cancer.
Battles Against Viruses And Bacteria
One of the more commonly known benefits of the tamarind fruit is its ability to fight off viruses and bacteria. With the high availability of antimicrobial compounds, it is used for treating several conditions including parasitic infections, malaria, respiratory difficulties, and dysentery for a long time.
Dark Chocolates Too Have Health Benefits:- 5 Mind Blowing Dark Chocolate Benefits For Health & Skin Only Known To Food Scientists
The fruit has also been useful against Bacillus subtilis, a variety of bacterias. A report in the International Journal of Molecular Sciences suggests that tamarind is helpful against infectious bacteria such as salmonella & E.Coli.
Helps In Weight Loss
In case, you have been tired with hours-long exercises and dieting, a look to a tamarind tree can turn out to be a timesaver. You don't even have to empty your pockets for expensive products.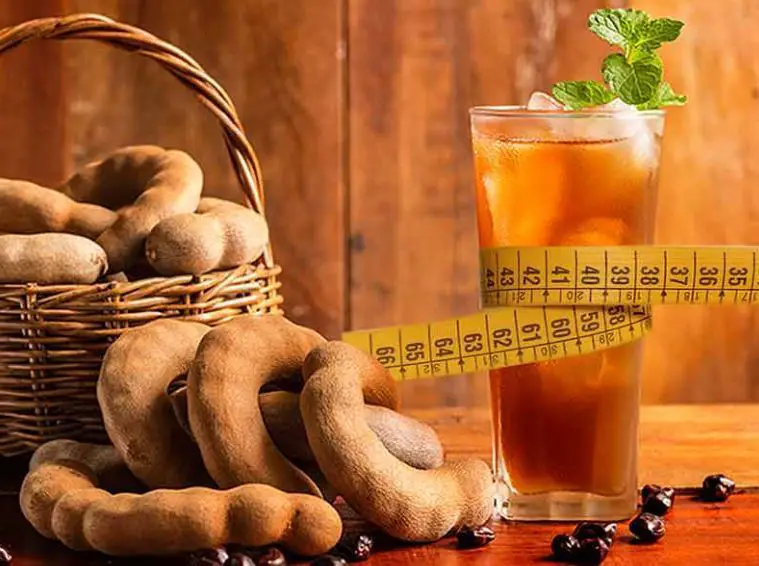 Tamarind fruit is known to be beneficial in losing weight (Photo: Lifealth.com)
Just buy some tamarind fruits at a reasonable price and add them to your diets. What happens next is the compound of the fruit minimizes the effects of trypsin, an enzyme which breakdowns the protein from the body.
As a result, stopping the enzyme from functioning can result in the reduction of food consumption, thus boosting the rate of weight loss. However, you should be aware that tamarind is rich in calories. So, it should be taken in a moderate amount at regular intervals to get the designated consequence. 
Magnesium Betters Heart Condition
Magnesium, a mineral enriched with health benefits, is found abundantly in the tamarind fruit. And, due to its presence, the assumption of tamarind regulates bodily functions. Its magnesium content can also aid in the formation or repairment of bones, lower blood sugar level, and most importantly, monitoring heartbeat.
What's more? The fruit reduces the risk of heart diseases as it helps in decreasing cholesterol and blood pressure. 
Get Perfect Taste, Flavor, And Varieties Of Dishes 
Yes, many fruits that we eat for health benefits turn out to be "yuck" taste-wise!
But, hold yourself because that's not the case with tamarind. While the fruit can be eaten raw by just taking out its pod, it is also used in a series of dishes: sometimes to enhance taste as a seasoning and sometimes to make a full meal
Recipes That Waters The Mouth:- What Is Pad Thai? The Food People Going Crazy For & Its Recipe
The pulp of the sour-sweet fruit can be added to soups, sauces, curries as an ingredient to amplify its flavor. Further, it is also used as a substitute for food sweetener making it useful in the production of jams, jellies, sherbets, and marmalade.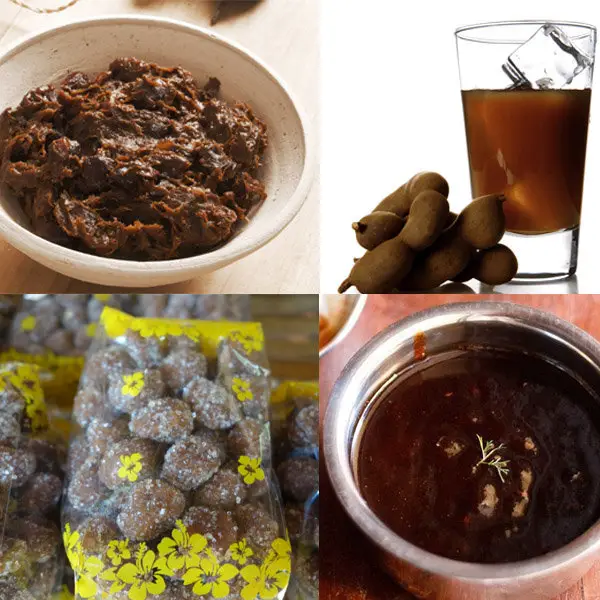 Variety of dishes prepared from tamarind fruits (Photo: Liverampup.com)
Tamarind's unique sour taste has helped it in being consumed to prepare condiments like chutneys, stews, and marinades. Even the famous Worcestershire sauce uses the fruit as one of its secret ingredients.
Ice Cream DIY:- A Guide On How To Make Homemade Ice Cream! Satisfy your Most Common Vanilla & Chocolate Ice Cream Craving
Moreover, it is also made as a candy utilizing its pulp and adding sugar in it; however, the consumption of tamarind candy is not recommended due to its availability of lead in a high amount.
Where To Buy Tamarind Fruit?; Price Range
Raw and unprocessed tamarind fruits are readily available in a local Indian or Asian market near you or better, you can grow them on your own with only a few seeds. While its raw form is considered the most hygienic to consume, in case, you lack the time and space to grow a tamarind tree; there are several options available in the market.
Various foods prepared using the contents of tamarind can be found in a local department store. But, if you are unable even to visit the stores, there is still a final frontier, online retailers.
World's largest online delivery service, Amazon has also been involved in the trading of tamarind fruits, and they can be readily available at your front door at the blink of an eye.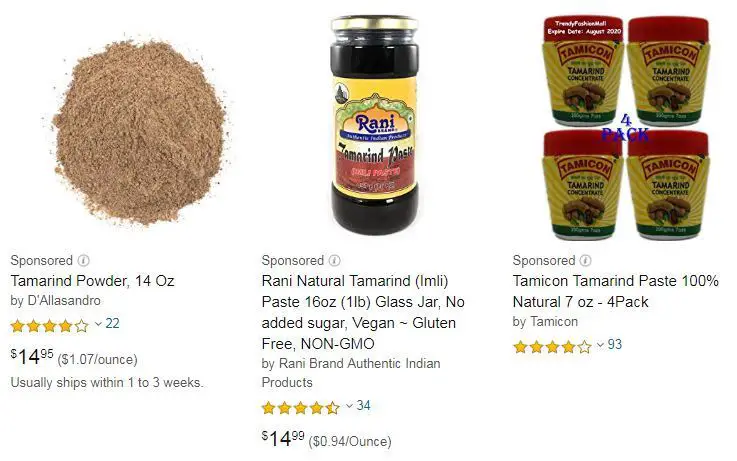 Tamarind fruits' products and their price ranges (Photo: Amazon.com)
At the moment, there are several varieties of tamarind dishes being sold by Amazon and their price also varies according to the recipe. Remarkable dishes offered by the trading service are Fresh Thai Tamarind, Seedless Dried Sweet Tamarind Snack, Tangy Tamarind Iced Tea, Top Quality Sour Tamarind, Natural Fruit Puree (Tamarind), and so on.
The products are also relatively cheap, and their price ranges from $4 to $25. While these ready-to-eat dishes are easy options, the best is to consume them raw and cherish their unique taste.