LifeStyle
What Is Pad Thai? The Food People Going Crazy For & Its Recipe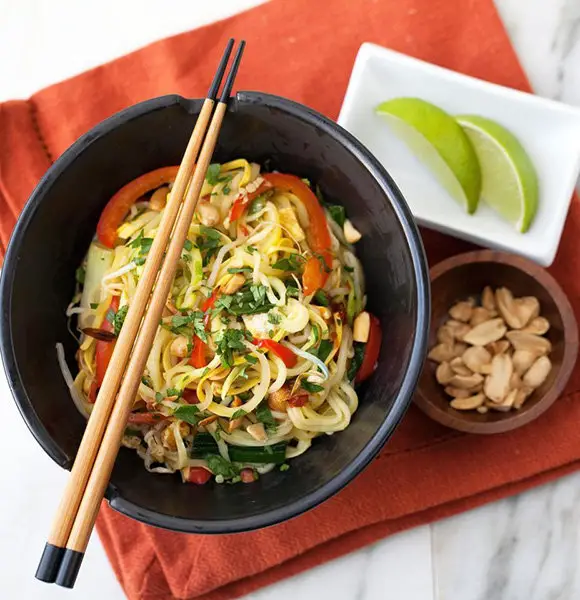 What Is Pad Thai? The Food People Going Crazy For & Its Recipe
LifeStyle
People all around the world are going crazy for Asian food these days, and Pad Thai has become one of the foodies' favorites lately. Believed to have originated from China or Vietnam, the dish's demand skyrocketed during the World War II era as rice was scarce at the time and rice noodles were readily available. 
Since then, Pad Thai has become a household name. It can be easily found in any corner of the world. Further, famous restaurants serve it in different varieties, and there are different recipes for each of the dishes. 
What Is Pad Thai?
Pad Thai is simply a delicacy made with rice noodle (compulsory) and ingredients like chicken, shrimp, tofu, peanuts, bean sprouts, a scrambled egg, and veggies.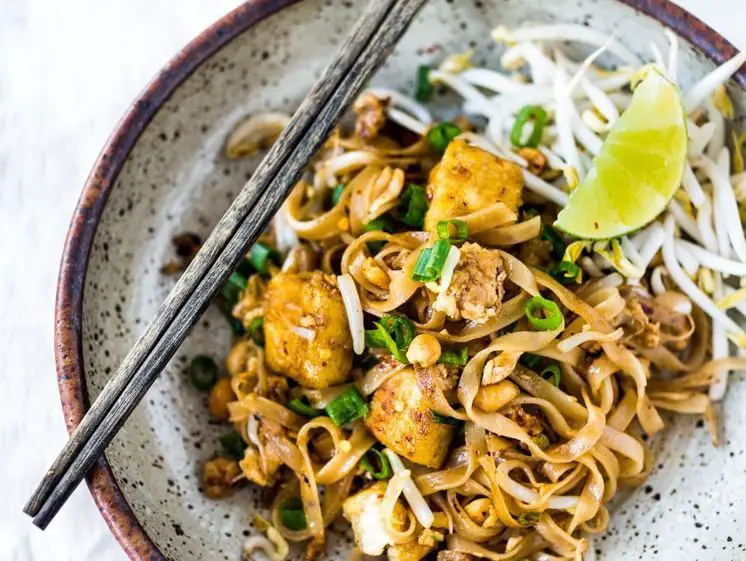 A well-cooked delicious Pad Thai (Photo: Feastingathome.com)
 It's indeed one of the most loved street food of Thailand, that is appreciated in almost all the countries!
Best Restaurants For Pad Thai 
While many eateries claim to have the best Pad Thai, there is only a handful of bistros where you can enjoy the authentic and best version of the rice noodles. Most of these venues are located in Thailand, nevertheless, servings are also available in few American restaurants.
Few famous restaurants known for preparing Pad Thai are listed as follows:- 
1) Pad Thai Thip Samai 
Located in Old City, Bangkok, this restaurant is a hub for Pad Thai lovers. It's owner Sikarachat Baisamut reveals that his family has been cooking the Thai recipe for ages now.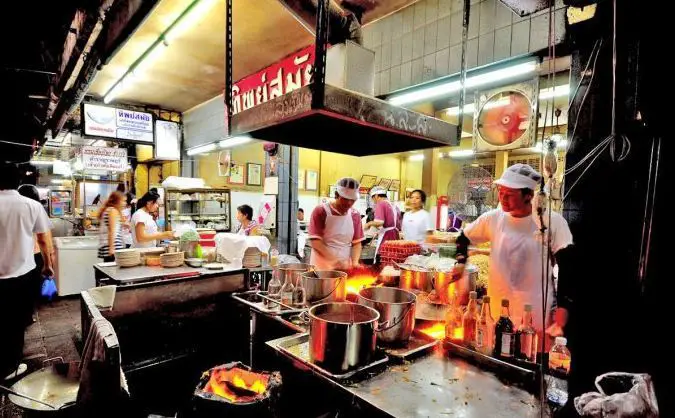 Pad Thai Thip Samai located in Old City, Bangkok (Photo: Bangkok.com)
In service for nearly 50 years, the venue boasts on its original recipe and unique method of preparing the dish. The food here is prepared over a charcoal fire. The restaurant is also famous for its cool drink Singha, which compliments the flavours of the Pad Thai. 
2) Baan Phadthai
This restaurant is renowned for making alterations to the traditional dish and is most famous for its Phad Thai with Moo Yang and Phad Thai Phoo (crab).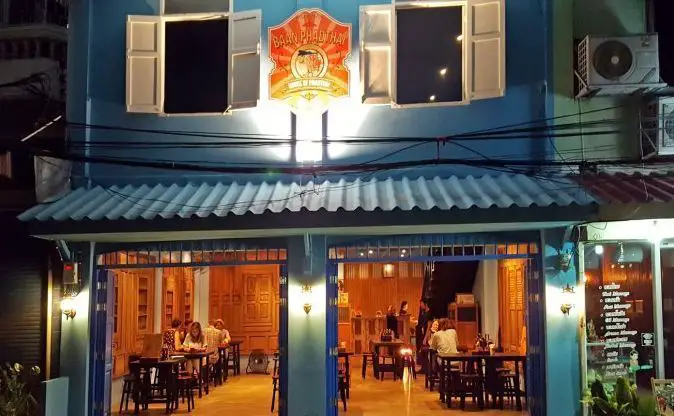 Baan Phad Thai located in Charoen Krung, Bangkok (Photo: Bangkok.com)
Located in Charoen Krung, Bangkok, the place is known for using high-quality ingredients in its recipes. It also prepares a variety of other meals including grilled pork, seafood, and more.
3) Phat Thai
Chef Mark Fischer, the owner of the restaurant, did thorough research and visited Thailand several times before establishing the venue in Carbondale, Illinois. Although the joint is not considered as an authentic restaurant, it is a hotspot for the Pad Thai lovers and Thai food enthusiasts in America.
Don't Miss:- 5 Gorgeous Beaches In Thailand | Best Vacation Sites To Budget Friendly Resorts
There are several other restaurants in Bangkok that are famous for the cooking the best Pad Thai including Pad Thai Ekamai, Pad Thai Mae, and Nara. The fancy restaurants undoubtedly provide an excellent opportunity for the food lovers to enjoy a delicious, it's best to try a recipe yourself.
In case you don't want to go to any restaurants: with its easy cooking techniques, you can prepare the food in your home with just approachable ingredients.
Recipe For Pad Thai; Not To Miss Chicken And Noodles
The rice noodles can go well with a variety of appetizers including chicken, shrimp, tofu, cheese, and eggs. So, the recipe for Pad Thai is simple and it can also be cooked by common people. 
The cooking method includes a process which must be followed thoroughly to achieve the best. The time required for the preparation of this meal is about 30 minutes: 10 minutes for formulating the ingredients and 20 minutes for cooking. 
While there are different methods for preparing Pad Thai, the general idea is the same!
1) Ready the Pad Thai sauce
For making Pad Thai sauce, form a mixture of 3/4 tablespoon tamarind paste, three tablespoons fish sauce, 1/4 cup chicken stock, around two tablespoons chilli sauce, and three tablespoons brown sugar.
If the mixture is too sweet, more tamarind can be added and if it's too sour try adding more brown sugar!
2) Boil The Rice Noodles
Take a pot and boil water in it. Put about 8 ounces of rice noodles in the boiling water and wait for the noodles to boil. (It's best if the noodle is undercooked and a little crunchy as it will get cooked later in the pan.)
Separate the noodles from the pot and rinse with cold water as to avoid it from sticking in a bowl.
3) Cook The Chicken / Shrimp In A Pan
Take the chicken or shrimp in a bowl and mix it with corn starch and soy sauce. Stir the mixture well and put it aside. Hit the pan over medium-high and add 1/2 TB spoons of garlic oil and mixed chilli. Fry the solution for about 30 seconds before pouring the chicken/shrimp over it.
After pouring the chicken/ shrimp in the pan, stir-fry it for about 5 to 7 minutes until the mixture starts getting dry.
4) Add Noodles And The Pad Thai Sauce 
When the chicken gets dehydrated, add the noodles and earlier prepared Pad Thai sauce. Use the "lift and turn" technique to fry the solution. Continue with the process for about 5 minutes until the noodles get chewy.
See Also:- These Are The Green Tea Benefits Only Known To Scientists & About 5% Population
If the pan becomes dry, you can put oil to avoid it from sticking to the pan.
5) Put Bean Sprouts And Other Toppings As Desired
For flavor, add bean sprouts to the dish for about 1 minute or until the noodles get cooked. You can also pour more fish sauce according to your choice. Sprinkle the meal with toppings including green onion, fresh cilantro, and crushed nuts. Squeeze over lime wedges to enhance your taste.
When everything is done, pour the food onto a plate and enjoy a lovely meal!
While the above recipe is the generally accepted method for cooking Pad Thai, there are variances, and all chefs may not follow the standard set of rules. 
A tip for vegans or vegetarians: You can substitute the egg, chicken, shrimp and fish oil with your own preferred ingredients. More soy sauce can be added if you don't want fish sauce on your plate.