Trending
Aaron Kaufman Vs. Richard Rawlings, Heart Of Gas Monkey Garage Might Just Leave The Show
Avid auto mechanic and genius Car Mechanics engineer Aaron Kaufman might just leave popular reality tv show Fast N' Loud. Speculations have been made that the heart of the show, Aaron might be just quite the 4-year-old TV-series after he was absent during the Dec 8th mega exclusive of Fast N' Loud for "Personal Emergency."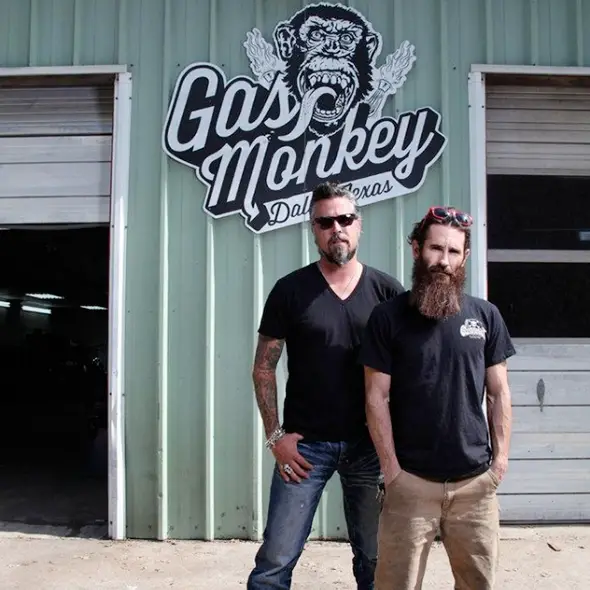 Avid auto mechanic and genius Car Mechanics engineer Aaron Kaufman might just leave(read: has left) reality tv show Fast N' Loud.
Speculations have been made that the heart of the show, Aaron might just quit the 4-year-old TV-series after he was absent from the December 8th mega exclusive of Fast N' Loud for "Personal Emergency."
Furthermore, he fueled the assumptions about his leave when he hinted towards his leave on the same date of the episode review and went on even to post about his resignation on Instagram.
Not a lot of information was given about his absence. All parties involved are keeping their lips sealed tight, but we are committed to summarize what happened during the past year in Fast N' Loud and why he might have felt that a change in scenery is on order.
Missing for Personal Reasons:
On December 8th, 2016, Fast N' Loud was set to have a mega special for episode 102. The event featured Aaron changing a 1963 Ford Econoline into a real-life Hot Wheels car like they did with the 1968 Chevrolet Corvette to induct it into the exclusive Hot Wheels Red Line Club. 
The work that lasted for ten weeks is finished barely in the episode, but surprisingly Aaron was not present during the reveal and test of the car nicknamed "Hipo Hauler." 
Caption: The last Gas Monkey Garage build, on which Aaron and his team worked on December 15, 2016, episode.
The show reported the reason for his absence as 'Personal reason.' but we have reason to believe that he might have quit his work in Gas Monkey Garage.
On December 8th, the airing date of the special episode, Aaron posted a picture on Instagram of the bumper of a Buick with the caption "The Road Ahead," perhaps hinting on him moving on from Gas Monkey Garage. 
Seems rather strange that he would leave in the middle of a season like that but there are valid reasons why he could do so.
Caption: Aaron Kaufman dropping hints about his resignation
The Outcome:
On December 13th, 2016, Aaron announced that he had left Gas Monkey Garage. Although no exact reason is given for his departure, he made it quite clear that he did not leave because of reasons related to Family, personal health or any other reasons that might raise a red flag. He did, however, state out,
When it comes to the color of television cars, I couldn't care less.
Perhaps, he is hinting about his loss of interest in working on a tv show and wants to focus entirely only on building cars. He seems quite optimistic about his future, but we hope he doesn't take his past with Richard and Gas Monkey Garage as granted and respects his humble beginnings like we as well as his beloved fans do. 
Caption: Aaron hands down his resignation for Fast N' Loud
What went wrong with Fast N' Loud:
To understand more about the subject in hand, we reached out to a few automobile fans and dedicated fans of the reality-based series who shared their opinion of the current state of Fast N' Loud and how they were completely okay with Aaron quitting.
Fast n loud is a show whose worth is not in showing cars being built, but its focus on the drama between Gas Monkey Garage crew. The show starts with Richard Rawlings buying a rare, real gem of a car and asking Aaron to put his spin on it, using his ideas to find ways to make an old car much more appealable while on a small budget so that the car is still affordable.
But according to a fan(whose identity will be kept anonymous) stated that the problem always was that Richard expected Aaron and his crew to work with a tiny budget and a short timeline to put the car together. 
But somehow, Aaron is successful every time, and the team builds the car on time and within budget, even if they don't get it to the buyer.
The source  talked about how the show was getting more and more bland over the years and said
Now the reason why the appeal of the show dried up among automotive enthusiasts and the reason why Aaron wanted to split for a long time(and probably why he left) was that Richard was more in it for the publicity for the show than actually delivering a worthwhile product.
The fan was quite passionate about the show and even talked about how he related with how much Aaron loved cars, saying that it was one of the core reasons why the show became as popular as it was.
He added,
Aaron was truly interested in building the best car he could, but to keep costs down Richard usually made him pull a junkyard engine and skip paint and finish, instead focusing  on changing out the drivetrain, lowering the car, putting on whatever sponsored rims they were provided with the car and showing off the car.
Aaron has stated how much he loves building cars in the series, but this interest must have conflicted with Richard's plans to flourish the show's reputation and following.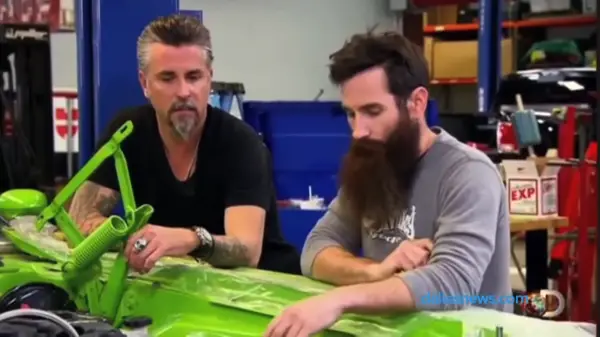 Caption: Richard Rawlings working alongside Aaron Kaufman
Source: Dallasnews.com
This is from a perspective of a long time fan, and we would like you to take this opinion with a grain of salt. However, we want to make it clear, that Richard Rawlings is no greedy villain and he is in fact, doing what is best for his show and his team.
Richard Rawlings and Gas Monkey Garage
If Aaron is the heart, then Richard Rawlings is the brain of Fast N' Loud. The Fort Texas native was the one who came up with the idea of Gas Monkey Garage and its work as well as plans the future assemblies and builds.He was the one who assembled the crew himself. In core, Richard decides where the show and its crew heads and he's the one behind the masterpiece builds Gas Monkey Garage is known for.
A car Fanatic with a brilliant career sheet and experience in various fields such as Paramedic, Police as well as firefighter, Richard knows how to handle his people and share his passion for cars with others. He displays these skills frequently on Fast N' Loud, but his bond with Aaron is probably the strongest amongst everyone else.

Rawlings found Aaron in a local car shop when he was searching for someone to air ride his '53 Ford marine and was fascinated by Aaron's work. 
Years later, when Richard opened Gas Monkey Garage, he remembered Aaron, the enthusiastic self-taught mechanic genius and believed no one else was more fit for the job. So essentially, Richard is the reason Aaron was on the show, and their bond goes far back, stronger than anyone else's on the team.
Caption: Richard Rawlings talking about the origin and the idea behind Gas Monkey Garage and Fast N' Loud
Aaron's Sin:
In early 2016, Gas Monkey Garage decided to get into a drag race with the guys who run Hot Rod Garage and Roadkill, David Freiburger and Mike Finnegan respectively. It was a heavily promoted event, both on Motor Trend and Discovery Channel side. This race would go on to affect Aaron greatly.
The roadkill crew set a limit on the car build. Aaron personally wanted to follow the rules as he was dedicated to his work and took his job seriously but Richard made him break the rules. 
Instead of building the car with junkyard parts and from whatever they had( as per the rules) Richard made Aaron build the vehicle to be an actual drag car, with uprated engine, cross bracing, a full roll cage, rear tubs and a crate engine.
Roadkill, as per the rules they set, showed up with a car they built using junkyard parts. The GMG '67 Dart beat '68 Roadkill quite quickly. GMG's actions made the crowd angry and distraught.
The Roadkill fans and the Gas Monkey Fans got in a serious argument and even insult bouts. Enraged, the Roadkill fans attacked Gas Monkey fans, and Aaron felt it was his fault and felt terrible about the predicament.
Caption: Roadkill vs. Gas Monkey Garage showdown at Roadkill Nights.
This led him to slowly move away from Gas Monkey which can be evidenced by his custom Falcon build and such things that he showed that had no relation to the show.
The Fallout:
Recently, for reasons unknown, new episodes started to come out less and less often. The show's ratings and views fell off as well. The shows views in the US fell from 2million to 1 million views according to the sources.
Richard even started a new show called Garage Rehab recently this year. This might be signaling Aaron's leave.
Aaron was never a man of ecstatic expressions with his entire interest in building the best cars, but he wasn't exactly a Tv personality either. We can only speculate that he didn't like being in the big spotlight or maybe there were internal issues which led to him slowly fading out on Fast N' Loud. But what was worse was the pressure on him put on by Fast N' Loud.
The show's charm is that the crew finishes a build in a short time, usually in 2 weeks which is a great contrast with a lot of other shows of similar kinds who take up to a month or two for the same work. Furthermore, GMG does it with a small budget that varies every time so that the car is still affordable.
However, the amount of effort this requires is unlike anything else, and for all we know, it finally got to Aaron. This can be evidenced by the video below where Aaron got shocked while working on a '49 Chevrolet 3100 when he messed up his timing.
Caption: Aaron gets shocked hard while working on a '49 Chevy 3100
After losing his passion for his work and fatigue issues, Aaron might have finally given in. Certainly, a change in work scenery and environment can do wonders. Most fans were completely fine with this future and believed with complete confidence that Aaron wouldn't stop what he loved and impressing everyone with it regardless where he worked and who he worked with.
Aaron personally addresses to the unanswered questions
On December 21, 2016, the official website for Gas Monkey Garage posted that Aaron had officially left GMG. The news staggered fans and many were confused, including Richard himself.
You can see the confusion in his eyes in the preview for the episode below, following with Aaron stating 'My Vacation from Gas Monkey is going to be a permanent one.'
Caption: Aaron Kaufman and his permanent 'vacation.'
About a week later, Aaron gave some much-needed answers in an interview with Star-Telegram.
He talked about getting involved in the F-100 market and maybe even return to TV, but not with Richard.He stated that he enjoyed the entertainment business and it was fun but also added that building cars for Fast N Loud was definitely a grind and was emotionally and physically taxing. He was quoted saying,
"We're building cars that most sane, normal car shops wouldn't attempt in less than six, nine months or possibly even a year. We're building the cars in six weeks. If we run over our time budget, we're building them in seven and eight weeks. But, yes, a hundred percent, building cars at that rate at that speed does take its toll. It takes its toll professionally, takes its toll emotionally and physically. . Professionally, we get to meet all these great people, we broaden our horizons and our contacts and networking. But the one thing is we don't spend a lot of time to perfect any one type of car, any one style and sometimes we have to make concessions on a vehicle to even attempt to make a time frame. That can be a little grating."
As for the million dollar question of whether was any animosity or not between him and Richard he stated that contrary to the reveal of the leave on the show, Aaron had been vocal about his leave for quite some time now and Richard knew it was coming but didn't take him seriously, neither did his crew, apparently.
He spoke about their current relationship and that everything was fine and normal but not exactly perfect. He took a left turn, he admits but he doesn't know how Richard feels about it but Aaron personally believes that it was the right decision.
This article was last edited on March 9th, 2017.
If you are interested in knowing more about Aaron's personal life and dating history, please take a look here.