News
Alex Murrel & Hunky Husband Kyle Johnson's New Baby Boy! 'Laguna Beach' Star Shares
Laguna Beach Alum Alex Murrel is now the mother of two baby boys!
The reality star personality, Alex Murrel Johnson and her husband, Kyle Mark Johnson have welcomed another baby boy, Kase Robert to the family on 1 August 2018. She tells E! News in a statement that it was quick labor and is happy with the family of four.
News From 'Laguna Beach' Star:- Casey Reinhardt Is Pregnant! All Set To Welcome Second Child With Husband
The new addition was born in Newport Beach, California at 4:57 a.m. weighing in at 8 lbs. 13 oz. and measuring 21 inches long. Kase is the second baby boy of the family as the couple has a two-year-old son Levi.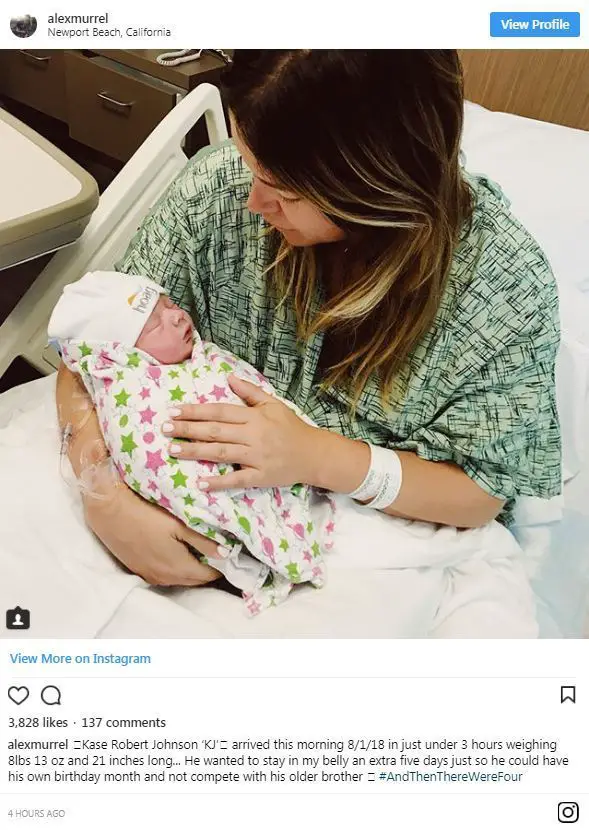 Alex Murrel welcomes the second son with husband  Kyle Mark Johnson (Photo: Alex Murrel's Instagram)
The big brother Levi could not wait for the Kese's arrival, who used to kiss his mother's baby bump during her whole pregnancy. Now, with the arrival of Kase, Alex described Levi is just over the moon to be a proud big brother.
Alex shared that the two brothers share another special bond and are destined to have a special intimated relationship as their birthdays are just days apart (Levis's birthday is July 20)
Don't Miss:- The Bachelor's Erica Rose & Husband Blessed With First Baby 'Daughter', Family Of Four!
The couple talked with Entertainment Tonight about the difficulty to come with the name. They said:
"Boys' names have always been so hard for us. Levi has such a strong name, so we felt a lot of pressure to give this baby the same type of name. We had a couple names picked out, but none of them felt right. The name came to us about a week before we had him."
Also, Kase's name holds a special meaning to the Johnson family as his name is kept with the husband's nickname who grew up with the name 'KJ' and they really wanted another little 'KJ'.
The couple announced their pregnancy in March 2018 sharing the snap of her baby bump holding Levi with the caption:
"Baby brother on the way this July #julybabies."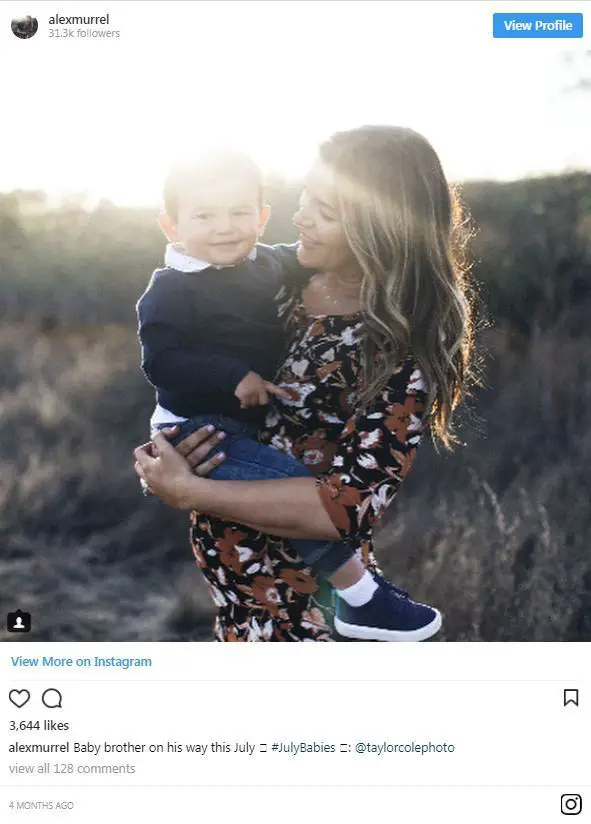 Alex Murrel announces her pregnancy (Photo: Alex Murrel's Instagram)
Throughout her pregnancy, the Orange County native shared the progress of her pregnancy with tons of photos on Instagram, including snapshots from family vacations and showing off the baby bump.
Alex Murrel tied the knot with her fiance Kyle Mark Johnson in a  lavish outdoor wedding ceremony in Malibu on 25 October 2014 and welcomed their first born in July 2016.