News
Johnny Depp's Ex Amber Heard Suffers a Break Up with Billionaire Elon Musk After A Year of Dating
Major heartache!
"Danish Girl" actress Amber Heard just seems to lack a balance in her love life, as she and her latest beau, Tesla and SpaceX founder, Elon Musk suffered a split with one another after dating for a year, as per reports on August 6, 2017.
Speaking about the break-up, a source close to the now former couple added,
"The timing wasn't good for them,"

"He's super busy and works all the time. Amber is filming [Aquaman] in Australia until October. She's in no position to settle with him. She feels her career is just starting."
The former pair first met back in 2013 and then it was earlier this year that Musk started opening his cards regarding his love relationship with Heard.
The billionaire also gushed about the intimate dating snap over on Instagram.
Amber too shared a similar post over Twitter.
The two were in a serious relationship with one another, and there was even the news of them willing to get married soon.
A source elaborated this in such words,
"Amber and Elon are both very serious about each other. She would love to get married. One of the things they want to do is settle down and have a family. They are making plans for that."
However, all the love and the dreams are shattered, as the two have chosen to walk separate paths.
Did you know, Amber Heard was previously married to star actor Johnny Depp?
The two got married on February 7, 2015, at Johnny's private island located in the Bahamas.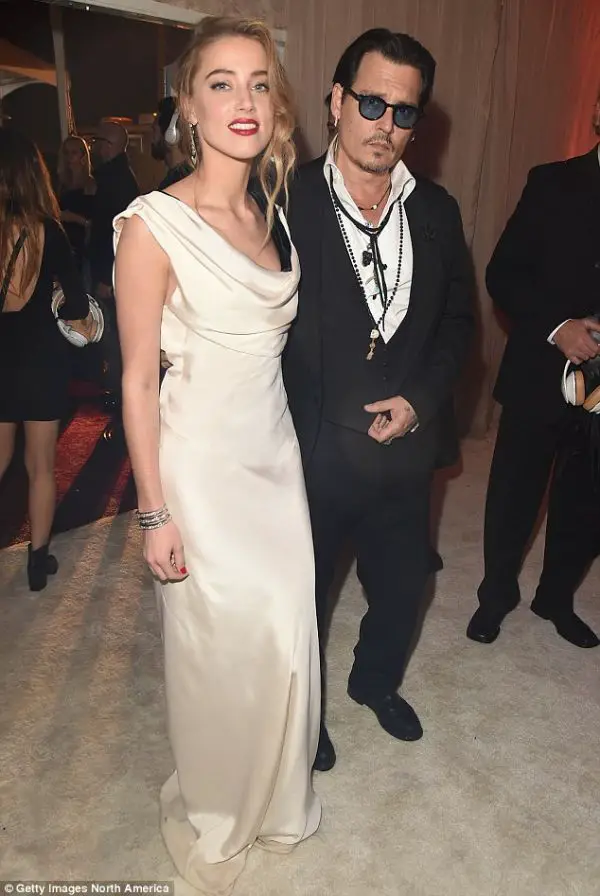 Caption: Johnny Depp and Amber Heard were once a married couple!
Photo Credit: Daily Mail
Amber filed for the divorce from Johnny on May 2016, and the divorce was finalized on January 13, 2017. Additionally, Amber received a sum of $7 million as the divorce settlement.
After finalizing the divorce, Depp, and Heard both moved in their respective lives, the star actor was also seen smiling on the sets of "Labyrinth," where he sported a cop look.
Life goes on, right?
Stay with us for the emerging updates on Amber Heard!