News
Annie Wersching Third Child With Husband | Baby Boy Archie Is A Gem
Stephen Full's family is a "full" family now with his actress-wife Annie Wersching turning into a mom of three!
The Timeless star and her actor husband, Stephen Full welcomed their third child together, a baby boy named Archie Wersching on 25th November 2018 in Los Angeles as per a report by ET.
At the time of the birth, the married duo's third child Archie weighed 8 pounds & 9 ounces while measuring approximately 20 inches long.
Read Also:- Katherine Waterston Age 38 Bio: Pregnant With Baby, Who Is Her Husband?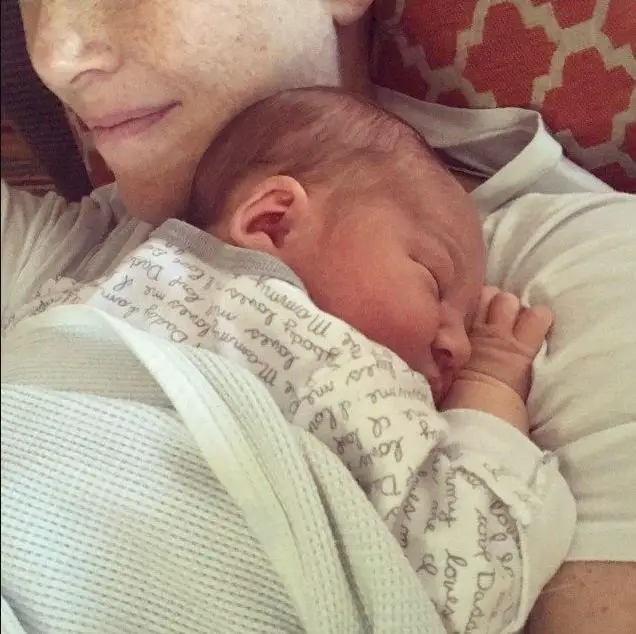 The first image of Annie and her newly born third child, Archie (Photo:- Etonline.com)
With Annie, aged 41, and her husband Stephan, 47, welcoming their newest bundle of joy in their lives, the Wersching-Full household has now grown into a family of five. The married pair was previously parents to two children - both sons - Freddie, age 8, and Ozzie, age 5.
The St. Louis native first broke the news of her being pregnant via Twitter back in June 2018. She had playfully shared the milestone with a tweet,
"It's a tiny #clockblocker! I mean a Gibborim glow baby. I mean Damon & Stefan's younger sibling! Let's hope it's not related to 3XK. Oh, who are we kidding … it'll be an adorable little Jack or Renee. #s—sgettingreal #outnumberednow #nothingbetterthanbeingamommy"
Two days after revealing her pregnancy, Annie debuted her baby bump at the red carpet of The Saturn Awards. Dressed in a beautiful yellow Noon by Noon gown with a plunging neckline, she stunned the crowd as she posed for photographs.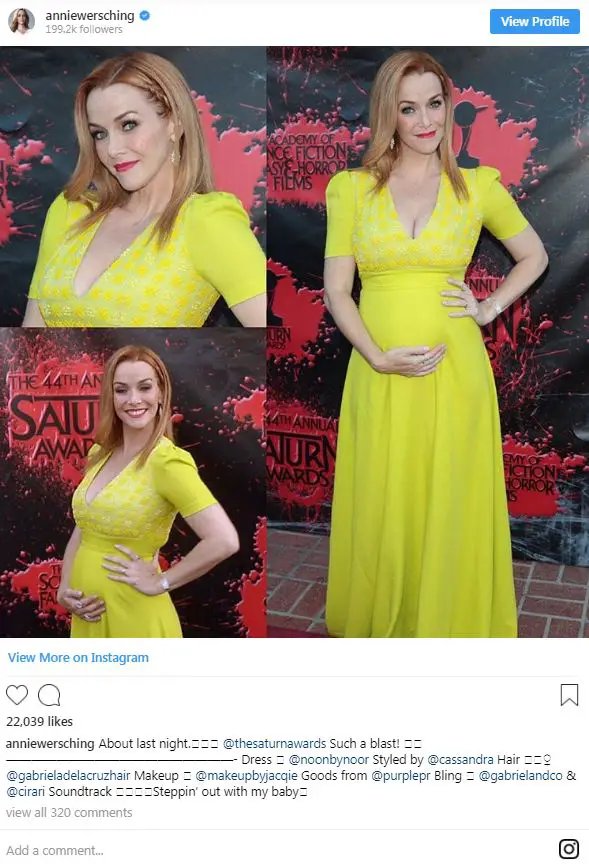 Annie shows off her baby bump at the Saturn Awards (Photo:- Annie Wersching's Instagram)
Interesting:- Ashley Wirkus Is Pregnant! At Age 30, Post Wedding Bliss With Husband
Before Archie's arrival, the former Supernatural star had more than kept her fans in the loop by sharing pictures and videos of her ever-so-growing baby bump.
Considering everything, she had had quite a hectic year. When the 24 star wasn't busy updating her fans on the impending childbirth, she was devoted to reprising her character of Emma Whitmore on the NBC drama Timeless for the series finale. Also, she is set to make a return as Leslie Dean in the Hulu original series, Runaways.
Movies and TV series aside, the 41-year-old actress is a star mom as well. Referencing her character in Runaways, she provided an insight into her relationship with her two sons in May 2018 interview with PEOPLE. She quipped,
"I have two young boys so it's a fun time for mommy to be on a superhero show. I started to show my 7-year-old some of Leslie's cool scenes and the parts where the kids start showing their powers and stuff. I've shown him those action scenes, and he just thinks it's so cool."
The unsung hero to all, Annie's success is her husband Stephan, with whom she tied the knot in an intimate wedding ceremony in 2009. Nine years and three children later, the pair's family life looks complete.
Discover:- Teen Choice Awards 2018 | Winners List of Movies and TV Shows
Congratulations to Annie and her husband on their new baby!