News
Vanderpump Rules' Ariana Madix, 33 Shares How Her Cancer Got Removed
Stepping into 2019 in style & cancer free!
Vanderpump Rules' very own Ariana Madix underwent a huge hurdle in 2018. She got cancer and had to go through the painful therapies to get rid of it. But, the information on the disease only came out in 2019 when she recapped her 2018 via Instagram.
Posting a picture of herself, she cited that she underwent a cancer removal, and also had her lymph nodes biopsied in 2018.
The reality star, age 33, then followed up with a piece of good news by writing:-
"(In the clear now!)"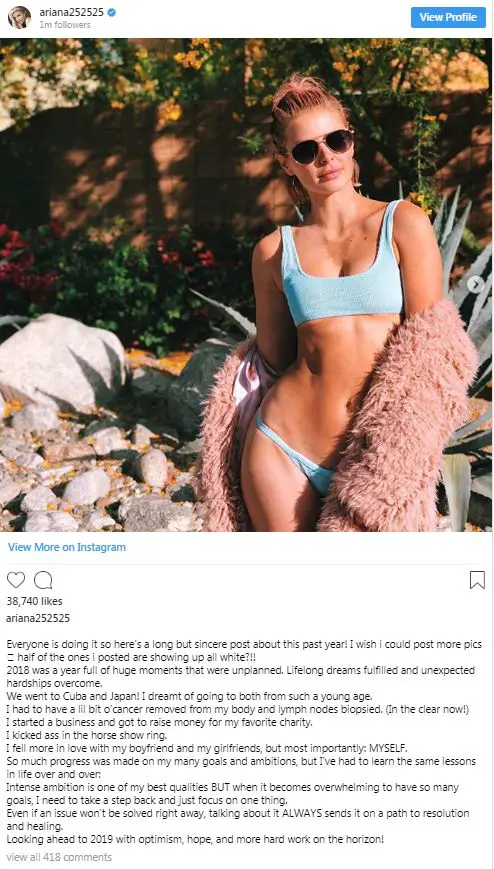 Ariana opens up about undergoing cancer removal surgery (Photo:- Ariana Madix's Instagram)
In a video that accompanied the said Instagram post, Ariana can be seen with a bandage on her neck and armpit while sitting on a couch during the time she had her biopsy. She mutters:-
"Update: I'm not allowed to shower, so I feel extra gross..."
Then panning the camera to her bandages, she shares:-
"I'm watching scary shows and what's really scary is what's going on in there... "
By the end of the clip, Ariana can't help but feel disgusted with her present state as she quips:-
"Still waiting on biopsy results—lymph node biopsy results, so hopefully next week I get a clear on that…until then, I feel really disgusting."
Celebrity With Same Name:- Ariana Greenblatt Age 11 Bio: Young DWTS Star's Parents, Net Worth, Facts
The stated Instagram post, a series of images from 2018, featured her friends, family and her boyfriend. According to her, she headed into the proceeding year with zero plans and ended up creating amazing memories.
"2018 was a year full of huge moments that were unplanned. Lifelong dreams fulfilled and unexpected hardships overcome."
Not only was she able to travel to Japan and Cuba - her dream destination since an early age - but the fact she did it with her boyfriend made it all the more memorable.
"We went to Cuba and Japan! I dreamt of going to both from such a young age."
Of all things she did it in 2018, including opening her own business and raising money for her favorite charity, none seemed to have the same effect as realizing that how much she had fallen in love with herself.
The Vanderpump Rules star and her co-star cum boyfriend, Tom Sandoval, age 35, have been together for more than five years now.
Dating since 2013, Ariana and Tom created quite a stir in a most recent episode of the hit Bravo series' latest installment - Season 7 of "Vanderpump Rules" returned to the air in December 2018 - when the latter made demeaning comments about the former's sexuality by saying:-
''You've been in a relationship with a girl before."
And to which award-winning Equestrian rider replied:-
"That is not your business to tell."
More On Tom Sandoval:- Tom Sandoval; A Strongly Rumored Gay Man Is Dating His Girlfriend and It Seems To Be That Way - Forever!
As for the "boyfriend" referenced on the stated Instagram post, it's likely that it was none other than Tom. Nevertheless, Ariana ended her lengthy caption by asserting "optimism, hope, and more hard work on the horizon" for the year 2019.