News
Bekah Martinez Reveals Who She's Dating! Boyfriend Been With Family Already
The Bachelor's Bekah is no more bachelor!
The Bachelor alum, Bekah Martinez is dating the rock climbing gym owner and trainer, Grayston Leonard since their eyes collide in February 2018. She unveiled about her relationship after dropping out of Bachelor In Paradise.
In an interview with Pure Wow, the 23-year-old former Bachelor revealed her reason for sitting out of Bachelor Paradise to be not to spend time away from her new boyfriend.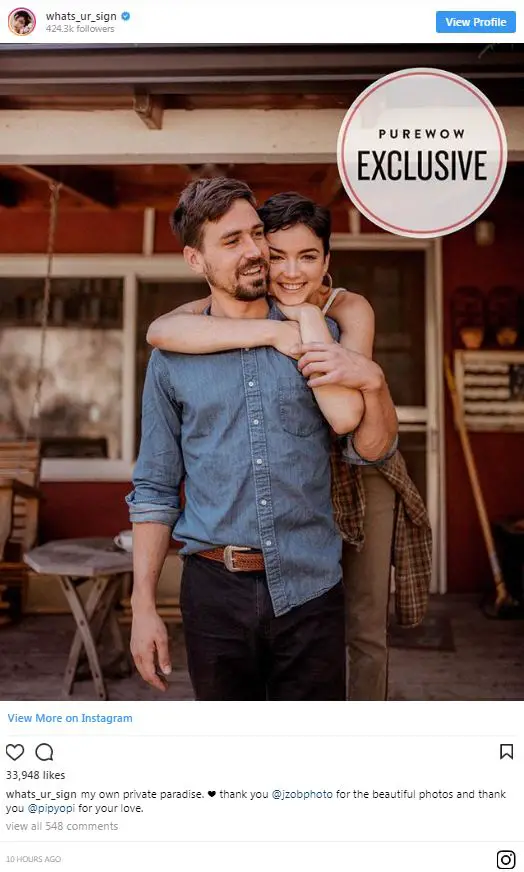 Bekah Martinez with her boyfriend Grayston Leonard (Photo: Whats ur sign's Instagram)
The reality lady disclosed that she met the trainer-boyfriend in February 2018 at his own rock climbing gym. And also she was hesitating to date the guy for she was soon-to-be-joined on the fame-earning show. She disclosed:
'At first we decided to take our relationship slow because I didn't know if I was going to go on Paradise or not and I wasn't really sure what I wanted. I wasn't sure if I wanted to miss out on that opportunity. I was kind of like, "I don't want to be dating this guy for two months and then decide not to go on Paradise and have total FOMO and wish that I had done it."
Bekah, who is the youngest contestant to be on the show history, is one of the popular standouts of the recent season of The Bachelor. And when she was about to join the summer's edition of "Bachelor in Paradise," she chose her boyfriend over the fame. 
Read also: Arie Luyendyk Jr. To Find A Wife As The Bachelor Next Year; Faces Girlfriend Issue Amid The Announcement
Then after spending more time with her new boyfriend, she changed her mind. She realized that she just can't leave him for the show and cant share the onscreen romance with the other people as she already got the love of her life:
'But as it got closer to [filming] I just started realizing that it wasn't worth it for me to put myself in that environment where I could possibly jeopardize what I had with Grayston.  I just decided that the guy that I was with back home was the person that I wanted to be with right now, and I didn't want to risk leaving that by keeping my options open and going on Paradise to see if there were any guys there for me."
Additionally, she said:
"It was kinda this realization that if I have something right in front of me that's good, why am I going to go out of my way to look for something else?"
The new flame has already met each other's parents and might have to spend family time together.
"We both met each other's parents, so it's definitely getting really serious now."
Bekah, who is a first contestant to have a pixie haircut on the show, also shared the interest with the 36-year-old contestant Arie Luyendyk Jr.  It seems he was not the perfect man that Bekah was searching for.
Don't Miss: Clare Crawley Engaged! The Bachelor Rumor Came Out True
In an interview with Glamour, when the California native was asked about her marriage plan, she said:
"I'll be ready for marriage when I find the man who is worthy of being my husband."
Well, it seems she has finally found the husband-like figure in Grayston. While the two new-flame has been getting serious with their relationship and has already met with each other's parents, it seems the couple is soon to be known as a married couple.