News
Chase McNary, on Surprising Twist in 'The Bachelorette": Gets Dumped By JoJo Fletcher
On Monday's episode of the Bachelorette, an unexpected twist made it's way to viewers as Chase McNary got dumped by the lady of the show, JoJo Fletcher.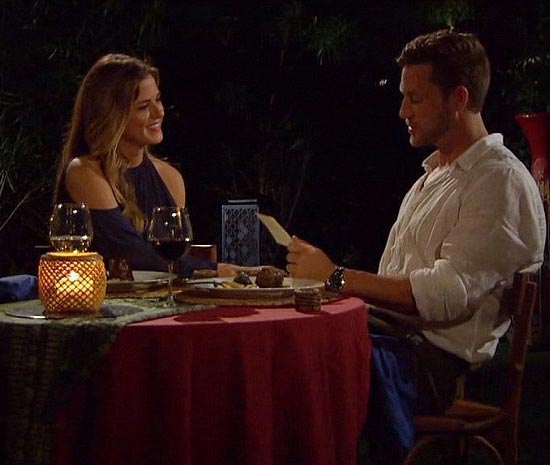 Caption: Chase reads the Fantasy suite card.
Source: dailymail.co.uk
The medical sale representative was dumped by JoJo even after he used the ultimate 3-word type weapon which is as we all know "I Love You." JoJo instantly started to think of ways to turn down Chase more delicately when Chase said her that he was '100% in love' with her.
For all the viewers, this must be the worst fantasy suite date ever as it ended up in a breakup. When JoJo told Chase what was her decision, a light of fire grew inside him and he certainly didn't take it well.
JoJo told Chase, "I didn't mean to hurt you," to which Chase replied "But that's exactly what you did," and told that he was shattered and felt a surge of remorse that he opened up about his feelings towards her.
He said,
"So now love equals 'Get the f--- out?"
JoJo did try to explain her intention on not spending the night together. She broke down as she said she wanted to end it before things get any deeper but anger was still not over Chase's head but he did try to comfort the crying JoJo.
However, Chase did come back to apologize for his behavior and even told her that he was proud of her and admired her.
On his ride back home, Chase summed up his current status in a sentence and said, 'pulling your pants down and getting kicked in the nuts.'
This wasn't the only tough goodbye for JoJo. She was in tears earlier when she had to bid goodbye to the dream boy Luke Pell. That was also one of the most unexpected twists in Bachelorette as just before JoJo started to hand over rose to the person she thought was eligible, Luke asked for a private moment and said told her everything he felt about her.
JoJo had already made up her mind to let go of Luke but everyone thought she would change her mind after her moment with Luke but she didn't. She did send Luke home but as soon as Luke was in the car, JoJo started to regret her decision asking herself "What if that was a mistake?"
Well, this doesn't seem to be the end for Luke and Chase as they are now in talks to be the next 'Bachelor.' Pell said "It's a possibility, I definitely would not pass on it!" where on the other hand, Chase didn't seem to be up for it,
"The discussions are there, but I don't know, there's a lot of weight there. There [are] a lot of expectations and I'm not scared of it ... but I definitely want to make the smart decision and the right decision before I totally accept that position."