Trending
KTLA Anchor Chris Burrous Dies! What Is Death Cause At Age 43
Chris Burrous passed away at the age of 43! KABC, a TV station based in Los Angeles reported that on 1:43 pm, Glendale Police had received an anonymous call which informed about a man not breathing...engage in sexual activity with a man he had met on a gay dating app called Grindr...he had bought in crystal meth to spice up their sexual activity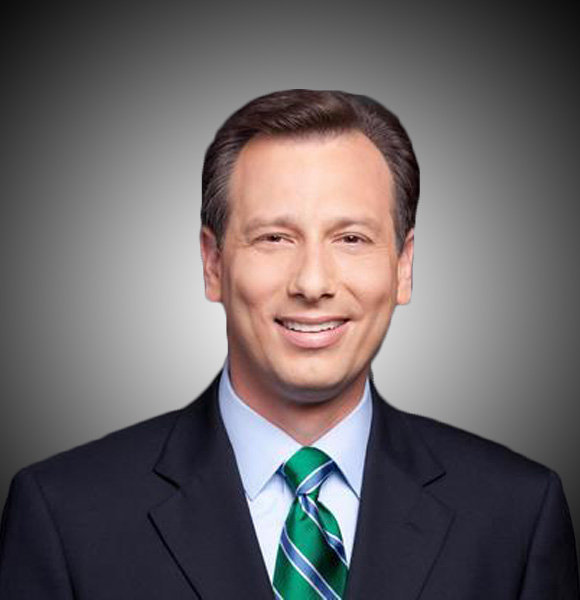 KTLA 5 Morning News anchor, Chris Burrous died at the age of 43 on 28th December 2018. KABC, a TV station based in Los Angeles, reported that on 1:43 pm, Glendale Police had received an anonymous call which informed about a man not breathing. 
His death was a mystery with many speculations, but soon the real reason behind his death came into light. Moreover, the reveal was quite a shocking one with some nasty details. So, before taking a look at the reason behind his death, let's explore the events surrounding the report on Chris' death.
Death Report
KABC, a TV station based in Los Angeles reported that on 1:43 pm, Glendale Police received an anonymous call which informed that a man was out of breath.
The caller revealed that the two men were together at the Days Inn and the man was later found unconscious at the motel room. When firefighters arrived at the scene, they found a man in need of medical assistance, who was later identified as Chris Burrous.
CPR was immediately administered to him, but Chris was declared dead on arrival at the hospital. 
More Death News:- Stephen Hillenburg, Spongebob Creator Dies; Cause Of Death At Age 57
Authorities mentioned that the cause of Chris' death was under investigation but had been suspected as a possible drug or alcohol overdose. However, detectives waited for the Los Angeles County coroner's office report before jumping to conclusions.
The police had not released details of the room where Chris was first found and nor shared anything about the man who made the phone call and was together with the reporter.
Authorities also did not release details about what paraphernalia was found inside the motel room, nor did they elaborate on the relationship of the man who was with Burrous when he was discovered.
KTLA President/General Manager Don Corsini along with Lews Director Jason Ball issued a joint statement informing the viewers of Chris' demise,
"Our thoughts and prayers go out to the Burrous family. Chris loved sharing the stories of Southern California and connecting with our viewers. He will be remembered as a great journalist and a wonderful friend to many. He brought a kindness to his work and will be deeply missed by the entire KTLA family."
Chris Burrous, who joined KTLA in 2011, previously worked for several news stations across the US for 14 years as a reporter and anchor. He was raised in a family which consisted of his farmer and NASA engineer parents. 
Chris, who has a degree from Chapman University in Broadcast Journalism, first met his wife Mai Do-Burrous while working for KGET in Bakersfield. He was working as a morning news anchor when he encountered Mai, who was a fellow journalist.
See Also:- Forest Whitaker, Divorce From Wife Of 22 Years! Relationship Falls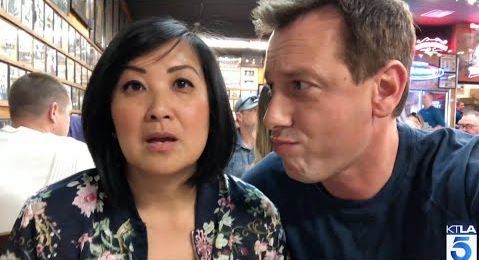 Chris Burrous with wife Mai Do-Burrous at Luigi's in Bakersfield (Photo: YouTube.com)
The pair later wed in 2003 after dating for nearly four years. Chris and his wife even parents a nine years old daughter named Isabella.
And after the untimely demise of the reporter, GoFundMe fundraiser helped the bereaved family by raising the fund of more than $75,000. Importantly, the Big Bang Theory star Kunal Nayyar made the largest donation of worth $5,000.
Cause Of Death
It turns out the anchor's actual cause of death was a wild romantic rendezvous gone wrong due to the use of illegal drugs. According to the L.A. County Medical Examiner, Chris died of accidental methamphetamine (meth) toxicity. The substance is a central nervous system stimulant and is mainly used as a recreational drug.
However, as per his wife, he was never prescribed this drug by a doctor, so how did the drugs come into play? So, here's what led to his untimely demise.
On 28th December 2018, Chris went to a motel in Glendale to engage in sexual activity with a man he had met on a gay dating app called Grindr. He had been having an affair with the man for quite a while. That day too, the two had plans to have good times with one another.
As expected, his company for the night arrived, and he answered the door, all naked. Chris had even set up the room with lots of lighting, lubrication jells, and massage bench. But that wasn't just it; he had bought in crystal meth to spice up their sexual activity.
The two engaged in passionate intercourse and then came the stupid move that took a heavy toll on the news reporter's life. Acting on his raw instincts, he inserted crystal meth into his prostate in the spur of the moment. Then, he used more drugs, including "poppers," an amyl nitrite to get a euphoric effect.
As a result, the overdose and harmful effect started showing up after he vomited in his S&M mask. His partner immediately called 911 and Chris was rushed to the hospital. Unfortunately, he died on the way.
So, the TV presenter seems to have traded his life to enjoy a repressed desire that ended up taking his life when drugs got involved.