Trending
CNN "Fareed Zakaria GPS" Host's Views on Religion: His Married Life, and Controversies
For years, Fareed Zakaria has been a righteous and outspoken voice in papers as well as television. He may be a decorated journalist but has faced quite a bit of controversy as well. But did you know about his personal life and background? If not then you're in luck.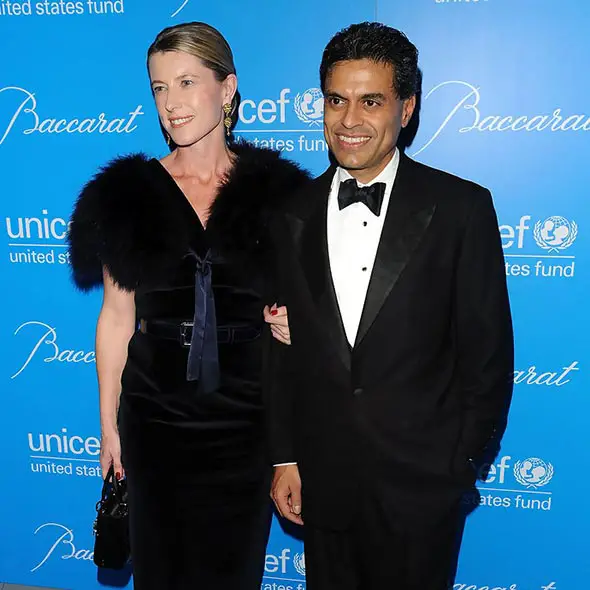 For years, Fareed Zakaria has been a down to the earth and outspoken voice in papers as well as television. He may be a decorated journalist but has faced many controversies during the course as well.
But did you know about his personal life and background? If not then you're in luck.
The American Journalist of Indian nationality originally is the son of an Islamic scholar-politician father and a News, editor mother. Seeing his parent's influence rubbed on him and his involvement as a journalist in political sectors, you might have thought that their philosophies and cultures have passed on him too. Interestingly, that is not the case.
CNN's Fareed Zakaria host Fareed's Religious View:
Zakaria considers himself as "not a very religious man." It doesn't necessarily mean he is an anti-Muslim or anything, as he has said that he knows much about Islamic religion than any individual who has read many books about it. But he chooses not to follow it or any other religion. Although he hasn't backed on this yet, it looks as if he is an atheist.
People do bring up the fact that Zakaria frequently sides against or sheds very unfavorable points against the Muslim side. He has been accused of turning against his origin. But Zakaria vehemently denies these accusations saying that even if he somehow he did so, such words cannot be used against him as he has never used his religion or ethnicity to define himself.
But in his defense, it does seem that every time he acts against the Muslim community, it is only to label the level of threat some part of the community possesses as a very critical matter of the society. And at the same time, he has also supported the Muslim community at times as well.
His Political View:
The political views of Zakaria are even more complicated than his religious ones. Unlike his non-religious policy, it seems as if he follows mainstream perspectives when it comes to politics. It is why many people summarize his position as a centrist.
Surprisingly, even though originating from India, he also supports Reaganite views in politics. His personality also looks like he will favor the Republican side, but his book, 'The Post-American World' is clearly standing against the Republican leaders stating that the Republican party has over emphasized on national security, religion, and hyper-nationalism.
This may be the very reason he rooted for Obama in the past elections.
Caption: Fareed on world politics and geopolitics scenario of middle east in an interview with M.r Jamie Lowther-Pinkerton, Trustee, Varkey Foundation in March 2016
Source: Global Education & Skills Forum
His Married Life and Wife:
Fareed Zakaria is a married man. He is bonded to his wife, Paula Throckmorton since 1997. The couple had been set up on a blind date by mutual friends, and they have been hitting it off since then (except the period in 2011 when they briefly separated). They already have three children; their son Omar and daughters Lila and Sofia. They have been living happily in New York.
Caption: Fareed Zakaria with daughter and wife Paula Throckmorton.
Source: gettyimages.com
Not much is known about the better half of Fareed except the rare information that she is a jewelry designer, author, novelist and a devoted mother and loving wife.
Controversies?
Problems in his marriage (in 2011) are not the first hurdles that Zakaria has had to overcome. In fact, he has been targeted with quite a bit of controversy in the past. He was conceived as one of the political analysts in a meeting that supported the subsequent on the Invasion of Iraq according to a book 'State of Denial' by Bob Woodward.
He later justified himself saying that he thought the meeting as a brainstorming session and not a report for the President. However, mistaking things like that isn't that easy, and that means he had approved the Iraq invasion.
He was also involved in a mild controversy of the dispute between Anti-Defamation League and Park51 Mosque when he returned the award presented to him by ADL in 2005. That seemed irrational from someone who said he wasn't very religious.
Also after ADL showed no reaction after taking his award, he said that he had expected ADL to lay off the mosque at that moment. Besides this, he has also come under several controversies of Plagiarism; a very shameful thing in the career for a journalist.
Caption: Fareed Zakaria talks about the state of religion acceptance in the USA as well as the 'freedom of religion.'
Fareed Zakaria Bursts On Discussion About Donald Trump
During a news segment discussion when CNNhost Don Lemon alongside Fareed discussed Donald Trump's accusation that Ex-President Obama wiretapped Trump Tower during the election without unsubstantial proof, Zakaria blew up and had the audacity to drop some questionable r-rated terms on Air.
"He's spent his whole life bullshit. He's succeeded by bullshit. He has gotten the presidency by bullshit, It's very hard to tell somebody at that point that bullshit doesn't work, because look at the results, right?"
And while CNN is not tied to any rules regarding Profanity Censorship by the FCC, it still seems unprofessional to be so emotional and to lose it while airing. This isn't the first time Fareed has cussed at Donald Trump as he previously has called the American President a 'Bullshit artist' on air as well.
While his actions were somewhat questionable Zakaria is still an extremely respected journalist. The host of CNN's Fareed Zakaria GPS also works as a columnist for 'The Washington Post,' 'Newsweek' and 'Newsweek International.' He graduated as Bachelor of Arts from the Yale University and mastered in Philosophy from Harvard University.
He has previously received a Peabody Award as well as the respected Padma Bhushan Award from the Indian Government. He also has honorary degrees from 8 Universities.