News
Couple Alert! Actress Asia Argento is Reportedly Dating Famous Chef Anthony Bourdain
Beautiful Actress Asia Argento, who is popular for portraying the character of Yelena in the action film xXx is reportedly dating sixty-years-old chef Anthony Bourdain.
The new lovebirds, Asia, 41, and self-proclaimed film fanatic and chef, Anthony, 60 were spotted together having fun in Italy on February 9. The pair walked around the city hand-in-hand and enjoyed a romantic dinner at Pommidoro with a kiss as a dessert. The duo then went back to their hotel room.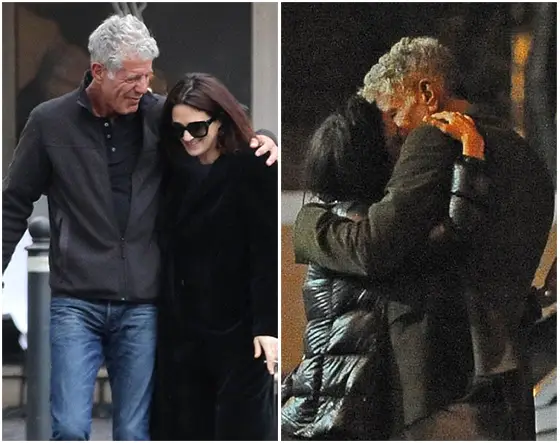 Caption: Asia Argento, 41 and Anthony Bourdain, 60 spotted hugging and kissing after a romantic dinner at Pommidoro.
Photo Credit: liverampup.com
A source revealed to E!News about their quality time in Rome where he stated-
"The two spent four days together in Rome, staying at Hotel de Russie by the city's famed Piazza del Popolo and spending nights together enjoying Rome's finest asset—the food."
However, Asia and Anthony haven't commented on their relationship till date. The pair met last year in September on the sets of Emmy-winning travel show "Antony Bourdain: Parts Unknown." She appeared in the Rome episode of the travel show. Anthony didn't hesitate to praise Asia for her appearance in the show. On the CNN blog post, he said-
"The episode would not have been possible—or be anything like it is without the truly magnificent Asia Argento, always honest, completely unsparing. If you ask Asia a question, you are going to get an answer—and she doesn't care if it reflects badly on you—or on herself. She's going to give it to you straight."

 
Anthony was previously married to Italian mixed martial arts fighter Ottavia Busia in the year 2007, eleven days after their daughter was born. After being together for nine years, the pair separated in September last year. Before Ottavia, he was married to Nancy Putkoski for around twenty years (1985-2005).