News
Daniel Fishel Screws Wedding Proposal, But Gets Engaged: Meet Husband-To-Be
Danielle Fishel, widely known for her role Topanga Lawrence on Boy Meets World, came up with surprising news on Thursday via an Instagram photo that she is engaged with Drop the Mic executive and producer Jensen Karp.
Furthermore, through the caption of an Instagram post, Danielle affirmed that her boyfriend surprisingly proposed her.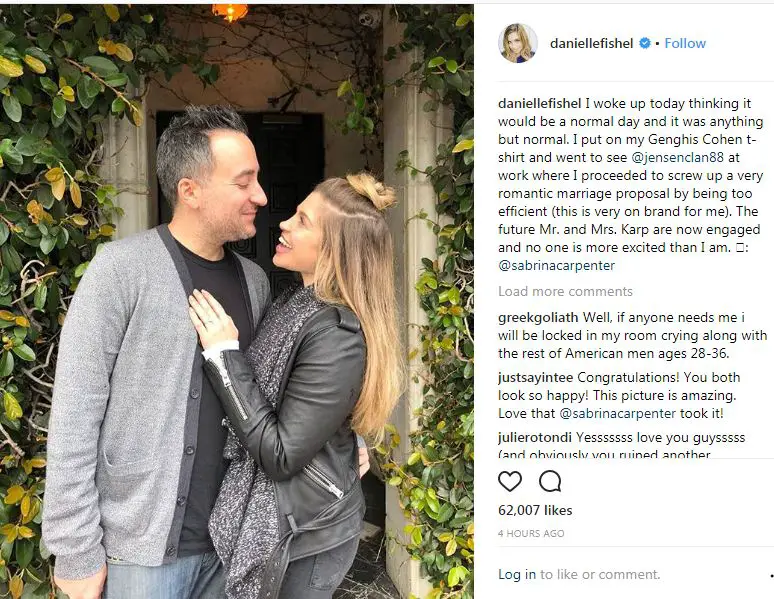 Danielle Fishel's official announcement of her engagement in her Instagram. (Photo: Danielle Fishel's Instagram Account)
It's obvious that Danielle and Jensen stayed in the dating relationship before taking the decision of being engaged, but the tenure of their dating relationship is still unknown. The nature of their romantic relationship came into the spotlight after, Danielle confessed it back in November 2017 through her Instagram account.
She shared a heartwarming post on Instagram on the auspicious occasion of Jensen Karp's birthday. Further through the caption of her Instagram post she affirmed her relationship as,
"I'm not fond of public happy birthday messages, but you're my exception. With certainty I can say there's not a single person who knows you who wouldn't say you've made his or her life better in some way. You encourage and motivate people to be the best versions of themselves." 
She concluded the post as
 You are my partner, the only man with whom I'd hold hands while he's wearing socks and sandals, the brightest light in my life, the answer to a prayer, my biggest supporter, the power moons that fuel my ship, and the only proof I need to know I'm lucky. Special shout-out to Larry Karp and @haroldine for getting you here and raising you to be the MAN I am proud to call mine.
However, it is reported that Danielle's boyfriend Karp made their relationship official back in since June 2017. The progression of their relationship, as well as Danielle's Instagram post, hints that they are going to escalate their relationship into married one!
Prior to Jensen, TV actress Danielle Fishel was in a married to Tim Belusko who is a craft-beer salesman. However, Danielle and her former husband Tim quietly filed for divorce on 23rd October 2015 in Orange County, Calif. They parted their ways after staying in two years of married life as they were married on 19 October 2013 in downtown Los Angeles.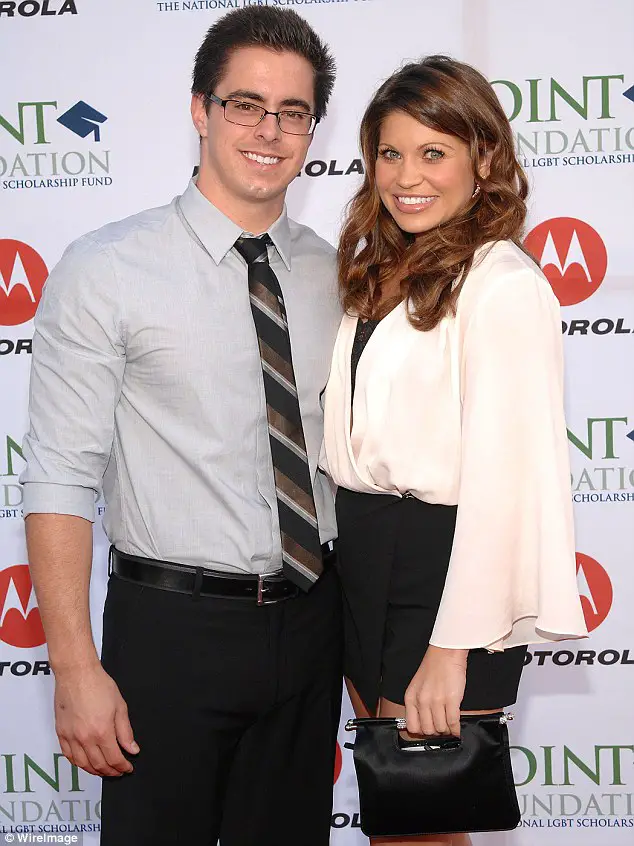 Danielle Fishel with her ex-husband Tim Belusko (Photo: dailymail.co.uk)
Taling about Danielle's notable works as an actress, she is widely known for her role on the teen sitcom 'Girl, Meets World'.  Furthermore, she is  well known for appearing in the romantic crime mystery comedy flick 'National Lampoon's Dorm Daze.'
Danielle started carving her career in the acting realm at the age of ten where she worked in 'Peter Pan' and 'The Wizard of Oz' stage productions. Danielle, who has a mixed ethnicity as she has German, Irish and Scotish decent father and Maltese mother, is also a successful chef, television director, and author.