A Glance Back At Danielle Fishel's Wedding; Married Life With Husband Ends With A Divorce Everyone falls in love and gets married to his/her love thinking that he/she is the right one.Sharing a similar story is Girls Meets World star Danielle Fishel who got married to her husband after the conviction that he is the one made for her. But later she realized that she made a wrong choice, and they ended their marriage in a divorce. Curious about why?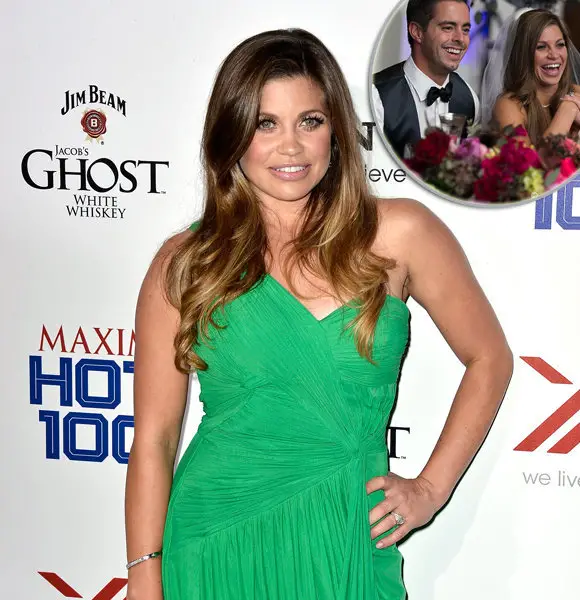 Everyone falls in love and gets married to his/her love thinking that he/she is the right one. But the real test of the choice starts after marriage, and they get insight if they want to continue with the union or not.
Sharing a similar story is Girls Meets World star Danielle Fishel, who got married to her husband after the conviction that he is the one made for her and later realized that she made a wrong choice, ending their marriage in a divorce.
Curious about the reason behind the divorce? Keep reading to find out!
Engagement To Wedding
Danielle first met Tim during her college days at the California State University in Fullerton. Her ex-husband Tim Belusko was her math tutor, and time went by, love sparks flew between them. Danielle and Tim got engaged in May 2012, after dating for almost three years.
Discover:- Osric Chau Talks About His Ideal Wife & Kids, Married Status Amid Gay Rumors
Gushing about her engagement, Danielle revealed that she became instantly drawn to her then-boyfriend Tim's calf as he had a Mortal Kombat tattoo.
"When he did it, I dropped down to my knees and cried."
Further, she made mention about two tattoos of her own.
"I actually have two of my own, which I would get laser-removed, but I'm afraid they'll look weird," she says in the April issue. "I have one on the back of my neck, and I have a tramp stamp."
She and Tim exchanged "I do" on 19 October amidst family, friends and loved ones in a short and sweet wedding ceremony in Los Angeles.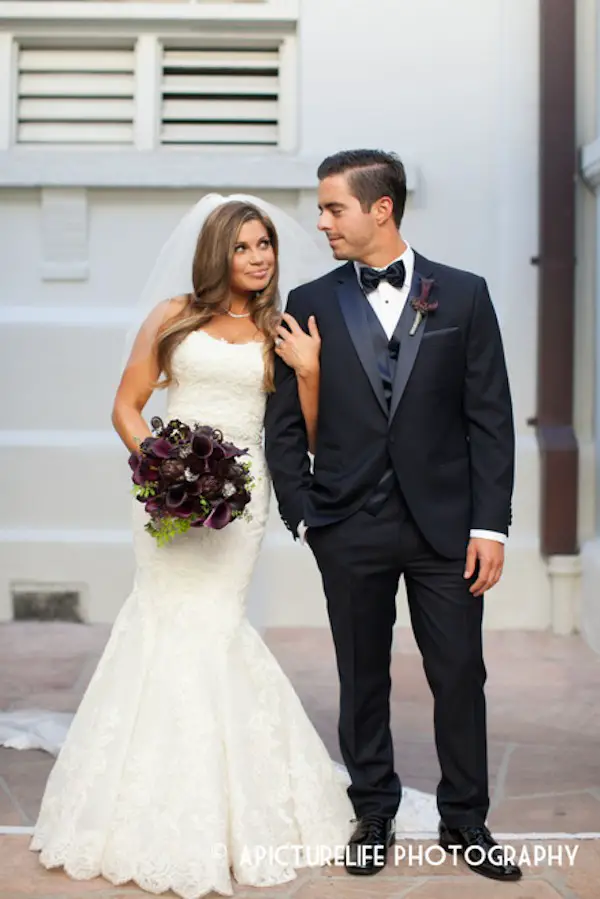 Danielle Fishel with husband Tim Belusko during their wedding ceremony in October 2013 (Photo:- californiaweddingday.com)
Danielle wore a lace strapless gown by Enzoani on her wedding day. She walked down the aisle, to the tune of Brian Culbertson's "Forever" with her father, Rick Fishel. Six bridesmaids and six groomsmen greeted the ceremony along with over 200 guests.
Talking about the wedding, Danielle said,
"The most important thing is that the day feels authentic to us. We're traditional, but also a bit wacky!"
Moreover, she added,
"Tim is the one. He accepts me for exactly who I am!"
Tim is younger than Danielle, and many haters commented on focusing on the same matter. However, smacking those haters down, Danielle shared a tweet(now removed) that said,
"People are giving me shit for marrying someone younger than I am. Tim is mature, responsible, loving, & kind."
Danielle also fired back at her haters who commented on her weight via Twitter on October 23, 2013. She wrote:-
"Ppl saying I was FAT @ my wedding: u r the worst kind of ppl on the PLANET. I weigh 107 pounds & am 5'1". YOU are the reason anorexia exists."
In a separate tweet dated the same day as above, she argued that love and happiness wins.
Life After Divorce!
The marriage which was speculated by Danielle to be a perfect one did not go the way she thought it would, and the couple suffered a split.
As per reports back in May 2016, Danielle filed for an uncontested divorce in October 2015 in Orange Country, California. The separation of Danielle and Tim got finalized on 17 March 2016.
After the divorce, Danielle became busy with her series "Girls Meets The World." In addition to that, this American ethnicity actress is active on social media platforms as well.
On the occasion of mother's day, Danielle wrote a few words showing gratitude to her mother, Jen Fishel via Instagram in May 2017. However, she is yet to have kids of her own in her life.
Her fans were still hoping that after facing failure in her previous relationship, she would find her soul mate and would have a beautiful romantic union.
Engaged & Wedding Details
Danielle's fans joy knew no bound when she began dating comedian and musician Jensen Karp.
The Boy Meets World actress, and Jensen got engaged in March 2018. The duo had initially commenced dating in early 2017. June that year, the Just Can't Get Enough author confirmed the romance.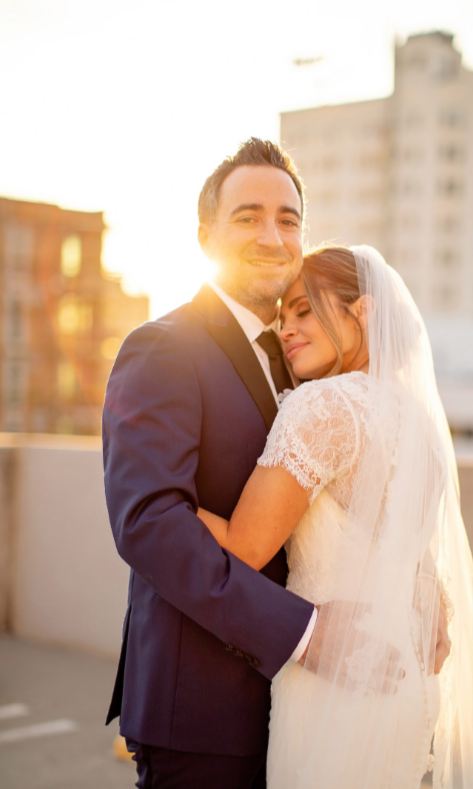 Danielle Fishel with  husband Jensen Karp on the day of their wedding circa Nov 2018 (Photo:- Danielle Fishel's Instagram)
After seven months as an engaged duo, Danielle and then-fiance Jensen finally got married in a star-studded wedding ceremony. Her Boy Meets The World co-stars Ben Savage & Will Friedle notable guests at the event.
Baby Bliss With Husband
Two months into their lives as husband and wife, Danielle announced her first baby. Taking to Instagram, she shared the news of her pregnancy.
In July 2019, the Mesa, Arizona-native and her husband Jensen welcomed their first bundle of joy, a baby boy named Adler Lawrence. Born with fluid in his lungs, Adler had arrived a month earlier than the due date.
Sharing her son's birth via Instagram, Danielle felt devastated by not being able to take Adler home. Under doctor's advice, she and Jensen had opted to keep baby Adler in the hospital.