Trending
MSNBC Cuts Off Donny Deutsch For Comparing President Trump With A Sociopath
MSNBC Cuts Off Donny Deutsch For Comparing President Trump With A Sociopath MSNBC's Donny Deutsch, an American television personality, and advertisement executive got cut off as he compared President Trump to a Sociopath. When Morning Joe host, Joe Scarborough put forward a question to Deutsch, asking him to use his branding expertise to articulate whether Trump is confusing voters by playing to his base on one day and then playing to a wider group of electors the next day;
Uttering a term had him cut off!
MSNBC's Donny Deutsch, an American television personality, and advertisement executive got cut off as he compared President Trump to a Sociopath.
When Morning Joe host, Joe Scarborough put forward a question to Deutsch, asking him to use his branding expertise to articulate whether Trump is confusing voters by playing to his base on one day and then playing to a wider group of electors the next day; Deutsch replied,
"Morning Joe host Joe Scarborough asked Deutsch to use his branding expertise to talk about whether Trump is confusing voters by playing to his base on one day, and then playing to a wider group of voters the next day."
It was then when he started talking about Trump acting like a sociopath,
"I watched the speech the other night, we've been at this for two years now, and we all try as intellectuals to analyze and get our arms around it, I happened to stumble across the symptoms and definition of a sociopath. And I'm not at all, I'm not trying.."
He was halfway through his sentence; that was when he got cut off!
Caption: Donny gets cut off for referring Trump as a sociopath at MSNBC.  Published on Aug 24, 2017
However, Deutsch later continued,
"I did some homework, and there's nothing glib about this. I just need 40 seconds, how to determine if someone's a sociopath."
Donny seemed all prepared for the conversation that was to happen, as he pulled out a piece of paper that comprised an extensive list of sociopathic behavior. He read,
"What a sociopath is–a condition that prevents people from adopting to ethical behavioral standards of a community, Sociopaths are usually extremely charming and charismatic. Sociopaths oftentimes feel entitled to certain positions, people, and things."
He continued,
"They believe their own beliefs and opinions are the absolute authority and disregard others, They're rarely shy, insecure, and lost for words and have trouble suppressing emotional responses like anger, impatience, and annoyance."
Flipping the pages of the list, he added,
"I'm not being glib here, We're trying to analyze this intelligently or rationally or the left-brain and I think there is none. And then you start to say, coming off of Clapper, coming off of Corker, what is…wrong with this man?"
Donny concluded,
"So many traits of a sociopath this man has displayed."
Deutsch even took to his Twitter to let his followers know about the reading he did,
Well, Donny laid his opinion clear, it's now up to people to perceive it the way they want!
Shifting the priority from the heated talk that took place yesterday at MSNBC, let's discuss the personal front of  Donny's life.
Born as Donald Jay Deutsch on November 22, 1957, in Hollis Hills, New York, Donny is the chairman of Deutsch Inc and is a television personality by occupation.
Donny was married to Stacy Josloff in 2000, but sadly the then partners called it quits after being in the marital relationship for four years. Donny also dated his then girlfriend, Amanda Zacharia, who gave birth to his daughter, Daisy, after they had broken up.
He also shares two other daughters, London and Chelsea; the identification of their mother is still under wraps.
Donny owns a house in New York City, which he bought for $20.5 million and reportedly spent another $20 million on renovations in 2006.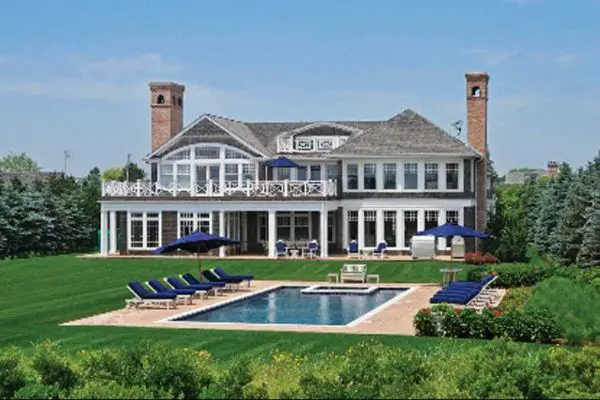 Caption: The fascination look of Donny's Bridgehampton House
Photo Credit: Newsday.com
All his professional traits have been the key for the stellar looking net worth of $200 million, that he has managed to garner till this very day. 
Stay with us for more updates on the developing story!