News
Exclusive: Trump Roared On Clinton's FBI Email Scandal! How Will This Affect The Presidential Election?
Donald Trump has been fighting a hard battle when it comes to the 2016 presidential election ever since the beginning and when his biggest card gets foiled then he is bound to blow up. This is after Hilary Clinton was acquitted from any disorderly conduct through the use of a private e-mail.
The FBI Chief James Comey had shocked the entire nation when he released a letter to Congress on October 28 just 11 days before the presidential election after following the events related to the sexting scandal of Anthony Weiner a former Congressman and estranged husband of Clinton's closest aides Huma Abedin to a 15-year-old minor.
Caption: Teen who had online relationship with Anthony Weiner speaks out on October 2016
Comey submitted a second letter to the Capitol Hill on 5th November stating the conclusion he has come to as per his investigation. The letter read,
"We reviewed all of the communications that were to or from Hillary Clinton while she was Secretary of State.

Based on our review, we have not changed our conclusions that we expressed in July with respect to Secretary Clinton."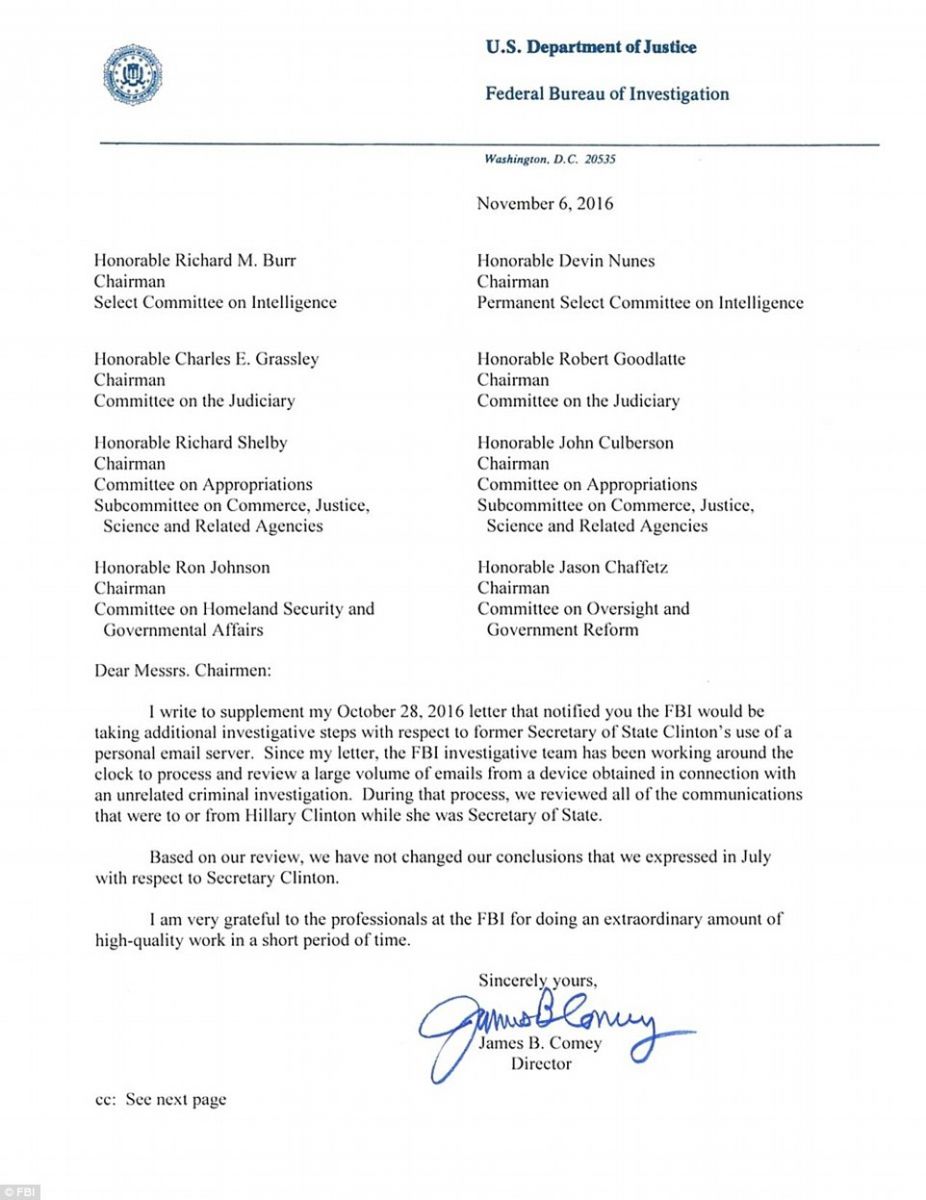 Caption: The second letter FBI's Investigation released on November 5, 2016.
Source: dailymail.co.uk
FBI conclusion infuriated the Republican Candidate as he burst out at the FBI. Trump though supportive of the FBI from the moment the letter was released had pointed out,
"Right now she's being protected by a rigged system!" he added in his speech in Detroit Suburbs, "You can't review 650,000 new emails in eight days! You can't do it, folks!"
Caption:  Trump Calls System Rigged After FBI Clears Clinton In Latest Email Controversy on November 2016
Something even Michael Flynn who formerly ran DIA from 2012 to 2014 had elaborated in Twitter.
IMPOSSIBLE:
There R 691,200 seconds in 8 days. DIR Comey has thoroughly reviewed 650,000 emails in 8 days? An email / second? IMPOSSIBLE RT

— General Flynn (@GenFlynn) November 6, 2016
Trump further spoke about this at dinnertime in Michigan saying,
"'Hillary Clinton is guilty," "She knows it, the FBI knows it, and the people know it."
he further said;
"Unbelievable'  "Unbelievable if she gets away with it." he said as the crowd chanted "Lock Her Up" alongside "Build a Wall" and "USA! USA!"
Similarly, the letter from Comey to reopen the e-mail investigation that arose since 2012 had not only set a panic for Hilary's campaign but also caused the FBI to a lot of criticism about it. The frequent leaks from the FBI department further added to their criticism while Democrats believed that the involvement of FBI could influence a lot of people.
So Hilary and her entire campaign must have taken a huge breath of relief when Congressman Jason Chaffetz was the first man to tweet the conclusion of the investigation.
FBI Dir just informed us "Based on our review, we have not changed our conclusions that we expressed in July with respect to Sec Clinton"

— Jason Chaffetz (@jasoninthehouse) November 6, 2016
That was the end of the entire ruckus about the e-mail controversy, and it is yet to be known what extent this will affect the elections. Hilary who had found out about the investigation a little late due to being in flight had called out the FBI then saying,
"The American people deserve to get the full and complete facts immediately. It's imperative that the bureau explain this issue in question, whatever it is, without any delay... I think people a long time ago made up their minds about the emails."
As of present both the candidates are giving the last push on their respective campaigns to gain as many votes as possible. Until November 7, Hilary was ahead 4 to 5 points Donald as she attended a rally at the Democratic stronghold Michigan and moved to Philadelphia accompanied by President Obama, First Lady, hubby Bill as well as Bruce Springsteen. Trump, on the other hand, would be traveling to Florida, North Carolina, Philadelphia and ending things in Michigan.