News
Face Filled With Regrets! Melanie Griffith Reveals About Plastic Surgery And Married Life That Ended In Divorce
The Golden Globe winner actress Melanie Griffith has talked about the details of her love life, her unsuccessful married life, her plastic surgery regrets and her constant battles with addiction in a recent interview.
In an interview with Porter magazine, Melanie said that she realized that plastic surgery snatched her natural beauty after people around her noticed the changes on her face. She explained-
"I didn't [realise] until people started saying, 'Oh my God, what has she done?!' I was so hurt I went to a different doctor and he started dissolving all of this s — t that this other woman doctor had put in. Hopefully, I look more normal now."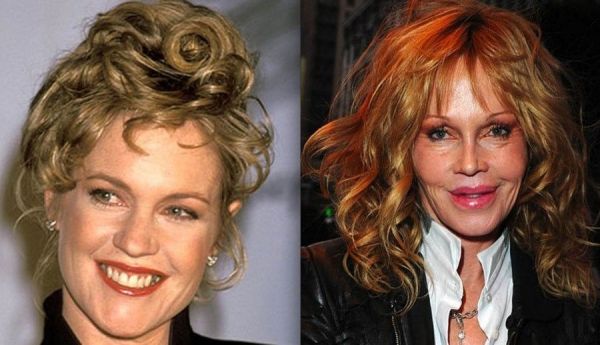 Caption: Melanie Griffith before and after plastic surgery.
Photo Credit: Self
The actress, who was previously married to Antonio Banderas on May 14, 1996, also opened up about her divorce which took place in 2015. She now says that she is single and goes out with her girlfriends.
"I think part of the reason my marriage to Antonio fell apart was because I was stuck; nobody else is to blame. It's just that I personally got stuck and I won't let that happen again, I want to enjoy life, I want to do whatever I want to do."
Moreover, she added:
"I'm shy with men now, very reticent. I haven't met anyone in the almost two years we have been divorced. No, I don't go on dates, nobody has asked me on a date. I go out with my girlfriends."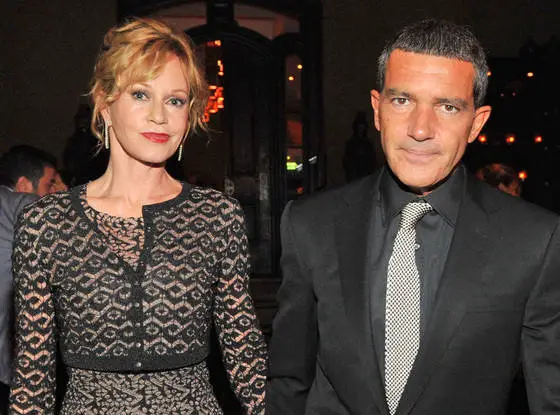 Caption: Melanie Griffith and her estranged husband Antonio Banderas whom she got married on May 14, 1996.
Photo Credit: eonline.com
She also talked about her relationship with her estranged husband Don Johnson and how her addiction to drugs and painkillers affected her husband and children. Melanie, who is a mother to Alexander Bauer, 31, Dakota Johnson, 27, and Stella Banderas, 20, said-
"The minute I met him, I had this mad f — king teenage crush on him! I fell in love immediately."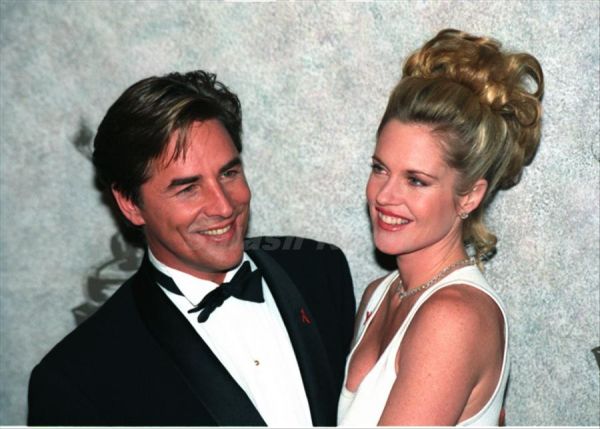 Caption: Melanie Griffith and her ex-husband Don Johnson who got married in 1976 for six months.
Photo Credit: Pinterest
She was married to Don Johnson in the year 1976 but got separated after six months. Well, they again reconciled in 1989. She remembers,
"Don was actually waiting for me when I got out of rehab, We got back together; it was the most natural, perfect, loving thing. Then it just sort of wasn't working. I think it's hard when you are both in the public eye, unless one of you gives up work."
The veteran actress Melanie, who has been to rehab for more than twice, says that she was a total functioning mom who never was drunk on the floor. She even talked about her past filling with Warren Beatty, Jack Nicholson, and Ryan O'Neal openly by saying-
"I did have a little thing with those three back in the day. Yeah, they were awesome. I am friends with all of them, pretty much. I'm sure there's a couple I've forgotten about."
Well, it's incredible how she recalls her past affairs and her regrets for having an unsuccessful plastic surgery.As of now, she's starring in an upcoming film with Al Pacino. Moreover, she will also be seen in James Franco's film The Disaster Artist.