News
Is he a Gay? Spiderman's Andrew Garfield Announced He's a Gay Man, Effect of Breakup with Girlfriend Emma Stone?
Spidey is a gay man?
In a shocking turn of events, "The Amazing Spiderman" actor Andrew Garfield has now revealed that he is a gay.
No no, we might be a bit misleading, but he has been discussing same-sex relationships lately, and while doing so, he has talked about him being a gay man with no physical activity.
While supporting his role in Tony Kushner's play "Angels in America," Garfield found himself talking about his character who struggles between his homosexuality and Jewish faith.
In an interview, he revealed that he prepared himself for the role by watching RuPaul's Drag Race.
He said,
"Every Sunday I would have eight friends over and we would just watch Ru,"

"I mean every single series of RuPaul's Drag Race. I mean every series. This is my life outside of this play. I am a gay man right now just without the physical act—that's all."
While announcing the same, he also made it clear that he is not a gay man.
"As far as I know, I am not a gay man,"

"Maybe I'll have an awakening later in my life, which I'm sure will be wonderful and I'll get to explore that part of the garden, but right now I'm secluded to my area, which is wonderful, as well."
He continued,
"I adore it, but a big concern was what right do I have to play this wonderful gay role?...It was about doing honor, doing justice."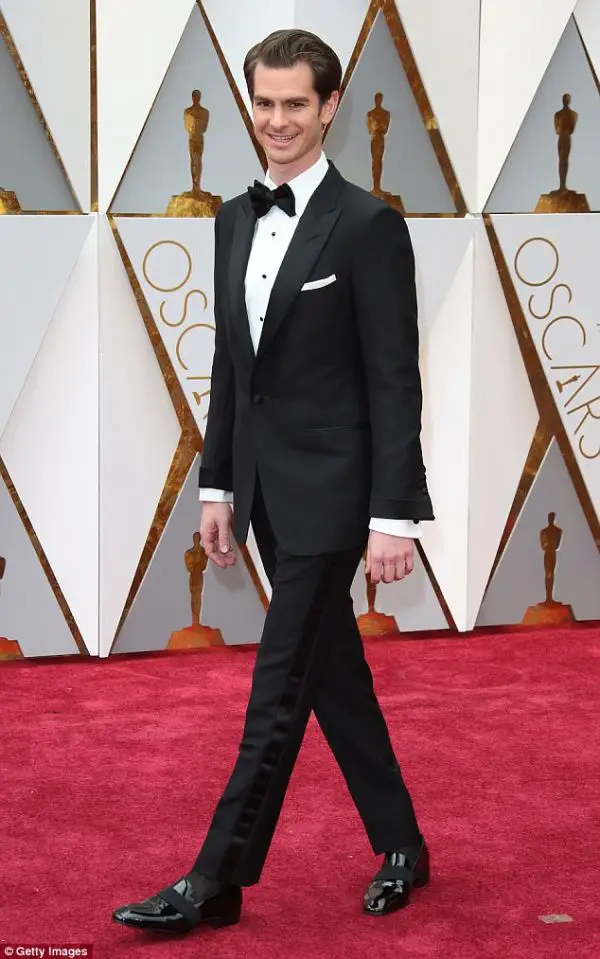 Caption: Andrew Garfield raised some major eyebrows with his gay confessions.
Photo Credit: dailymail.co.uk
Despite what the public would want to say about his statements, he made it clear that playing the role was his most fulfilling creative experience.
"It's the most costly thing on the body and on the soul we've ever done personally… and I will say it's the most fulfilling creative experience I'll ever hope to have,"

"I don't think it can get better than this in terms of everything,"
Andrew continued.
"Communion with the audience–us all going through the same things together and how prevalent and how necessary it is to tell this story right now. "
Well, it seems he's not gay after all!
His Dating Relationship With His Former Girlfriend, Emma Stone.
Andrew Garfield was in a dating relationship with his "The Amazing Spiderman" co-star Emma Stone. The two first lit sparks of them dating when they attended the July 2011 Comic-Con together for "The Amazing Spider-Man" promo, and the fuel caught fire when Andrew joined Stone on-stage for her monolog while she was hosting U.S TV show "Saturday Night Live."
The two were then spotted kissing one another and holding hands in NY 2012 and grew even closer while shooting for "The Amazing Spiderman 2".
Caption: Emma Stone and Andrew Garfield dated one another but never confirmed anything.
Photo Credit: Cosmopolitan.com
Emma and Andrew broke up in 2015 but confined the details within the closed ones only.
Emma said in an interview,
"It's been a good year. And sad. Pros and cons."
She then said Andrew is someone she still loves very much.
Similarly, Andrew, when asked if Emma was someone who he would take to a desert island with, divulged,
"Emma Stone. I love Emma. She's all right. She can come."
But now the two are seen to be in good terms despite not being in a relationship.
Stay tuned with us any developing news on the life of the Spiderman.