News
Hamish Brocklebank Age 31 Expecting First Baby, Overjoyed Pregnant Wife
The Lie star is not lying about her "Baby-bump"!
The British Businessman Hamish Brocklebank and his actress wife, Jess Weixler is expecting their first child together. The happiest mom-to-be, aged 37, announced she's expecting the baby with the satiric caption on her Instagram picture.
Hinting over her growing bump, she captioned the picture, "Just had some pizza (6 months)" joking that her baby bump is actually big after having pizza.
Tidbits On "The Good Wife" Star:- Josh Charles, Wife & Children; Being Married With Family Never Looked More Perfect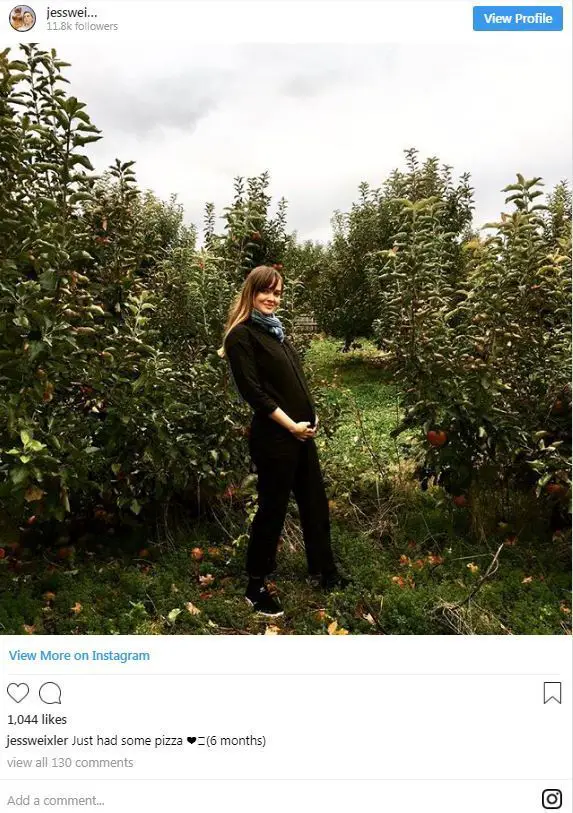 Jess Weixler announcing her pregnancy news (Photo: Jess Weixler's Instagram)
The co-founder of "Flooved," aged 31 proposed The Good Wife star in 2014 with the same ring that his grandfather had used to propose his grandmother.
And importantly, the ring made by Garrard (the jeweler, who made Princess Diana's ring) holds the same design, same shape, size and detailing as Princess Diana's.
After a year of engagement, the couple, who were together for several years, got married in 2015 in a stunning wedding ceremony on the beach. For the memorable day, Hamish went out of the traditional wedding dress and wore a coral colored suit with a white shirt and a black tie. 
And the beautiful bride wore an off-white Grecian styled tulle gown.
Other "The Good Wife's" Star:- The Good Wife's Star Mark Warren's Girlfriend: Married in the Series, But What About Real Life? Wife?
The couple stood barefooted for the sandy wedding ceremony. To witness the blissful moment, Jess' best friend, Jessica Chastain attended their wedding.
After the wedding, their pal named Barbara Muchiettie Instagrammed the glimpse of their wedding calling it:
"A lot of love on that beach"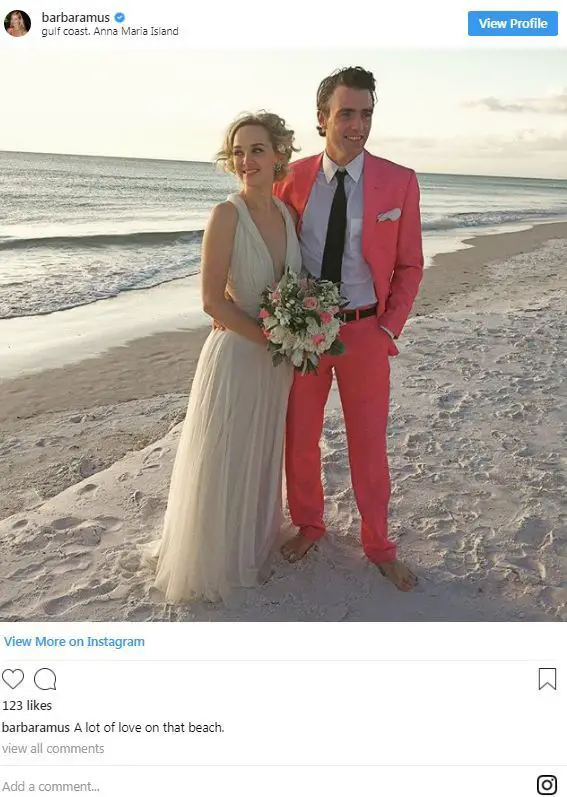 Hamish Brocklebank, wife Jess Weixleron their wedding day (Photo: Barbara Muschietti's Instagram)
Discover:- Gregg Wallace's Wife Pregnant With Their First Baby, Family Is Now Complete!
Well, in addition to family turning to three, Jess will be busy filming her new movie, IT: Chapter Two as she has landed the role of "Audra, "the wife of "Stuttering Bill" Denbrough portrayed by James McAvoy.
Similarly, the Kentucky native's best friend, Jessica Chastain is also set to join her with the role of "Beverly Marsh."