News
Finally Engaged! Joshua Kushner & Super Model Girlfriend Karlie Kloss To Wed
Joshua Kushner and his super-model girlfriend Karlie Kloss are off to the aisle after six years of dating!
The hunky businessman, Joshua Kushner finally got engaged to his longtime girlfriend Karlie Kloss in July 2018 after Joshua proposed her on the romantic weekend in New York.
A source closed to the couple confirmed that the couple was engaged a weeks ago after he went on his knee to propose her. It stated:
"He proposed a few weeks ago during a romantic weekend together in upstate New York."
And with the engagement on the air, the couple are over-joyed and ready to spend their future together. After the engagement, the 25-years-old model confirmed the news on Instagram posting an adorable selfie with her fiance, writing:
"I love you more than I have words to express. Josh, you're my best friend and my soul mate. I can't wait for forever together. Yes a million times over."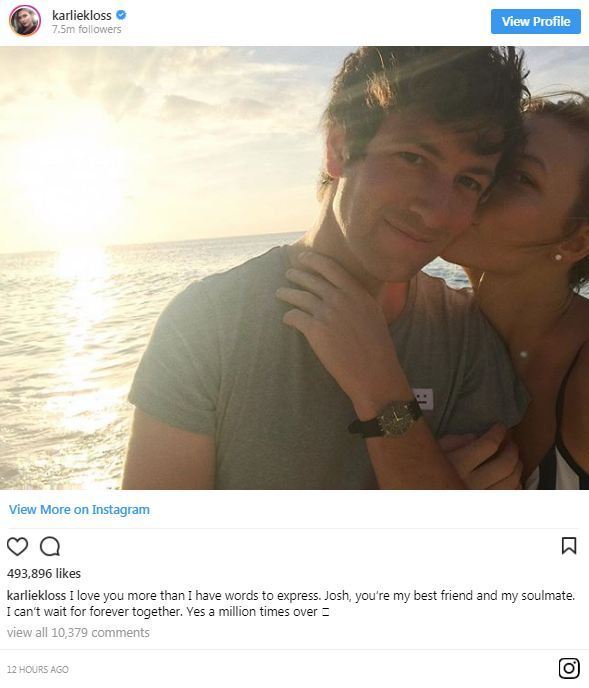 Karlie Kloss announcing her engagement with boyfriend Joshua Kushner (Photo: Karlie Kloss' Instagram)
After the engagement, the couple was off to Italy in a romantic gateway probably to celebrate their engagement with their friends and family. And soon the celebration was over, the busy model quickly jetted to China for her work.
More About Joshua and Karlie's Dating Life:- Karlie Kloss Reveals 'Never Heard' Dating Details With Tycoon Boyfriend
The 25-years-old model shared a glimpse of her engagement ring via a video posted on the Instagram stories. She shared the glimpse of the massive diamond ring as she gets her hair and makeup done for a photo shoot in Beijing.
After she shared the happiest news, she joked that her phone is "blowing up" with the congratulatory messages. Also, she added:
"This poor makeup artist is going to kill me."
Joshua, who is the founder of 'The Thrive Capital,' was dating the top-model Karlie Kloss since 2012. Joshua is also the younger brother of Jared, the senior advisor and son-in-law of President Donald Trump, and managed to keep his relationship low-key with the former Victoria Angels girlfriend.
The secret relationship of the newly engaged couple seems to be bliss for the couple as they enjoyed their past six years in peace. Also, Joshua's fiancee previously talked with Porter in 2018 that "woman like an open book is boring."
Karlie, who has a net worth of $16 million, also stated about their private life:
"It's not like I've ever wanted to be so secretive about my private life... Carolina Herrera always says, 'A woman who's an open book is boring.' There's no mystery anymore. I know in my life what really matters to me. I'm not trying to hide that from the world; I just really like having a more private life...I've got nothing to hide, though!"
Well, Joshua's parents were supportive to their relationship and also wanted him to settle down with the model.
See Also: Nathan Lee Graham, Gay Advocate Has Married Life Stories To Tell? 2018 Status
But Kushner's are Jewish, and before getting married his sister-in-law, Ivanka Trump also converted to Judaism. And similar to Ivanka, Kloss also converted to the Judaism in June 2018 to be part of his life.